입니다.
주요내용은 다음과 같습니다.
Someone executed the adminExecuteProposal function to withdraw tokens from the MINT/WBNB LP staking pool and MINT/MINTDAO/GRANT single staking pools on Nutbox.
The hacker withdrew a total of 101,000,000,000 MINT, 158,000 MINTDAO, 118,000 GRANT and 1,025,538 Cake-LP tokens (MINT/WBNB pool).
We expect the reason behind this case to be related to the admin key leakage from the Nutbox platform (the partnering company).
NUT BOX 팀에서의 관리자 키 유출과 허술한 관리장치가 겹쳐서 발생한 사고로 보입니다.
현재 유출되지 않았다고 하더라도 민트클럽에서 만든 여러 커뮤니티 코인들은 모두 넛박스에서 일단 회수하고 사태를 지켜보시길 바랍니다.
We're currently working on follow-up measures as much as we can. Do NOT spread any rumor and false accusation. Both recent cases have nothing to do with any security issue with the team/company. The first case happend from a whale's wallet getting hacked, and the second case (today) was from the Nutbox platform's issue. We've been forming a solid reputation over the 4 years so far, and we will work hard to maintain this issue.
We are going to have the final discussion with Nutbox team tomorrow, and announce our follow-up measures. Please wait and be patient until tomorrow.
**Please report people who keep saying "rug" or any false accusation to the admins. This is NOT a rug!
Read the full report - https://news.hunt.town/p/nutbox-contract-hacking-report
===
Nutbox team just contacted us to ask any community owner of the following groups on Nutbox pool should remove their staking reward.
TJCAR NFT 、 Steem Activity Club 、 MINTCLUB Korea 、 믿을맨 트러스트 、 DEGENERATI 、 MINT JCAR POOL
Procedure:Enter the community settings page - Click 「Pool」 - Click 「Adjust Staking Pool data」- Set the profit sharing ratio of the staking pool to be closed to 0 - Sign confirmation - Return to the Pool page - Click 「Stop pool」 - Sign confirmation - Click 「remove pool」 - Sign confirmation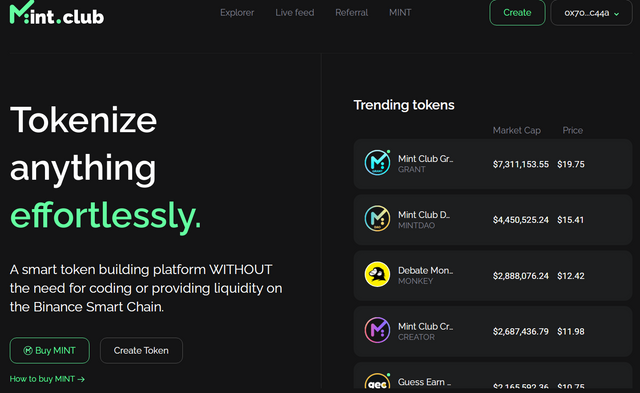 홈페이지입니다. 여기서 왼쪽아래의 바이민트를 클릭하시면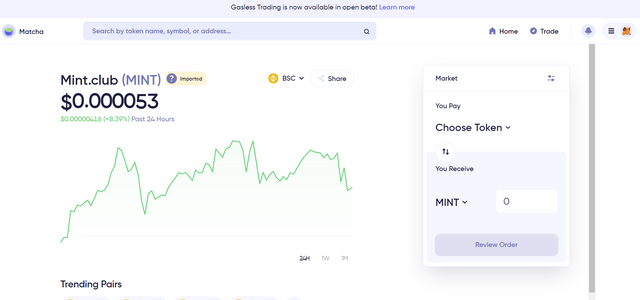 이렇게 뜹니다. 중앙에는 가격이 표시되고 오른쪽에서 어떤 코인으로 살건지를 선택하게 나옵니다.
저는 BNB를 이용해서 구매해보겠습니다. 0.1BNB의 소량을 클릭해보면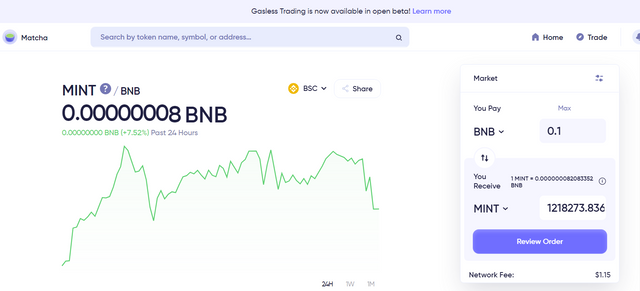 이렇게 나옵니다. 오른쪽 아래를 보시면 수수료가 표기됩니다.
민트클럽의 매매수수료는 모두 레퍼럴로 지급됩니다.
구매되는 민트코인의 양은 실시간으로 변화됩니다.
저는 오늘도 소량 구매하려고 이미 정했으니 바로 구매해보겠습니다.

이렇게 뜬 메타마스크의 합계를 보시면 수수료 포함된 지출되는 BNB의 양이 표기됩니다.
실제 가스비는 표기된 것보나 살짝 낮을 수도 있습니다.
여기서 확인을 눌러주면 구매가 진행됩니다.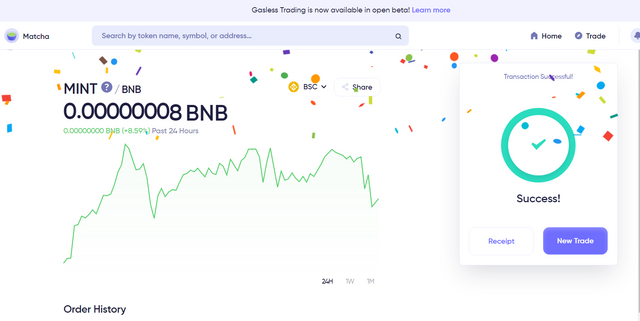 이렇게 꽃가루가 날리면서 구매성공입니다. 다시 거래를 진행하셔도 되고, 그대로 마치셔도 됩니다.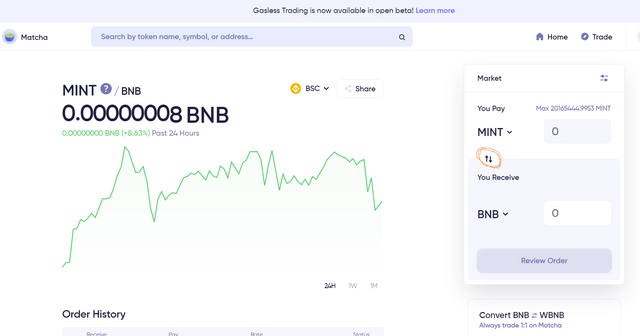 거래창에서 빨간동그라미의 양방향 화살표를 누르시면 위치가 바뀝니다.
위에 위치한 코인으로 아래 위치한 코인을 구매하는 것입니다.
즉, 여기서 민트코인을 매도하셔도 됩니다.
여기까지 진행하시면 민트클럽에서 지원하는 도구를 이용한 매미가 완료됩니다.
항상 잘 생각하시고 신중하게 투자를 진행하시길 바랍니다.
이글은 단순한 설명글이며 투자권유글이 아닙니다.