Binance Exchange launched Hive token on April 27, 2020 at 13:00 with Hong Kong time,
and Opened the trading markets of HIVE / BNB, HIVE / BTC, HIVE / USDT,
However, its deposit and withdrawal will not be available until a few days later.
The listing fee for HIVE is 0 BNB.
Deposits and withdrawals will be opened at 12:00 (Hong Kong time) on April 29, 2020.
The opening price of HIVE token at Binance Exchange is about USD 0.41,
After opening market,
Has been rising, the highest ever reached 0.92 US dollars,
The current price is about $ 0.67.
It is currently up about 64%.
In contrast, the price of Huobi Exchange has been declining, falling from 0.95 USD.
Binance Exchange and Huobi Exchange,
The prices of the two exchanges,
There are currently some price differences.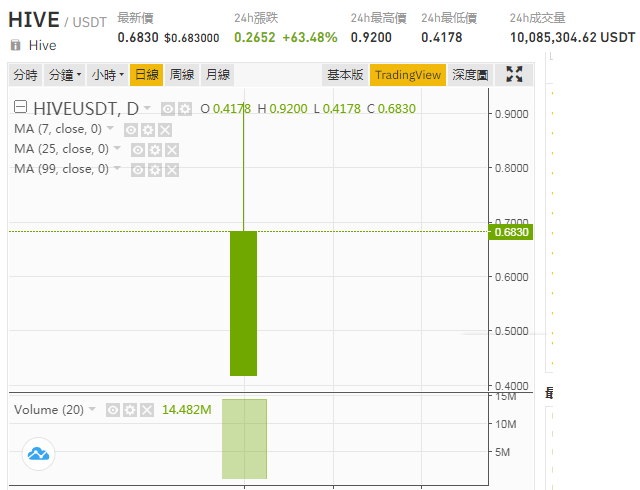 Binance上线Hive代币
Binance交易所于2020年04月27日13:00(香港时间)上线Hive(HIVE)令牌,
和开通HIVE / BNB,HIVE / BTC,HIVE / USDT交易市场,
但是其充币和提币即将几天后才开放。
HIVE的上币费用为0 BNB。
充值和提现,遇计于于2020年04月29日中午12:00(香港时间)开放。
HIVE token在Binance交易所的开盘价约0.41美元,
在开盘之后,
一直上涨,最高曾达到0.92美元,
目前的价格约为0.67美元。
目前约上升了64%。
相对的,火币交易所的价格就一直在跌,从0.95美元往下跌。
Binance交易所和火币交易所
两处交易所的价格,
目前有一些差价。