Hive token breaks through 0.63 USD
Since the 23rd,
Huobi Exchange announced that it will market exchange Hive token on the 24th,
The price of Hive token began to rise sharply,
From 23rd to 26th today,
Soaring for 4 consecutive days,
The price has increased from the original 0.1 USD to 0.63 USD,
Soared 630%.
Today it rose from 0.51 USD to 0.63 USD,
It also rose by 20%.
Hope it can hold this price,
I hope that it can drive the STEEM token to rise.
otherwise,
The price difference between the two is too large,
It also doesn't seem very good.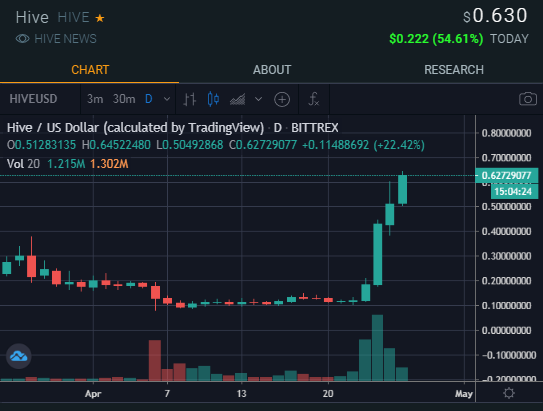 Hive token 突破0.63美元
自从23日,
火币交易所宣布将在24日上线Hive token,
Hive token的价格便开始大涨,
从23日~今天26日,
连续4日大涨,
价格从原先的0.1美元涨至0.63美元,
大涨630%.
今天为从0.51美元涨至0.63美元,
亦上涨了20%.
希望它能守住此价格,
更希望能带动STEEM token也跟着上涨.
否则,
两者的价格差异过大,
似乎也不是很妙.
如果你不知道如何转移Hive token至火币交易所,
可参考我的这篇文章(仅有中文)