Recently,
Watching the price of HIVE token keep rising,
Nowadays,
STEEM price,
It finally rose.
From $ 0.16 to $ 0.196,
It's up 21%.
of course,
The price of HIVE token is soaring,
After yesterday's 0.8 USD fell to 0.615 USD,
Today it rose to 0.915 USD,
If it is calculated from 0.8 USD,
Also rose by 14%,
4 days has risen by 910%,
terrible.
---
The method of transferring tokens to Huobi Exchange is as follows:
Enter the official website of Huobi Exchange,
Click "Balances" in the menu above,
select
Exchange Account
Deposit and Withdraw

in this Look for,
Enter HIVE,
After finding it,
There will be 3 options on the right,
Deposit / Withdraw / Exchange

Click Deposit,
it will appear the screen for the deposit address .
Deposit Address
huobi-pro
Tag
222222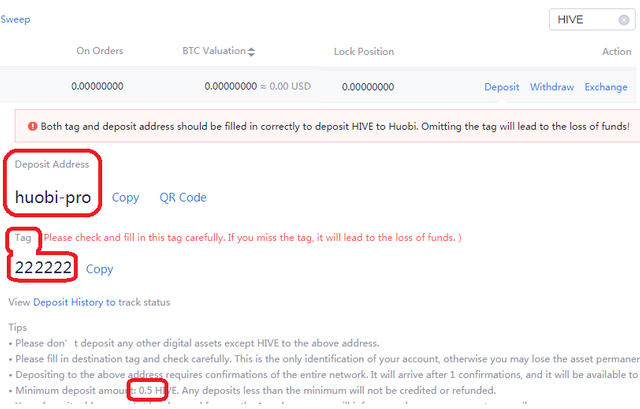 Huobi-pro above is the account name of the exchange on HIVE.
The 22222 above is the code name of the address given by the exchange to the user. This is a number. Everyone is different. Please log in to your Huobi Exchange and check the number of your Tag.
This 22222 is not mine I don't know who it is, if you enter it wrong, then the token will transferred to a stranger!
If you want to transfer STEEE tokens to Huobi Exchange, the method is the same.
The next step is to transfer your tokens on the Blog website to Huobi Exchange as follows:
Enter your wallet
https://wallet.hive.blog/
Click "Transfer"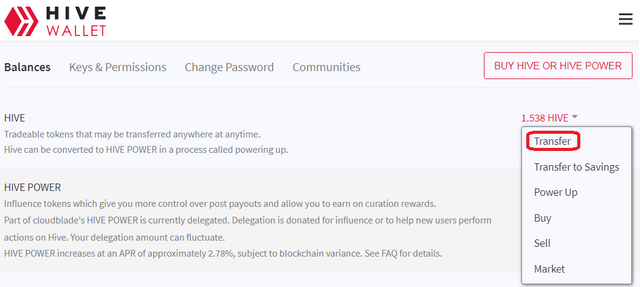 Will appear a screen "Transfer to Account".
In this screen,
in the right of "to", enter the Deposit Address viewed on Huobi Exchange
in the right of "Memo", enter the Tag viewed on Huobi Exchange
For example this example
I enter them are
huobi-pro
222222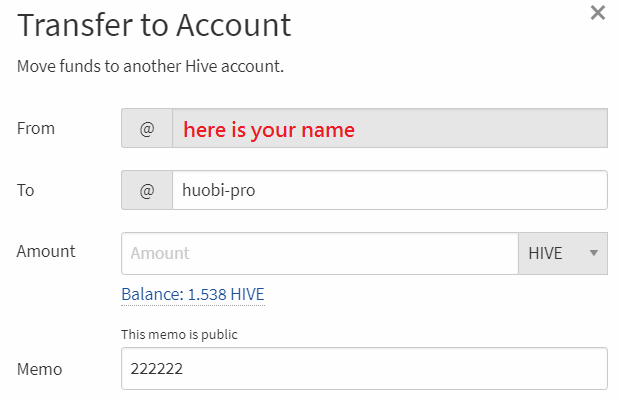 caution
Each person's Tag number is different, please do not enter it incorrectly.
now, Huobi Exchange's account name at HIVE is huobi-pro, but this is not absolute, please login to the Huobi Exchange to view them.
Please note that the current transfer is at least 0.5HIVE token, with no handling fee.
Please transfer a small amount,
It is recommended to transfer 0.6 HIVE token to test it first.