Hy everyone. I just got a neoxian job recently. Am trilled and super excited be to working With this great tribe (still on a trial basis. Lol!). All I did was to react to the vacancy announcement made by Mr Dragon(@neoxian) himself on the neoxian discord group. You see why you need to be active on the neoxian discord group.. To join the city on Discord, click here
They are a lot more reasons to join the city room beyond getting a job, for more reason as to why you should join, click here . You get to learn, you get to get more update on issues sorrunding neoxian tribe, neoxag, neoxag miner and above all, you get to interact with like minds.
In a more simpler terms, you wanna grow on the steemit platform, join the city. The good news about this city is that, all niches are accepted, no segregation or biasness towards a niche and all niches are equal and all welcome.
Make your posts using using neoxian.city or use the neoxain tag on your posts to be rewarded.
A Contest is currently being runned by @zaku to help steemit community.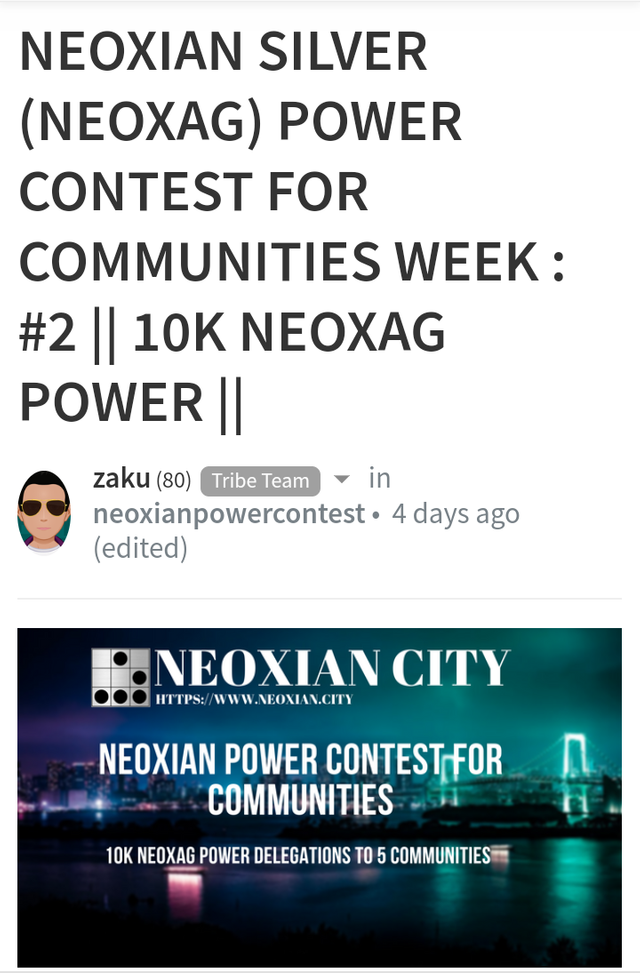 brief summary of the contest
The contest is a neoxag delegation contest where by you nominates up to five communities that should receive a 2000 neoxag delegation and you briefly states why this communitues deserved this delegation. Simple right!
It's a win win situation for all, the communities nominated get something and the authors who nominates a community also get something. Everyone wins
Click here to check the contest out and also the guild lines on how to make an entry.. Just 3 days left before it closes
Long live neoxiancity, Long live steemit