Good morning everyone from @steem-ace, @nextcolony and @battlegames
Well, a week ago I posted with a contest to win a beautiful Imperium Chest from the NextColony game. Unfortunately, there were no winners.
Now, I'm doing the second round to give you all a chance to participate and win this beautiful Imperium Chest worth 99 steem: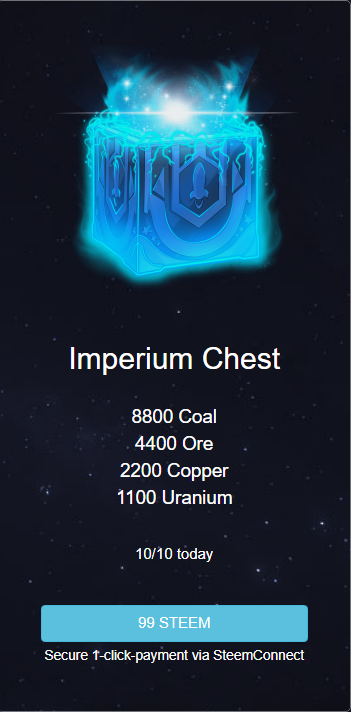 Look at the size of the resources you will gain with this beautiful Imperium Chest.
The rules are the same. You have to meet them all in order not to be disqualified. Let's go to them:
1- Give 100% upvote at this post
2- Reestem this post
3- Tag someone who plays this game or who you think would like to play in the comments.
4- Only anyone who has been playing this game for over a month can play. There is how I know if the person is playing less or more than a month ... I do that, for those who really play the game win the item.
5-Create a post or comment by writing about the 2 points requested:
What is the biggest plus point in this game, in your opinion?
.What would you do to improve the game ?? What would be the point you would make in developing the game that it lacks to become a better game? How could game developers do this?
If you make a post, put it in the comments so I can see ... if not, it won't be rated
6- Me and my dog ​​named Miya will be judging this contest at the end of 7 days of posting. She never misses.
Only those who follow all the rules will be ranked for the vote. The main criterion is a creative idea to improve game development.
It's 7 days to think about how you can win this beautiful Imperium Chest.
I hope you enjoy this contest and good morning !!!