Good Eorning, Good Evening, Good afternoon depending on whare are you in this world this is @ajks with today's blog.
All of us are familiar with Steem Blockchain and Dapp built on it (For newbies or who are reading this post out from steempeak.com "Steem Blockchain is a Social Network based Blockchain where we get paid for our quality content"). After STEEMIT.COM lots of projects are developing on Steem Blockchain which provides us front end where we can share our content on Steem Blockchain. Now we have lots of front end which gives us lots of features to handle our Steem account. Today I'm going to review one of front end called https://steempeak.com which gives us a space where we can share our content. So without wasting much time lets discuss about the project .
What is STEEMPEAK.COM ?
Steempeak is a front end for Steem Blockchain with lots of features where you can share your aaquality content and get paid for that stuff. Steempeak gives us a space where we can raise our voice without any interfairence. Steempeak allow us to explore Steem Blockchain without any problem and help us to earn Steem Cryptocurrency.
SteemPeak : The intuitive way to experience everything Steem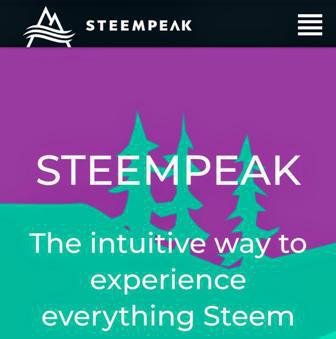 SteemPeak is a front-end for Steem, helping move the blockchain forward and increasing the Steem blockchain's popularity. Steempeak let's you create content, forge meaningful connections, while letting you be in control and earn crypto for content creation
How To Get Started Using The DApp?
It is necessary to have a Steem account to access STEEMPEAK.COM so if you don't have Steem account yet click on the below link to register for free
So now you have Steem account, now you can excess the Steem Blockchain based platform steempeak.com . To use this platform you have to follow below steps to get started:
Step -1
Go to Steempeak official website https://steempeak.com
Step - 2
Click on three dots on top right corner you will see a window like below.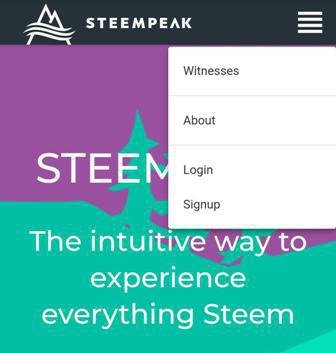 Now click on the log in button and follow the instructions.
Step - 3
Now you have to use your keys to login using Steem connect. Give access to Steem connect by clicking on continue.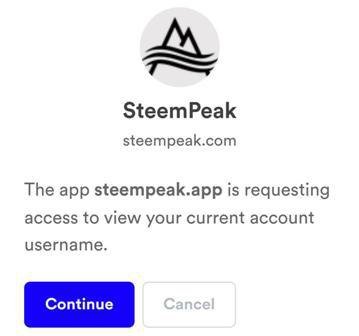 Step - 4
Now you have to enter your Steem connect keychain password to login into the platform if you using this front end first time then you have to give your private key . Don't worry you are using Steem connect so you are the owner of your keys.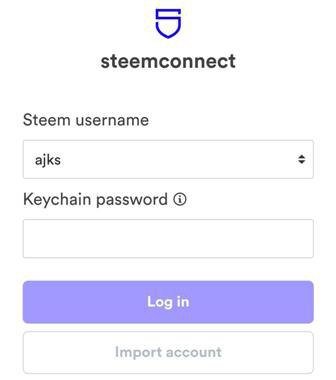 That's it you are all done Now you can experience the power of Blockchain wit Steempeak front end.
Main Components of The DApp.
Steempeak is full of features which allows you to explore Steem Blockchain with more efficiently. The Dapp have following main features/components.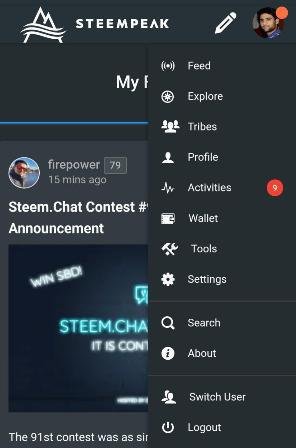 FEED - using this section you can explore content on this platform. The feed show the contents from your followings and you also can costumize according to yourself.

EXPLORE - Here you can see the contents from popular authors and according to different popular catogary.

TRIBES - This is the most amazing and popular feature of steempeak.com here you can see the post from most popular tribes.

PROFILE- Here you can visit your own post and can interact with other users in coment section.

ACTIVITIES - This section is useful for keeping an eye on your activities. You can see here upvote, mention comment etc.

Wallet - This is the most important section of the Dapp here you can see your stack and have access on it. You can transfer your Steem from here to another account and can clime your pending rewards.

TOOLS - Here you can find some amazing tools which can helps you to monitor your activities. You can see here your incoming and outgoing votes classification and you can monitor your account growth here.

SETTINGS - This option can be used for costmzation of your account and retrieving of stolen password. You can update your profile using this section.
The Things I Think are Good About The DApp
This is an amazing DApp I ever used . Here I'm mentioning some things which are outstanding about the DApp
The interface of the DApp is quite impressive and user friendly anyone can use it without any problem and earn rewards in Steem.

The very first amazing thing is that about the DApp is Login through Steemconnect and Steem keychain.

This platform have lots of lots of features which makes it different from every platform.

We can see tribes token from this platform and also can see the Steem Engine wallet token and their value.
The Things I Think are Not Good About The DApp.
According to me there is nothing which is not good about the Dapp.
My Experience and How Steempeak Can Improved?
I have amazing experience of this DApp I always love to use its simple user friendly interface.
If we can clime Steem Engine token from Steempeak platform then this platform is amazing and could be game changer.
Star Rating & Conclusion:
In the conclusion I just want to say that I appreciate the great work of the developer of @steempeak for this amazing platform. I think Steempeak is a game changer project in Steem front end proects. I will give 5 Star Rating to this project.
Blog reference:
Steempeak Official Website
Image Source: Screenshots are taken from Official website of Steempeak
Thanks for your Interest
Follow me @ajks