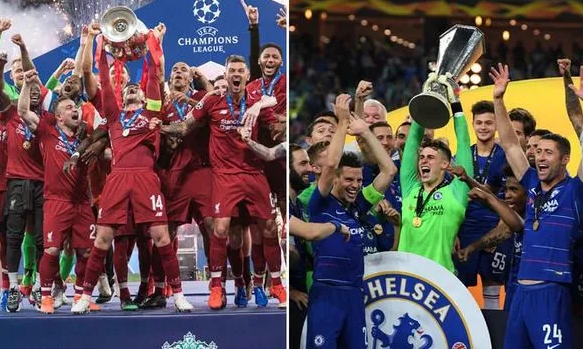 Image
Following the incident that happened last season's Champions League final in Madrid and the other, that happened in the Europa League final at the Olympic Stadium in Baku, where two teams for the primer league meet but could not fit the stadium now UERA has decided to determine for these teams the number of fans to be a the stadium.
In last season Europa League final of Arsenal Vs Chelsea where Chelsea come out with a 4-1 win against the garners, the stadium was filled up to more than the capacity. Given that the capacity of the stadium is 66,000 but both teams had to get old 60,000 people of all the support or the hard that day which made more than 20,000 people not to access the stadium. And both team not happy for their left out supporters.
In other Liverpool against Tottenham in Champions League final in Madrid where the Red manage to defeat their Premier League rivals Tottenham 2-0 in Madrid which as a capacity of 67,829 people, very many fans were left out for this by both teams.
Now that UEFA issued only 16,613 tickets available for both sets of fans the two teams have to decide how many fans they have to take for this European Super Cup final in Turkey. They have to decide today. This simply means that the price of the tickets is going to be very high because of its demand.
After finding out about this news, I just thought about the potential of the sport taken and how it is going to transform the world of sports. Just imagine all those people get to know about this platform and they start using it. Imagine this is the money to use in transfers and payment of all the football plays in the world of sports. Image big sports television started using the platform for different reasons.
Imagine sport becoming the token to use to buy these tickets. I believe there will a time when this dream has come true because with just a few days is the market it has activated the steem community. An also become one of the big sport social Media platforms in the world.
what will be the price of one sport???????
This is going to transform the price of steem.
This is the reason why I stake very token I get.
For more visit the link below;
https://www.express.co.uk/sport/football/1152467/Liverpool-news-Chelsea-news-UEFA-Champions-League-Europa-League-Eden-Hazard-Arsenal