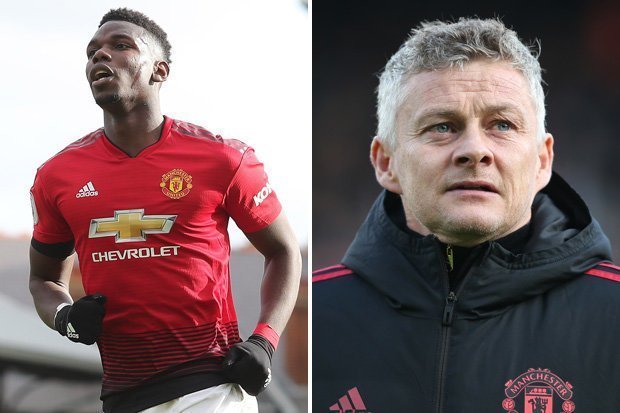 The Manchester United boss Ole Gunnar Solskjaer has warned his start player Paul Pogba that Manchester United is bigger than him and will not be bullied into selling him this summer no matter how-how he wants.
The Franch man how is badly need by is former club Juventus and the Spanish giants, Real Madrid is now starting to think of the move away from Man United.
The World cup winner Paul Pogba through his agent, Mino Raiola have made it publicly creat that he wants to leave Man United and find another place in a new club.
But Solskjaer the ManU boss dose does not have any idea of selling the player to any club that wants this midfield star Paul Pogba.
The Real Madrid boss Zinedine Zidane wants to sign his fell Franch man before the end of this transfer summer and Real has to money to pay for what ManU wants.
In Solskjaer words as got from the mirror he said
"We've got a few years left of his contract and he's been fantastic when he's come back into training.
"Agents talk all the time and, as I said, we've not had any bids from any clubs, so that's all I can say for this matter. As long as they're here, the players are professionals. They work and, as long as they're here working, giving everything they've got, agents and everyone else can talk."
To me these last kicks of a dying horse. They are going to give up any time soon and sell Pogba.
For more information follow the links below;
https://www.mirror.co.uk/sport/football/transfer-news/ole-gunnar-solskjaer-fires-warning-17793923
https://www.standard.co.uk/sport/football/manchesterunited/man-utd-tell-real-madrid-that-paul-pogba-transfer-fee-must-get-close-to-neymar-s-world-record-198m-a4188791.html
Batte Billy Jackson