Melbourne IELTS Labyrinth Garden and Lavender Garden, Australia
Melbourne, Australia
Melbourne's IELTS Labyrinth Garden, located on the Mornington Peninsula south of Melbourne, is the largest maze in the Southern Hemisphere.
The Melbourne IELTS Labyrinth Garden covers an area of about 15 hectares.
There are 20 different themed labyrinth gardens in the IELTS Labyrinth Garden. You can choose your favorite theme to challenge.
The trees that make up the maze are taller than people and are a good place to travel.
If you get lost in the maze, I have a little secret here that will allow you to come out safely.
Take the hacker's cracking method:
Only walk the fork road on the right
or
Only walk the fork road on the left
Choose a direction, and you would finally come out.
For example, choose to go to the right. When the fork road is on the left, don't walk into it. Only when the fork road is on the right, you can walk over and finally walk out of the maze.
Data reference
"https://www.ausproperty.cn/lifeproperty/livingguide/geography/2012/1105/18916.html'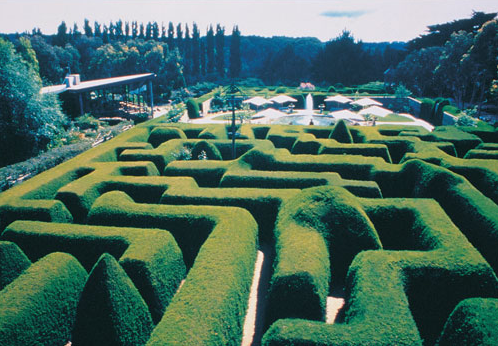 澳洲墨尔本雅思迷宫花园及薰衣草花园
澳洲墨尔本
墨尔本雅思迷宫花园,位于墨尔本以南的摩宁顿半岛上,为南半球的最大的迷宫。
墨尔本雅思迷宫花园占地约15公顷。
雅思迷宫花园内有20个不同主题的迷宫花园,大家可选择自己所喜爱的主题来进行挑战。
组成迷宫的树,都比人还要高,是个值得旅游的好地方。
如果你在迷宫内迷路了,我这里有个小秘诀,让你能够安全的走出来。
走迷官的破解法:
1)只走右边的叉路
或者
2)只走左边的叉路
选择一个方向,最后一定可以走出来,比如选择向右走,当叉路是在左边的时候,不必理会他,只有叉路是在右边的时候,你才走过去,最后就可以走出迷宫。
资料参考自
"https://www.ausproperty.cn/lifeproperty/livingguide/geography/2012/1105/18916.html"