If someone had created content on Steem before steemit.com was released, they can testify it wasn't an easy process.
Then steemit.com came along and the whole thing became more familiar, and the first wave of adoption past the initial adopters joined.
Other elements changed, like the economics on the blockchain (the one that is about to change again in HF21), and that triggered a different type of behavior when writing content.
And yes, at that time all content was written, only later the dApp ecosystem started to develop and pictures, sound, video or even live broadcasting became possible and adopted.
We are now in the face of a different type of disrupting effect in the way we will create content.
One that only half a year ago we (or at least I) would have thought to be possible only via SMTs.
But no, Steem-Engine ecosystem grows exponentially and rapidly, and while on a side-chain for now, it has strong ties with Steem.
Before Steem-Engine and its SCOT, dApps offered different views of the same blockchain and very few had their own tokens, because it was not easy to manage them.
But now it became a breeze to create and manage a token and going forward even to create an interface to go along with it, so we can easily have 100 communities, each with their own tokens and interface.
Handle that if you can, lol!
Of course you can't, not all of them. That's why, as I said in yesterday's post, you need to choose what you get involved with and what you ignore.
But for Steem that's great! What you ignore someone else will focus on. Your interest is not the same as the person's next to you. That's how hundred or more of tokenized communities may emerge over night, and if they want to succeed they will need to cater to a well-defined niche and be sure they have an audience for that niche here or bring it on Steem from outside.
You are probably aware by now that the PAL community from discord has its own reward token called PALcoin and an interface similar to Steemit.com where rewards can be seen similar to normal post rewards.
The announcement is more complex than that, and I'm sure there will be some adjustment time for people who would like to use the new platform for added PALcoin rewards.
https://steemit.com/minnowsupport/@minnowsupport/palcoin-launch-a-revised-whitepaper-and-token-launch-by-the-minnow-support-project
These rewards will be in addition to the normal rewards on Steem, but you should read the disclaimers carefully as well.
I also see by daily volume, people are interested in buying virtual mining power both for ENG tokens and for the new PALcoin. For now I'll be waiting, I can't afford to spend liquid STEEM on experiments while I still want to organically grow my account. I'd rather do something that involves delegating my SP.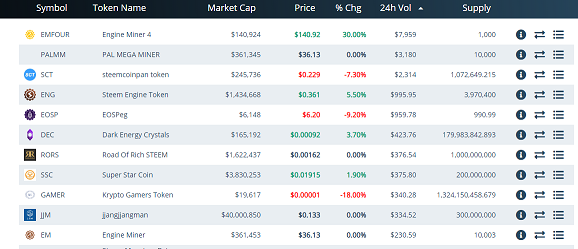 We can see in the image above there are already some tokens with daily trading, even if nothing spectacular.
From what I've heard there are tens of new interfaces (and tokens) being prepared. Wow!
Which communities (and tokens) will catch on?
Will people run after as many rabbits as possible (and possibly catch none or very few)? Or will they start to focus?
For Steem ecosystem, we're about to experience a 'halving event', like PoW blockchains have. Things are about to get more complex, as a whole, but not if you focus.