4 am
Out of bed.
Cleaned up a bit, took the decoration down.
Scales: disappointing...gaining weight again 2.3 kg! 🤔
Tea time and getting ready for school.
5:25 am
On our way to the bus stop.
Waited about 45 minutes at the supermarket.
Spoke the eldest via whatsapp about getting older and how disappointing life is. Husband been in hospital, school keeps sending messages by whatsapp and want her to show up and help out at school (preferable daily). Some people need to work.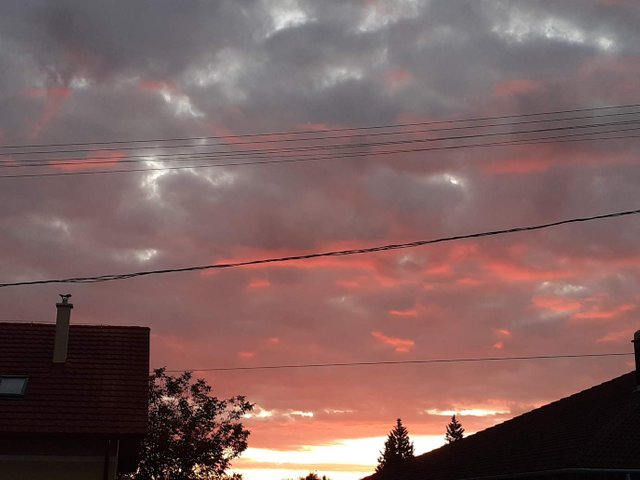 Made photos of the daybreak.
Read, commented, tipped on.Publish0x.
6:50 am
Drive the youngest to school.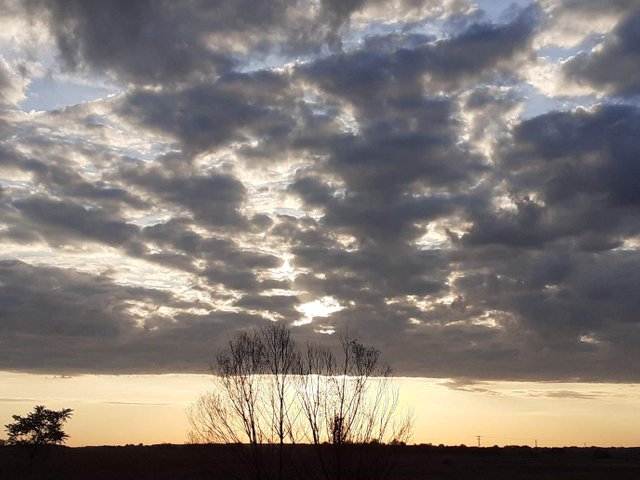 7:15 am
Back home.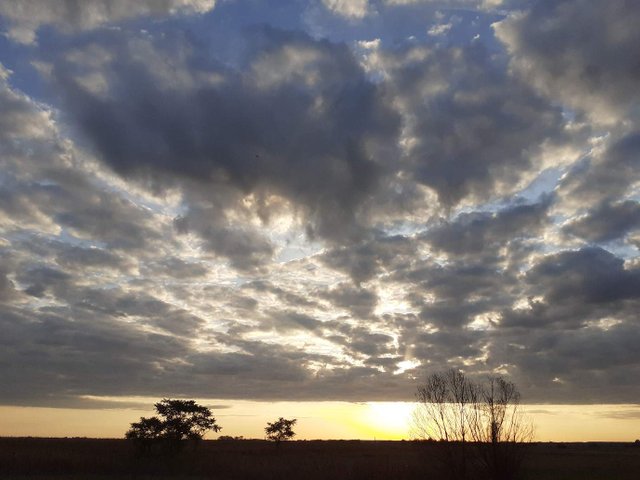 Still on whatsapp with eldest while cleaning up outside kitchen. Dogfood needs an other place.
Feeding wolves. The new bag food is moldy! How can that be? It was closed, no holes in it.
Mowed some grass while the youngest wolf runs up and down, jumps in and out the pond, sees something outside the fence interesting.
Xiao refuses to eat. No problem.
Strange sky.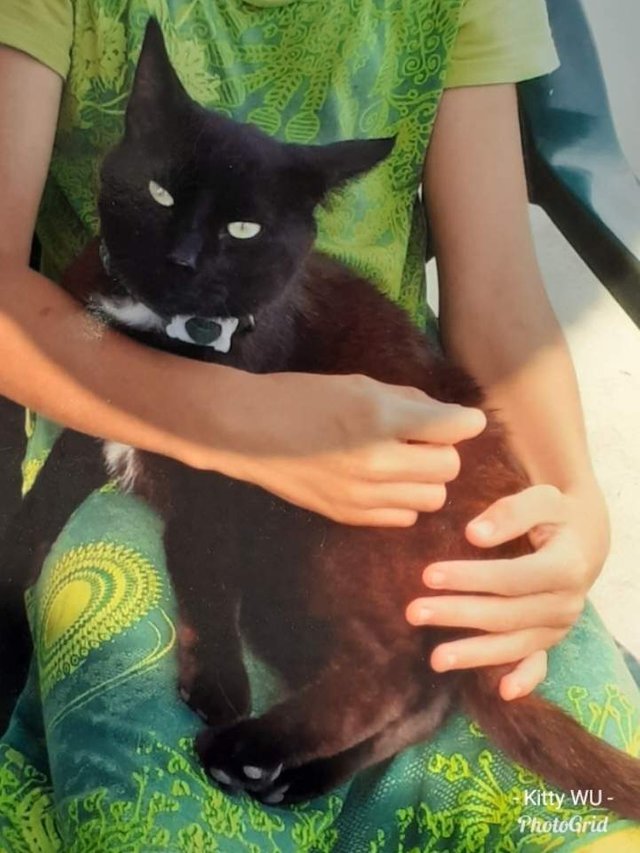 First post of the day was after 9 am with @appics. Lucifer is today #catsofsteemit. Yesterday it was Mew (officially Mew three).
Read, commented and upvoted a bit on Appics.
Posted a #dogsofsteemit too.
Posted my CCC- present post on Weku. Read and commented there too. I do not answer many replies at Weku, also hardly follow anyone. I just read the new posts. It works great there and it saves me a lot of time.
Switched the kitchen boiler on.
Swept the floor.
10 am
I want to read more posts. Whole days answering/commenting brings less news.
10:30 am
Edited, posted my Monday, Monday Sept. 30, 2019 Daily Diary via SteemCoinpan.
Claimed all tokens. Nothing happens if I wait and wait and wait. I leave. Tomorrow it will be claimed.
I want to powerup SteemCoinpan.
How? I do not know how to buy/pay sct via steem-engine. I will see if I can figure it out. No one comes with the answer which icon or button to click/steps to take.
Btw: I bought Steem yesterday with @bitvavo, that is bitvavo.com. I could not transfer because that option was for security reasons suddenly blocked. Very strange. I had to send an email. The answer came a minute later. According to ... it was because I changed my password. Yeah, sure. I did that earlier and after that I could transfer etc. As I told them that no response came. Great service.
10:47 am
Dpoll done.
I cannot wait for the moment the youngest two wolves can no longer bark.
Strange... the pup has a lower, deeper sound as its mom.
Entered @derangedcontests contests.
Question: are the upvotes worth anything at all? This account has only 138.492 SP
To be honest I think the prizes (upvotes only) are useless. An upvote given in a comment and after one week? 🤔
The only big winner is @derangedcontests who earns with posting the same contest over and over again. The photo has to be left as a reply only. There is no hard work in visiting and upvoting the comments which these photos are.
How many had a payout at all?
@fitinfun @fitinfunfood @gertu you?
I think it is a waste of a good photo if you do not make a post out of it. I checked all the photos left as a comment in the last 6 contests. Only two received 0.003 cent and two 0.001 cent and not given by @derangedcontests. These rewards will never be paid!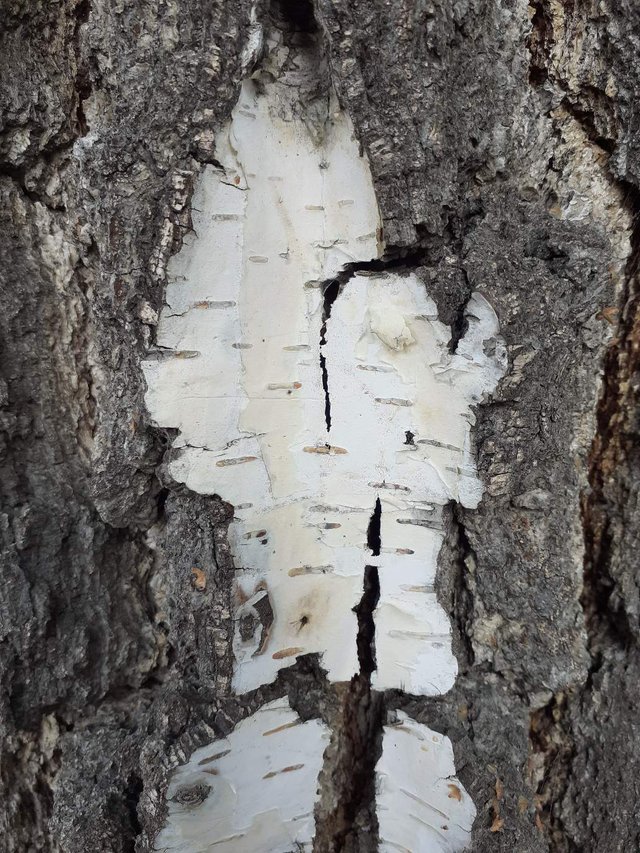 I have no great photos to share.
You can join for the honour, to advertise your name. I doubt any of those who join these contests have a look at the other photos or will comment or upvote them.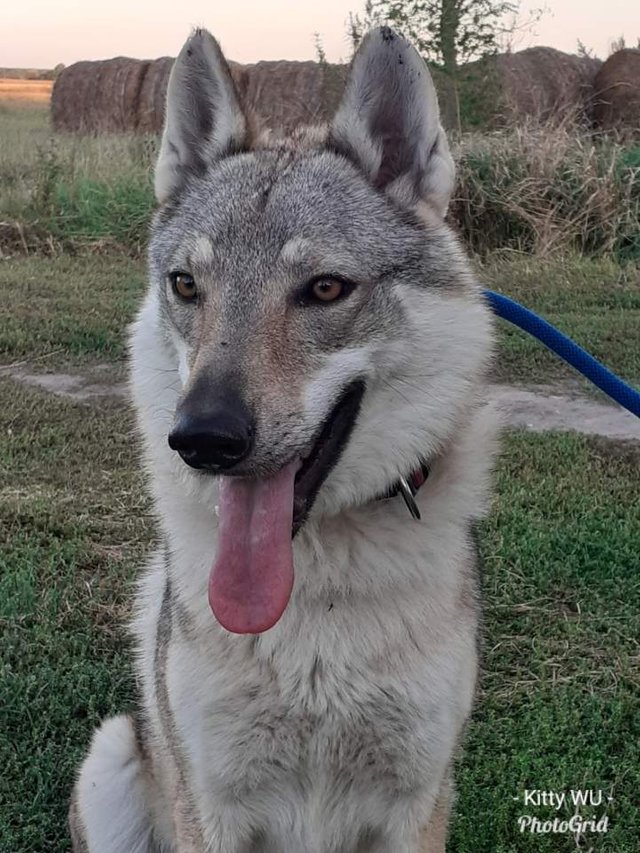 Posted English freewrite prompt dog whistle. No decency.
12:30 pm
Eyes hurt, infected.
Daughter informs about an email I received about someone who tried to break into my account.
Washed the dishes.
They keep calling me anonymous, ever 3 hours. Wow, my stalker is back?
1 pm
On my way to pick up the youngest.
1::46 pm
At the K&H bank asking again for a debitcard. We waited 7 monats, they said we could have one now. Here we are, we waited, the months are over. Now they tell us to come back in another month.
We cannot cancel the account because they do not have that amount of money. 😲
A bank without money, not even 250 euro. Who is fooling who here?
I hate this. You always need to get angry to get your right. 😖

I am not a "Hampelmann"!
2 pm
I am still waiting.
2:27 pm
Signed about 12 times, downloaded the app and I receive an email as soon the bank pas arrived.
Thank you and goodbye.
Let's have a look at the sky.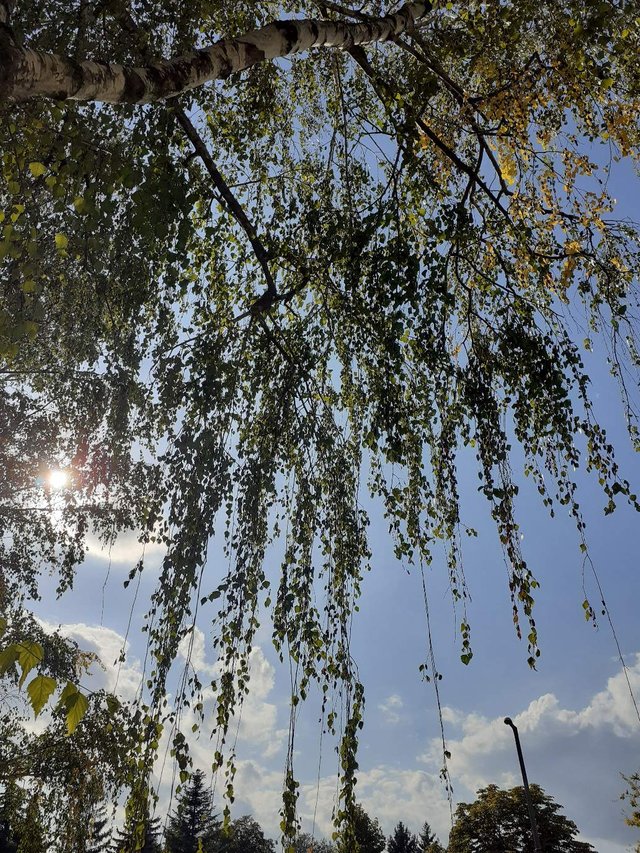 We wait till the bus arrives... did not take more water with me I hate myself about that. It is 3:15 pm
I try to answer some comments. The youngest and I sit on a bench in front of a fountain without water.
3:35 pm
Finally going home I feel miserable. My new sunglasses cause me allergies too. I am back at the age of 7-8 years old.
Posted yesterday's German freewrite Das Recht, prompt Bürgerrecht.
5:28 pm
Posted today's German freewrite Ruhe bitte!, prompt Babysprache.
6:40 pm
Posted [Angry / Wütend](https://steem-bounty.com/services/forever/@wakeupkitty/angry-wuetend-en-de
7:33 pm
I made my first Wednesdaywalk post, posted with @actifit.
Tomorrow I will try to recommend a freewrite and the rest of the to-do list.
Bedtime I am broke, too tired what I intended to do.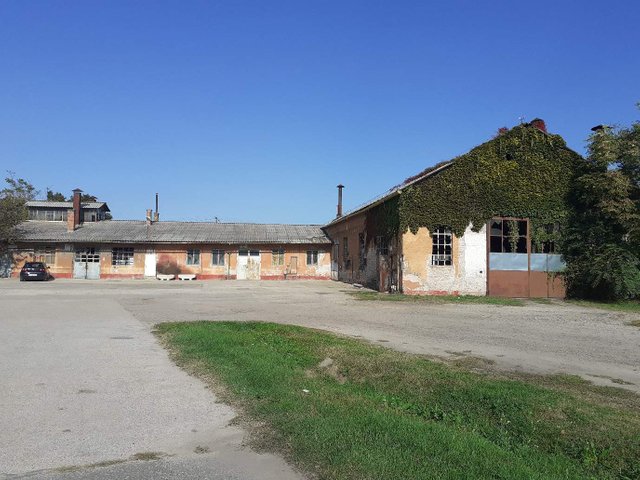 An old, abandoned factory once used for? Tell me if you know it.
Some tips to give newbies and others a hand on Steem(it).
Please, ask for help if you need some.
You can ask me, @fitinfun has many tips and lots of experience and there is @steem-aide.
You are free to join a community but there is no need to do so to make it here.
Contact for free
Use @partiko's app or chat via the app Discord. Both will not cost you SP.
giftgiver.me
Use https://giftgiver.me for extra SP to be able to post/reply! If you are low on SP. SP will be delegated to you for 48 hours.
If you delegated SP you can stop with it. It is useless to pay to get your dust swept.
@dustbunny is still active and will continue sweeping dust! See for more info their account and if you can delegate SP to them.
There are 3 kittens who come to wipe dust if you own CAT. 😍 Have a look at this account.
The primary function of holding CAT is to bring the kitten-bots to deliver cuddles for you.
More fun things to do, like the CALL-A-KITTEN service, will be added in the future. Your CAT stake will be good for more than one thing, eventually. Also, any income with the program, posting-rewards and token-sales, will be used to further grow the project.
See here.
Join the daily 5-minute freewrite
See @mariannewest for a daily prompt
and @freiesschreiben (Deutschsprachig) and help yourself to improve your writing skills and to a subject to write about.
The @freewritehouse has contests to join too.
Less as 500 sp?
You can no longer join the Redfish Power UP League once hosted by @paulag!
You can see if you can join the engagement league @abh12345 is hosting.
If you do you will here once a week a lot more about your work and engagement level on Steem. There is a big prize to win!
Join the CCC contests!
CCC stands for Curation Circle Creed
There are 4 weekly contests and you can earn for several reasons even if you not win. Being a new member is one of them.
It is a great way to earn in a fast way and to collect SBI shares. You only need to write 200+ words and answer the question.
Use partiko
How about giving it a try yourself f?
With my lousy, unstable connection it is the only app that still works most of the times. I can post with it and the notifications show an overview with who voted, commented and mentioned you.
You earn points if you use it for posting, commenting and upvoting (partiko points can be traded into Steem).
Try it. There is nothing to lose
Note: At this moment not all replies (and upvotes) are posted. Check it or use something else.
Use them to grow especially if your connection is fine and not as slow as mine.
@team-ccc is the account where you can find info
about the Community CCC, contests running, the members and more.
Do you like photography?
Appics is a great app. Go to appics.com and ask to be an 'early bird'.
Please, add text to your pictures. A good post has text no matter if it is a meme, photo, drawing, actifit report, etc. With Appics you can comment and upvote and earn token too.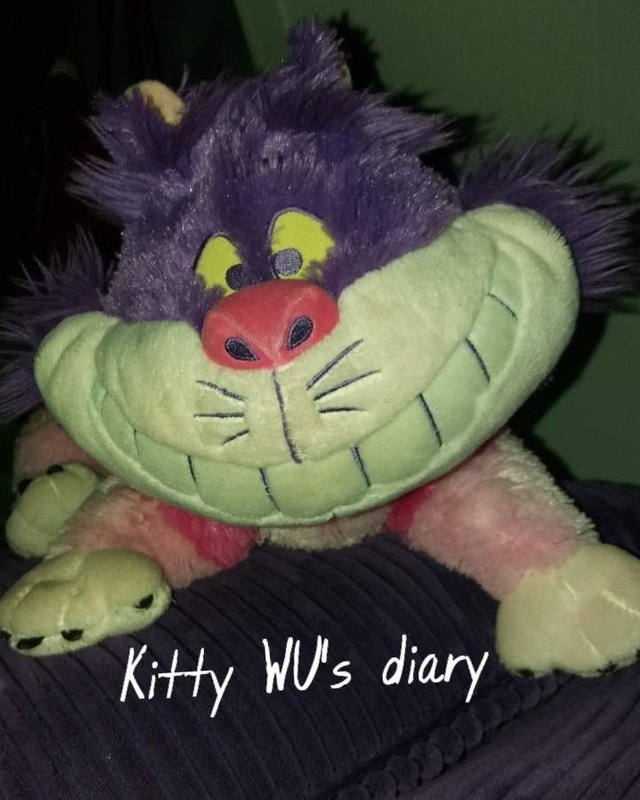 If I can I use SteemCoinpan for posting
Note: SteemCoinpan wants you to use three tags!

sct
sct-en (or one of the other languages)
sct-diary or an other subject.
Posting via SteemCoinpan saves me the first tag plus I can use more tags. Your post will automatically show up on Steemit.com
My Diary Days
Diary Day #1 - Sept. 13, 2019
A day full of surprises - Sept. 13, 2019
Diary Day #2 - Sept. 14, 2019
Slow Saturday and a golden dragon - Sept. 14, 2019
Diary Day #3 - Sept. 15, 2019
Magical Sunday - Sept. 15, 2019
Diary Day #4 - Sept. 16, 2019
Promising Monday
Diary Day #5 - Sept. 17, 2019
Thoughtful Tuesday
Diary Day #6 - Sept. 18, 2019
What today meant to me
Diary Day #7 - Sept. 19, 2019
Terrible Thursday
Diary Day #8 - Sept. 20, 2019
Finally Friday
Diary Day #9 - Sept. 21, 2019
Slowing down on Saturday
Diary Day #10 - Sept. 22, 2019
Messy Sunday
Diary Day #11 - Sept. 23, 2019
I do like Mondays
Diary Day #12 - Sept. 24, 2019
Tasty Tuesday
Diary Day #13 - Sept. 25, 2019
A wicked Wednesday
Diary Day #14 - Sept. 26, 2019
A typical Thursday
Diary Day #15 - Sept. 27, 2019
[Finally Friday](https://https://steem-bounty.com/services/forever/@wakeupkitty/4afk4p-finally-friday
Diary Day #16 - Sept. 28, 2019
Super Saturday
Diary Day #17 - Sept. 29, 2019
Sneezing Sunday
Diary Day #18 - Sept. 30, 2019
Monday, Monday
Diary Day #19 - Oct. 1, 2019
Happy birthday day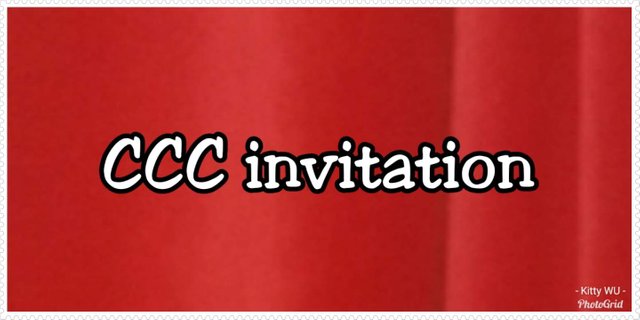 This is an Invitation to join #ccc for Guaranteed 👍 Daily Income 💵 and Payout 💸 for Newbies (2.0) 🐟 🐜 🐛 in #ccc 👣 and Follow 👣 the Honor Code 🏅 - the Creed (Conditions and Limits Inside)
AND
the latest update <<< please click to read.