---
Ciao Steemians
---
Yesterday on Narrative I bought my first niche, after three months on the platform I would say that was the right time! Look at the name of the niche I purchased...
Ieri su Narrative ho acquistato la mia prima nicchia, dopo tre mesi di permanenza sulla piattaforma direi che era giunta l'ora! Guardate il nome della nicchia che ho acquistato...
---
---
Does it remind you something? We have an interesting project in this regard wiwith Scorum-Italia Witness th Scorum-Italia Witness that will be implemented soon, on Narrative but not only! Buying niches can be profitable but even the opposite, if you buy a niche that will be used by many users you could receive good rewards, so you have to pay attention to your purchases.
The Scorum niche was certainly a risky but I really hope that thanks to the project that we have in mind as Italia-Witness we will be able to organize some interesting initiative that involves both platforms users.
Vi ricorda qualcosa? Abbiamo un progetto interessante con Scorum-Italia Witness con Scorum-Italia Witness a riguardo che verrà attuato a breve, su Narrative ma non soltanto! Comprare le nicchie può essere remunerativo ma anche il contrario, se si compra una nicchia che verrà utilizzata da molti utenti si potrebbero ricevere delle buone ricompense, bisogna dunque fare attenzione ai propri acquisti.
La nicchia di Scorum è stato sicuramente un azzardo da parte mia ma spero proprio che grazie al progetto che abbiamo in mente come Italia-Witness riusciremo a farla fruttare per organizzare qualche interessante iniziativa che coinvolga gli utenti di entrambe le piattaforme.
---
---
I missed the eBay-style auctions, let's say that mine was not really exciting, I was the only one to make an offer, I wanted to propose the niche first to put a description a better than inly "Scorum news ", but it was already on the list and therefore I could not do it, I hope to be able to do it later because there is still a piece to complete the work.
Mi mancavano le aste al rialzo in stile eBay, diciamo che la mia non é stata proprio emozionante, sono stato l'unico a fare un'offerta, avrei voluto proporre la nicchia per primo per mettere un descrizione un po' più corposa che "Scorum news", ma era già presente in lista e dunque non ho potuto farlo, spero di poterlo fare in seguito perché manca ancora un pezzo per completare l'opera.
---
---
The payment will be the icing on the cake, I will do it with the NRVEs I earned in these two months with my articles, the crypto in the site related is NEO, but I have to wait two days because after downloading the NEON wallet and adding my public address I must wait 48 hours for security reasons. Stay tuned because soon the project will be active and if all goes well we could see some good ones!
Il pagamento sarà la ciliegina sulla torta, lo effettuerò con i NRVE che ho guadagnato in questi due mesi con i post che ho pubblicato, la crypto del sito correlata a NEO, devo però attendere due giorni perché dopo aver scaricato il wallet NEON e abbinato il mio indirizzo pubblico ad esso bisogna attendere 48 ore per ragioni di sicurezza. Restate sintonizzati perché ben presto il progetto sarà attivo e se tutto va bene potremmo vederne delle belle!
---
---
---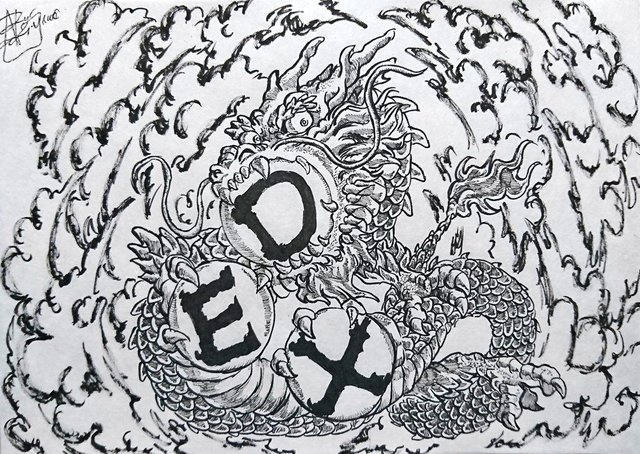 Logo by @ryo-6414