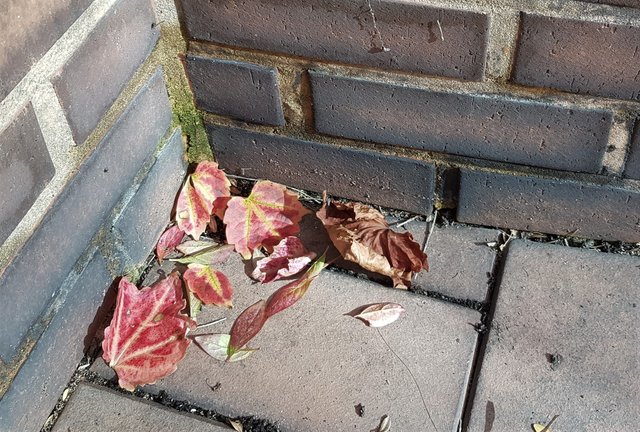 빌딩 화단 옆 파란 하늘 높아 가고
귓가 스치는 바람 어제 보다 싸늘한 날
가지 덮었던 푸른 잎들 철 따라 어디 가고
빛 바랜 잎들만 바람에 하늘하늘
봄 기운에 깨어나 꽃 피웠던 잎새들
늦가을 서늘 바람에 주홍 빛 시들
벽 모퉁이 바람 따라 울긋불긋 낙엽들
기억 귀퉁이 얼기설기 아련한 흑백 추억들
어릴 적 내 손 감싸던 따스했던 흰 손은
한 줄 두 줄 늘어난 잔주름 한 타래
움켜쥔 손가락 사이 흩어지는 열기처럼
지난 세월 애달픔도 기억도 흩어지고
밤 새 비 바람에 귀퉁이 낙엽들 간 데 없고
낙엽 위 얹혀 있던 아쉬움도 간 데 없네
겹 모은 엄지 손가락 말없이 매만지시며
두 손 끝 떨군 시선엔 가슴 속 눈물 자국
말 없는 시선에 내 맘도 떨구고
이렇게 가는 세월, 또 다시 눈물 한 방울
This is a kind of poet in Korean language.
Do not try to understand using google translate.
No one may be available to understand this kind writing without humble mindset and differences of cultural background.
The value of human being comes from respect of differences.
최근에 어머니를 노인 요양원에 모셨습니다.
짧은 시간 어머니와 이런 저런 이야기를 하면서
어머니의 손을 보았습니다.
그 두 손은 사무실 화단의 낙엽과 같았습니다.
좋은 추억도 낙엽처럼 사라질 수는 있지만
마음 한편에는 남아 있는 것 같습니다.
모두가 건강할 때 함께 웃으며 행복했던 순간은 좋은 감정으로 남고
시간이 흐른 언젠가 감정만 남고 기억은 잊혀질 수 있다는 것을 알았습니다.
모두 지금 행복하시면 좋겠습니다.
감사합니다. @bizventurer