그동안 스팀 코인판을 비롯한 Nitrous 웹사이트에서는 스팀 베니피셔리(STEEM Beneficiary)를 설정하는 UI가 제공되지 않아서 해당 기능이 필요한 포스팅을 할 때마다 스팀픽과 같은 다른 스팀 DApp을 이용해야 하는 불편함이 있었습니다.
이러한 문제를 해결하기 위해, 스팀 코인판 팀에서는 스팀 베니피셔리 설정 UI를 추가해 줄 것을 스팀 엔진 팀에 요청했고 드디어 오늘 그 결과가 반영되었습니다.
이제부터는 스팀 코인판을 비롯한 모든 Nitrous 웹사이트에서도 스팀 베니피셔리를 설정할 수 있습니다!
A user has been created a post which needs to configure steem benefiicary on another steem DApps such as steempeak because Nitrous including steemcoinpan don't have UI to set up steem benefiicary.
To solve this issue, our steemcoinpan team has requested to add this UI to steem-engine team. Now, you can use it on steemcoinpan website (all of Nitrous sites). You don't need to leave our platform any more to set up steem beneficiary.
스팀 베니피셔리 설정 방법(How to configure steem beneficiary)
(1) 포스팅 작성 화면에서 Advanced settings 버튼 클릭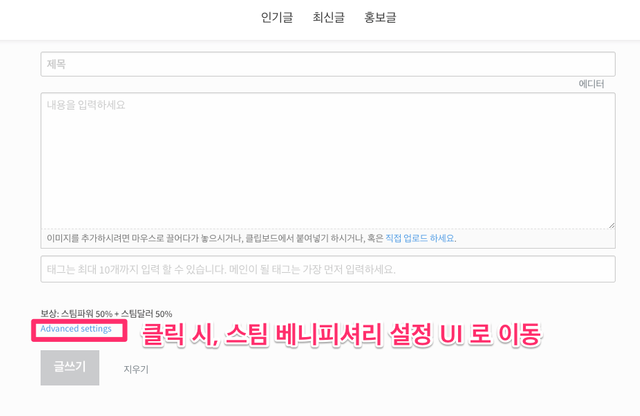 (2) 스팀 베니피셔리 대상 계정을 추가하고 베니피셔리 비율을 설정하려면 Add account를 클릭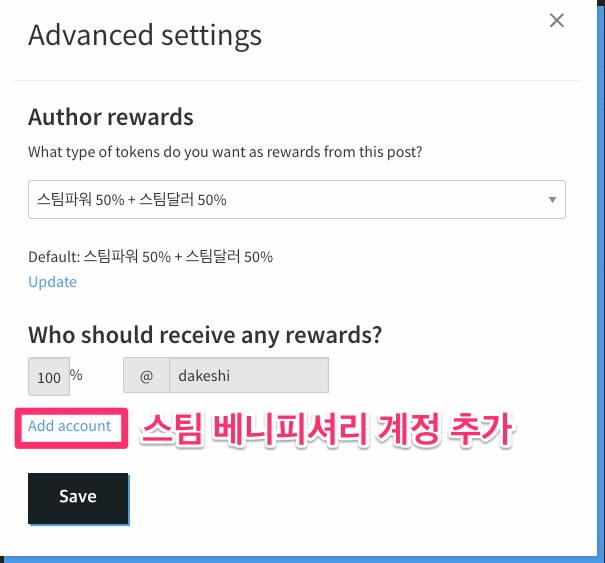 (3) 스팀 베니피셔리 설정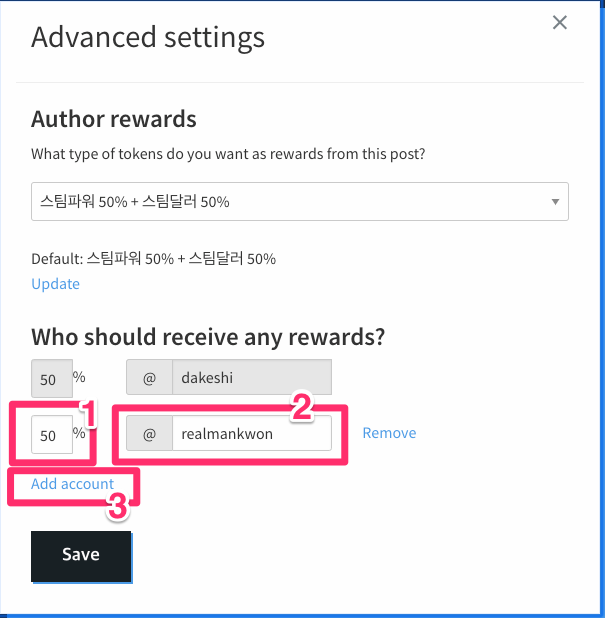 1번란에는 스팀 베니피셔리 비율을 설정합니다. 1~100까지 설정가능합니다.
2번란에는 스팀 베니피셔리 대상 계정을 입력합니다.
더 추가하고 싶은 계정이 있다면 Add account 버튼을 클릭하세요.
스팀 베니피셔리가 설정된 포스팅 예시

포스팅 payout 안내 창의 Beneficiaries 항목에서 포스팅 작성 시 설정한 스팀 베니피셔리 상태 확인 가능
참고사항(Notice)
어제 @holger80이 스팀 베니피셔리 설정을 SCOT에도 동일하게 적용하는 기능을 발표했습니다.
현재 스팀 코인판 운영진은 해당 기능 활성화 여부에 대해서 다각적으로 검토하고 있으며, 기능 활성화가 결정된다면 사전에 공지할 예정입니다.
마지막으로, Nitrous에 스팀 베니피셔리 UI를 추가해준 스팀 엔진 팀 @eonwarped 와 관련 코드 로직 작성에 기여해주신 @blockchainstudio 님에게 다시 한 번 감사인사를 전합니다.
Yesterday, @holger80 announced a new feature to enable comment beneficaries on Tribes.
steemcoinpan team are taking a look at this feature. We will make an announcement before it has been activated.
Thank you @eonwarped to add steem beneficiary UI on Nitrous. and special thanks to @blockchainstudio(the code contributor for displaying beneficiaries status)