I decided to see Deawoongjeon, which was right next to Mierukjeon.
Deawoongjeon is the most important building in every temple since it is a hall for the Buddha.
Whole Bongeunsa was under construction. I went into the side yard of Deawoongjeon to avoid the construction scene.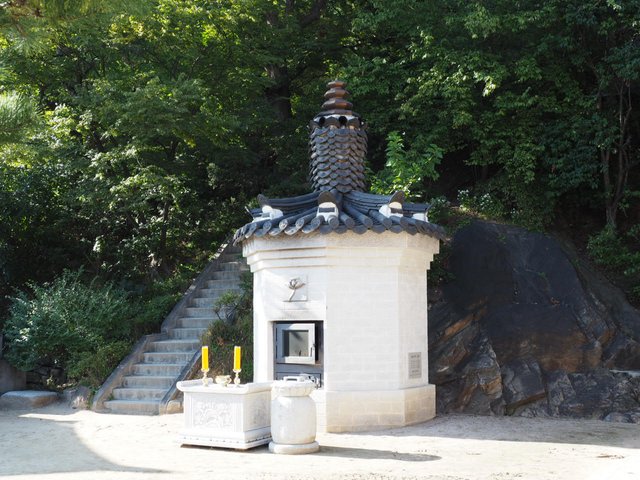 There was a brazier to burn stuff. In Buddhism, ceremonies are held for the dead.
One of the most important ceremonies in Korean culture is for the dead, so memorial ceremony for deceased parents is significant.
The brazier next to Daewoongjeon is to burn the clothes worn by the dead.
Koreans believe that if people burn the dead's clothes, the dead can wear those clothes in heaven.
In most cases, the brazier is in the corner of the temple.
However, the brazier was right next to Deawoongjeon. It is unusual to see.
Why did people put the brazier right next to Deawoongjeon, unlike most cases?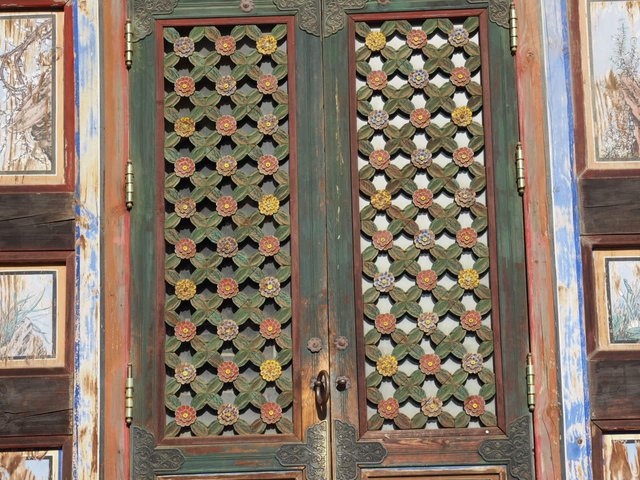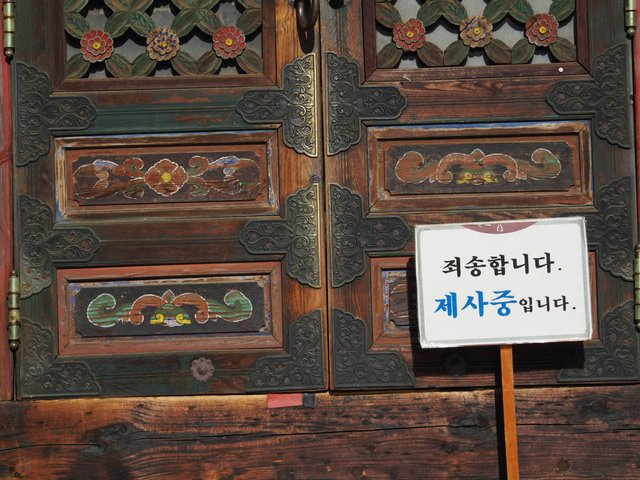 The patterns of the Deawoongjeon's windows did not differ much from that of Mireukjeon.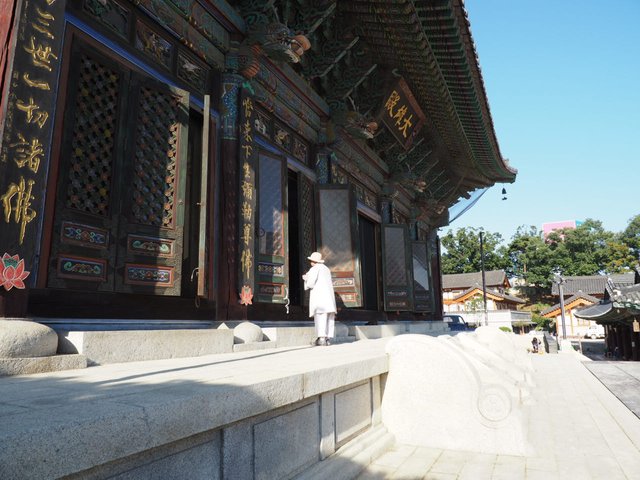 A monk was watching Deawoongjeon at the front gate. It seemed like he came from another temple.
It was also unusual for a monk to tour other temples.
I came closer to see what he was seeing.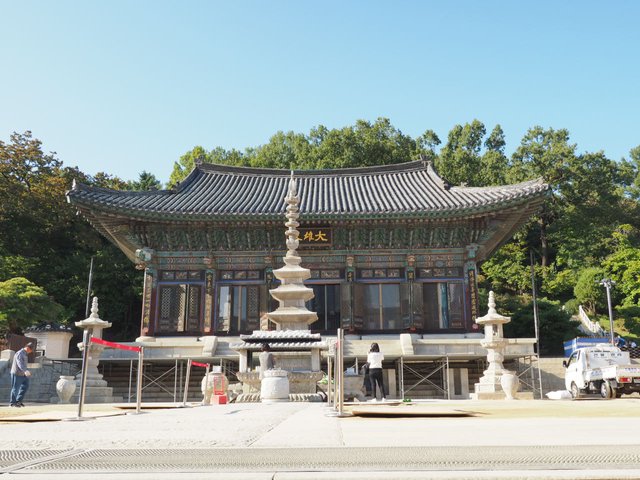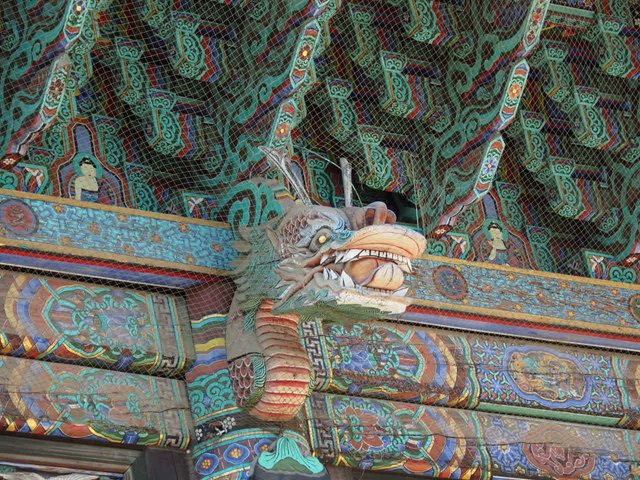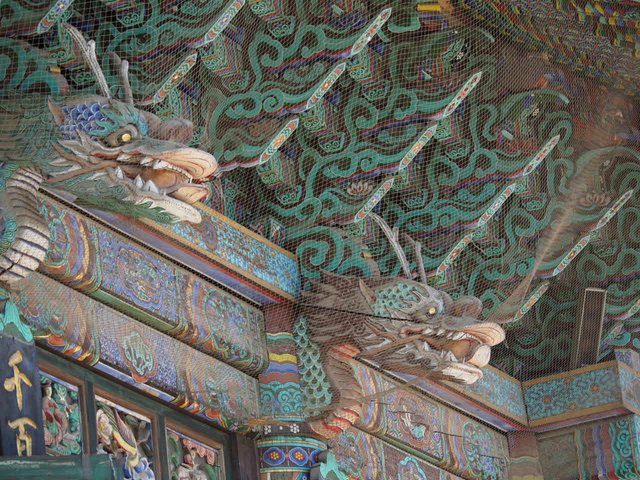 A giant dragon was decorated under the eaves of Deawoongjeon.
Since Deawoongjeon burnt down during the Korean war, the decoration of a large dragon can be interpreted as a wish to never go through that tragedy again.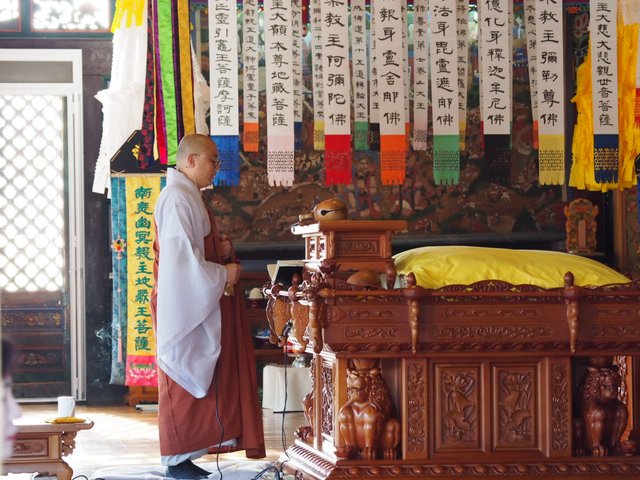 In the temple, a monk was performing the ceremony for the dead.
Koreans hold a ceremony for the souls of their deceased parents every year on the day their parents died.
It is believed that if we prepare good food and perform the ceremony, the souls of deceased parents will come down to earth and eat them.
Ceremony for the dead used to practice in countries with Confucian traditions such as China, Japan, and Korea.
Nowadays, this ceremony is held only in Korea now.
However, the ceremony for the dead is gradually becoming a legacy in Korea, either.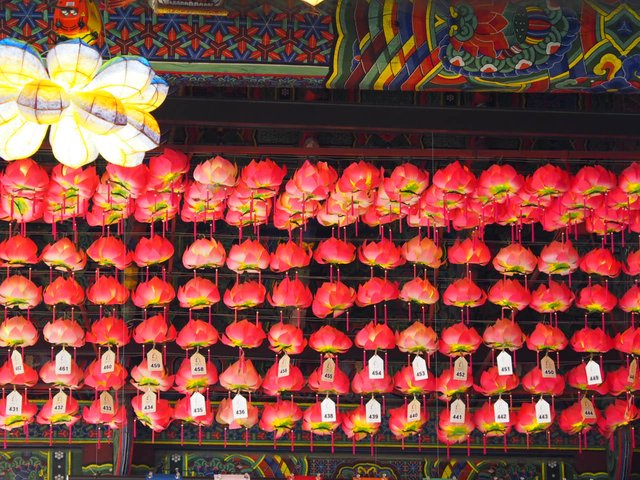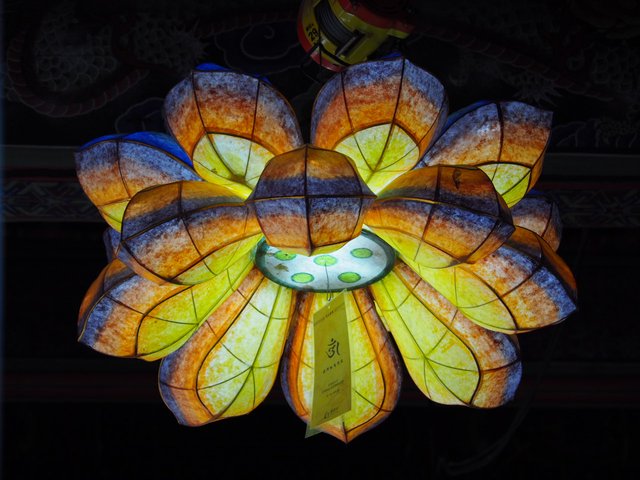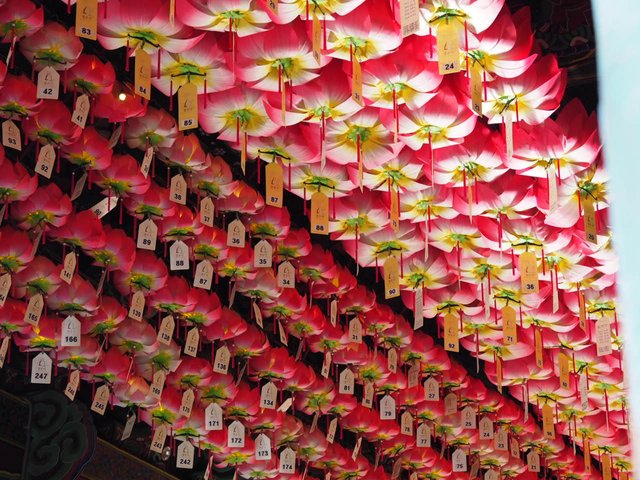 Inside of Deawoongjeon was gorgeous.
Red lotus lanterns were hanged full in Deawoongjeon.
The Deawoongjeon is usually a place for praying for the happiness and luck of the living people, so the lotus lanterns are colorful.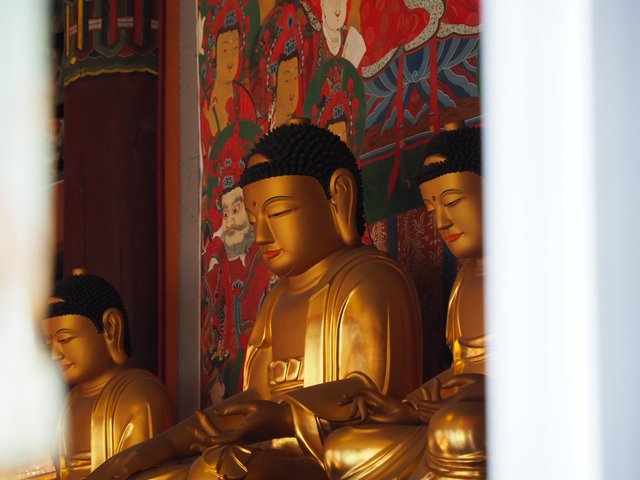 The Buddha statue in front of Deawoongjeon was created after the middle of the Joseon Dynasty.
Buddha statues vary slightly depending on the times.
The Buddha statues, which were made a thousand years ago, had a straight waist and head.
As time passed, the Buddha's back tilted forward.
Experts interpreted it as a process of development of Buddhist doctrines.
Buddhist doctrines were strict in the early days but became flexible as time passed.