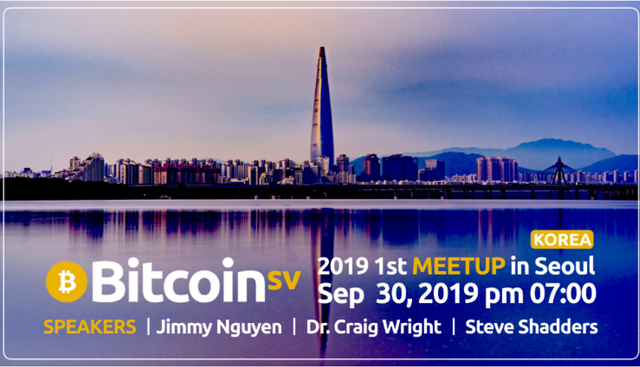 세부 사항
[9월 30일, 첫번째 서울 BSV 밋업 공지]
코인긱과 비트코인 협회 주관아래, 첫번째 서울 BSV 밋업이 코인긱 서울 컨퍼런스(10월 1-2일) 하루 전날 개최됩니다.
본 밋업은 지미 응우옌, 크레이그 라이트 박사, 스티브 셰더스 등 세계적인 BSV 커뮤니티의 리더들과 네트워크를 이루고, 생각을 나누며, 토론하는 자리가 될 것입니다.

코인긱과 비트코인 협회에서 준비한 음식과 음료가 준비되어있습니다. (무료입장)

정확한 시간은 추후 공지해드리도록 하겠습니다. :)

장소:
지미 응우옌, 비트코인 협회장
크레이그 라이트 박사, nChain 수석 과학자
스티브 셰더스, nChain CTO
[The Notification of the First Seoul BSV Meetup]
Ahead of the CoinGeek Seoul conference on 1-2 October, join the Seoul BSV meetup for an evening of discussion & networking alongside thoughts leaders of the Worldwide BSV community.
Free entry
Jimmy Nguyen, founding president of Bitcoin Association
Dr. Craig Wright, Chief Scientist at nChain
Steve Shadders, CTO at nChain
신청하기: https://www.meetup.com/ko-KR/Bitcoinsvkorea/events/264235431/
---
Sponsored ( Powered by dclick )
(For the Freedom of Speech and Right to show pros an...