Trade.io is a described as an innovative Cryptocurrency trading platform built on Blockchain technology that is set to democratize various markets and revolutionize the way the financial ecosystem operates. Trade.io is a uniquely designed trading platform that leverages peer-to-peer platforms as a way of supporting trades for a wide range of crypto assets. It also has its own native Cryptocurrency known as "TradeToken (TIOx)".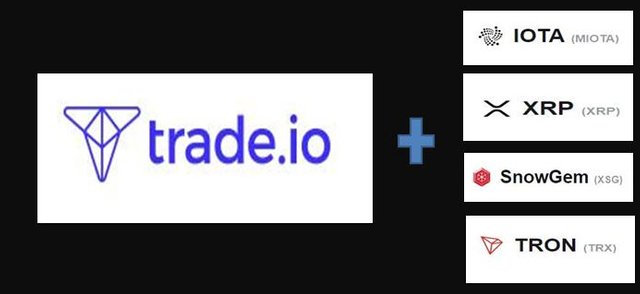 About the trade token
The TradeToken (TIOx) is trade.io's native Cryptocurrency which participants/traders use for carrying out transactions across the wide range of Crypto assets. The Tradetoken(TIOx) is used by investors to participate in the growth of the company. Investors earn daily interest from their investments through lending their TIOx tokens to the liquidity pool.
Being an innovative Cryptocurrency Exchange that is growing as the Blockchain industry grows, Trade.io added four new Cryptocurrencies including MIOTA, TRON(TRX), XRP, SnowGem(XSG)
Let's take a look at some brief notes about each of them.
MIOTA


IOTA is described as a distributed ledger for the Internet of Things that uses a directed acyclic graph (DAG) instead of a conventional blockchain. Its unique features such as quantum-proof protocol, Tangle, bring forth benefits like 'zero fees, infinite scalability, fast transactions, and secure data transfer. The IOTA Tangle is equated to a Directed Acyclic Graph that possesses zero fees on transactions with no fixed limit on how many transactions can be confirmed per second in the network; the throughput rather grows in conjuction with the activity in the network for example the more activity implies a faster network.
You can check out this tweet:
https://twitter.com/TradeToken/status/1134487573219467264
TRX


TRON(TRX) is focused on building the future of a truly decentralized internet and a global free content entertainment system that leverages blockchain technology. The TRON protocol is a representation of the architecture of an operating system that is built on Blockchain technology that enables developers in creating smart contracts and decentralized applications, to freely publish, own, and store data and other content.
XRP


XRP is a Cryptocurrency that is used in representing the transfer of value across the Ripple Network. The core reason for XRP is to be a mediator for both cryptocurrencies and fiat - exchanges.
Its protocol that is functioning as a working prototype was initially created way back in 2004, though, its real history kicks off in 2013, when Jed McCaleb who is the creator of the EDonkey network invited a bunch of world rank investors to invest in Ripple Labs. Source
SNOWGEM(XSG)


SnowGem is described as a new form of Cryptocurrency that is based on Zhash. Its users can generate XSG through the process of mining. XSG is also characterized as a Master Node Cryptocurrency where users can build up their own master node with just 10,000 XSG tokens and enjoy a ROI of 53.86%. According to the Coinmarketcap, SnowGem has a current supply of 84,096,000 XSG with 11,356,232 XSG in circulation. SnowGem is rooted on the fact that there is no central authority because the system's decisions are controlled by nodes in the network which is open to anyone who is anywhere in the world.
Check out this tweet: https://twitter.com/SnowGemOfficial/status/1134538162896855041
Peculiar with SnowGem:
It is the First Zhash-zkSNARKs Masternode coin
has a beautiful Modern Wallet with multicurrency support
has a unique mining tool for all coins with great features
has an experienced development team
has a very strong and friendly community
In conclusion, these are indeed going to be of great benefit to the Traders as they are going to grow their profit base as they continue trading and transacting with such a wider range of Crypto assets on Trade.io's trading platform.
All Screenshots are taken from the current Coinmarketcap standings.
Register and start trading with Trade.io
Disclaimer
This is not financial advice, nor a guarantee or promise in regards to any result that may be obtained from using the above content. The information provided here is for informational and entertainment purposes only. It should not be considered as financial and/or investment advice. No person should make any kind of financial decision without first consulting their own financial adviser and/or conducting their own research and due diligence.