česky dole
Every year, before the season starts, Bayern München invite 3 other teams for this mini-tournament.
This season Bayern invited the Champions League finalist Tottenham Hotspur, 3-in-a-row-till-last-year winner of the Champions League Real Madrid and Turkish team Fenerbahçe Istanbul with loud and impulsive fans.
It's great to have an opportunity to see 2 consecutive matches, because sometimes you simply feel, that 90 minutes + overtime runs so quickly and when you compare it with the time to get to the city and stadium, its relatively short period of time!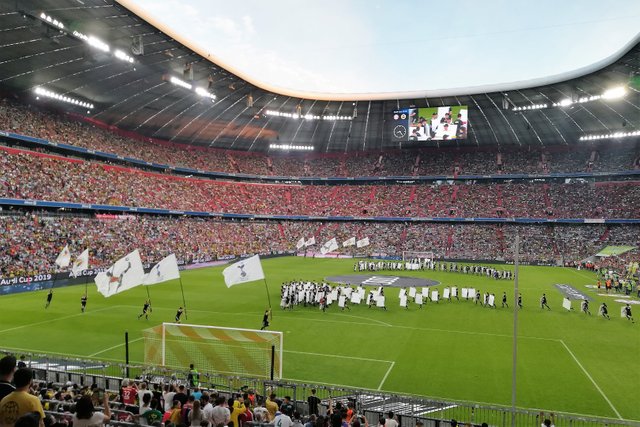 The teams have the chance to test their form just a week or two before their leagues tends to start. So, its superb chance to see whether they are prepared for the new season or not.
For both the winner of the Audi Cup 2019, Tottenham Hotspur and the final is Bayern München, it seems that they are in a good and consistent form to battle for highest positions in the 2019/20 season. In the final match, Tottenham outplayed Bayern on penalties. Third place takes Real Madrid after defeating Fenerbahçe Istanbul.
Me personally, I was impressed by Fenerbahçe fans and their passion. It must be really interesting to be part of the Turkish Süper Lig!
Over 132 thousand spectators in both days watched Tottenham victory. Allianz Arena has the capacity of 75 000 spectators.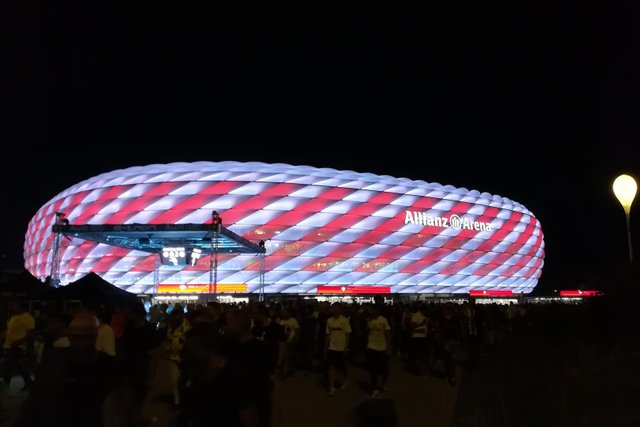 Results of the Audi Cup 2019
Semi-finals
Real Madrid – Tottenham 0:1
Bayern München – Fenerbahçe 6:1
3rd place match
Real Madrid – Fenerbahçe 5:3
Final match
Bayern München – Tottenham 2:2, 5:6 pen.
---
Tottenham porazil Bayern na penalty ve finále Audi Cupu
Každý rok před začátkem sezóny pozve Bayern Mnichov 3 další týmy na předsezónní turnaj zvaný Audi Cup. Tentokrát si pozval finalistu Ligy mistrů Tottenham Hotspur, Real Madrid a turecký tým Fenerbahçe Istanbul.
Je skvělé mít příležitost vidět 2 po sobě jdoucí zápasy, protože někdy prostě cítíte, že 90 minut + prodloužení uběhne hrozně rychle. Navíc v porovnání s časem, kdy se na zápas potažmo do města, kde se uskuteční, musíte dostat.
Týmy mají na tomto turnaji šanci otestovat svou formu zhruba týden nebo dva před začátkem jejich domácí soutěže, což je skvělá šance zjistit, zda jsou na novou sezónu připraveny nebo ne.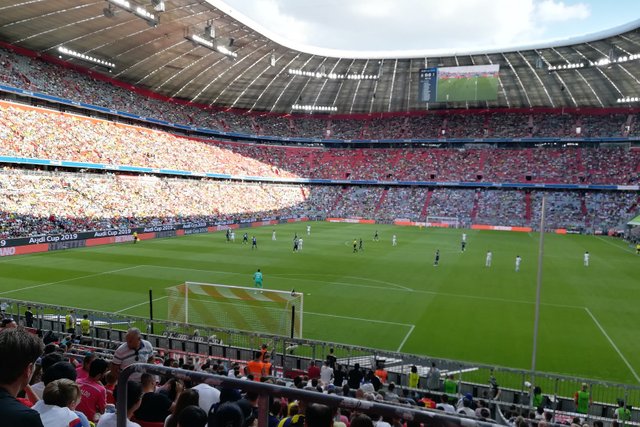 Jak pro vítěze Audi Cupu 2019, Tottenham Hotspur, tak pro finalistu Bayern Mnichov to vypadá, že se nachází v dobré formě. Celkově třetí Real Madrid vyrukoval v sestavě s novou posilou z Chelsea, Edenem Hazardem, ale ještě to nebyl ten starý Hazard, který dotáhl Chelsea k několika trofejím.
Osobně na mě zapůsobili fanoušci Fenerbahçe, jejich nadšení bylo jasně znatelné. Také byli v početní převaze, jelikož v Německu žije silná turecká komunita. A všichni si asi dokáží představit jejich horkokrevnost a zápal pro hru.
Vítězství Tottenhamu sledovalo na stadionu během dvou dnů přes 132 tisíc diváků. Allianz Arena má kapacitu 75 000 diváků, byla tedy z většiny zaplněna.