cesky dole
Hi everyone, this is the article to @rokyupjung contest for a prize of 10 000 SPORTS divided into the top 5 called "Your Most Memorable Match".
Without any long thinking, I picked the match of EURO 2004 between the Czech Republic and the Netherlands.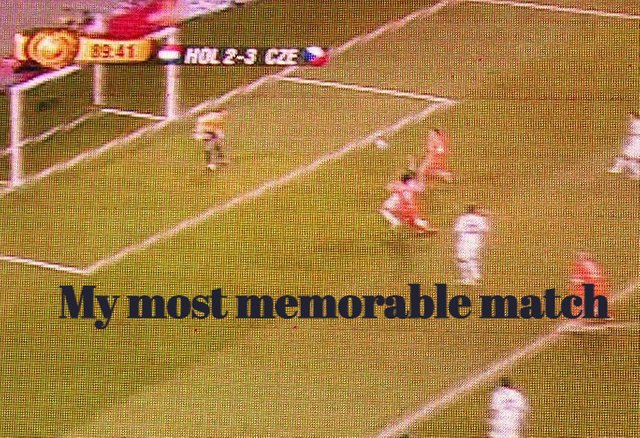 The match
The Netherlands team was better from the first minutes. The Czech goal was attacking after an attack. Already in the fourth minute, the first goal was scored when Wilfred Bouma headed the Robben's center. In the twentieth minute, Ruud van Nistelrooij increased to 0:2 after the death offside situation.
The Czech team was on its knees, however, coach Karel Brückner took the risk, substituted poorly playing defender Grygera by an offensive midfielder Šmicer.
Already in the 23rd minute after the break situation, Milan Baroš passed the ball to Jan Koller and he scored. 1:2.
In the 71st minute, Baroš scored and the offensive presentation of the two teams was a real advertisement for football! Nedved fired a shot from long distance and hit the beam. Petr Čech was also saved by a post in the gate, there were so many scoring opportunities for both teams.
Two minutes before the end of the match, Vladimír Šmicer scored the third goal after a beautiful shot by Mark Heinz and a selfless pass by Karel Poborsky.
Czech Republic 3 - Netherlands 2
The Czech Republic qualified from the group stage right after this match and then ended the championship ride in the semifinals. The turnaround in the match with Holland was the best and most exciting for my whole career as a fan!
Statistics
Czech Republic - Netherlands 3:2
Goals: 23. Koller, 71. Baroš, 88. Šmicer - 4. Bouma, 20. Nistelrooij
Czech Republic squad: Čech - Grygera (24. Šmicer), Jiránek, Ujfaluši, Jankulovski - Poborský, Galásek (62. Heinz), Rosický, Nedvěd - Baroš, Koller (75. Rozehnal)
Goals from this match are in this YouTube video.
---
Holanďané od začátku převzali otěžě zápasu, ve 4. minutě skóroval hlavou Bouma po Robbenově centru a když ve 20. minutě přidal druhý gól Nistelrooij, vypadalo to s námi na ručník do ringu.
Český tým byl na kolenou, trenér Karel Brückner však zariskoval, stáhl ze hřiště obránce Grygeru a nahradil jej ofenzivním žolíkem - štístkem Láďou Šmicrem.
Už ve 23. minutě po brejkové situaci, tedy těsně před tímto střídáním, snížil po přihrávce Milana Baroše náš kanonýr Jan Koller.
V 71. minutě pak vyrovnal sám Baroš a ofenzivní představení těchto dvou týmů bylo opravdovou reklamou na fotbal. Nedvěd dalekonosnou dělovkou nastřelil břevno, Petra Čecha v bráně také zachránila tyčka, zkrátka bylo se na co dívat.
Dvě minuty před koncem zápasu přidal třetí branku Vladimír Šmicer po krásné střele Marka Heinze a nezištné přihrávce Karla Poborského.
Česko 3 - Nizozemsko 2
Česko si výhrou zajistilo postup ze skupiny a jízdu šampionátem zakončilo až v semifinále. Právě obrat v zápase s Holandskem byl pro mě a pro mnoho dalších fanoušků naší malé země uprostřed Evropy tím nejlepším a nejvíce vzrušujícím za celou fanouškovskou kariéru!
Kdo si tento zápas pamatuje, určitě zavzpomíná i na památnou hlášku Míry Bosáka: "A ono to půjde, ne že ne!"
---
Pozn. Musím říct, že #sportstalk začal být mým oblíbeným steemitím tribem. Vlastně už dlouho jsem chtěl psát více o sportu, ale buďto bylo málo čtenářů, nebo odezvy, takže jsem bral steemit spíše jako sociální síť o kryptoměnách a jiných běžných problémech. Až do teď. Takže jakákoliv soutěž týkající se sportu bude asi i s mou účastí.