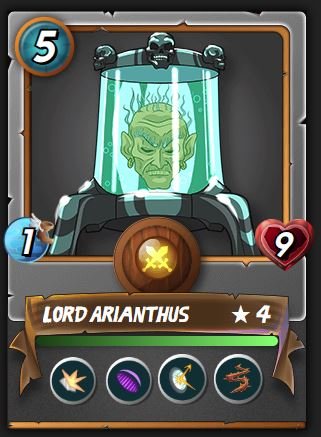 Splinterlands Journal - Lord Arianthus Review
By and far one of the best legendaries in the game, and its an abundant reward card!
If you dont have LA, you are simply not going to be able compete down the road.
What makes the head in a can L33t monster so useful is the fact that he serves as the barbed-wored moat separating your troops from the enemy. While he allows your foes to beat themselves silly, he also delays their ill-intentions while your middle and rear guard attempt to pummel them behind the wall that he serves as.
Only an outpouring of ranged attacks can effectively serve to dismantle his defenses. But it is the LAs ability to deter BOTH melee and magic attacks that makes him so essential. By not having to choose correctly which to defend against, the LA helps you to bottle neck the enemy, which in itself is a key advantage to have in any battle.