Splinterlands Journal - That Charging Bull.... the Raging Impaler!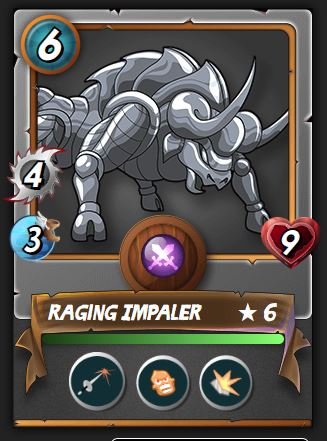 Apart from the fact that it's one of @steemmonsters more awesome looking monsters, that metallic bull can also be a game changer in many game formats.
For any team looking to push against the opponent's front door, the Raging Impaler is often a very useful choice.
With a shield and strong 9 HP at max level, the RI can typically endure any frontal attack head on. While susceptible to magic attacks, the goal of any team here should be to merely outlast the opponents front tank monster opening up the opponents interior. It wouldn't not be difficult to add a second position tank with healing or magic reflect if Magic attacks are really a concern.
With enrage, the Raging Impaler often has much more speed than it initially appears to have. Granted this is based on the expectation that it would take at least one hit first. The same can be said about melee damage it can dish out. Especially with Piercing to cut right through an opponent's armor.
It's useful to arm this neutral monster's team with a healer, but definitely try to focus on using all front-monster attackers on your team. Dividing the attack focus is not an ideal strategy with the use of the Raging Impaler in most situations.