Steem Monsters Giveaway - No follow, upvote, resteem
---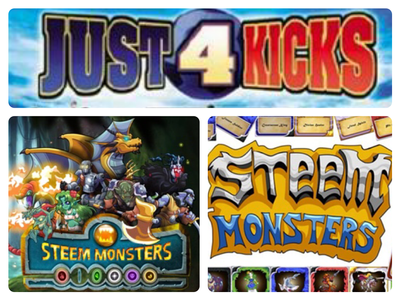 ---
Opening Remarks - Team Projects
We have two new awesome project that we recently launched @steemexplorers and @givememonsters.
Steemexplorers is a discord server that serves as a database containing free and easy to use information on a wealth of services and communities on the Steem blockchain. Stop by and find some things to help yourselves grow. We also have FREE upvote bots there. The steemexplorers upvote bot has almost 900 vested PALcoin and just over 1,800 SPT for added curation benefits and is free to use right through our discord channel at the link below.
@givememonsters is a Dark Energy Crystals upvoting bot in which you can pay 1-10 DEC (which most people get for free from playing or by burning cards) and you can use those for up to a $0.03 upvote presently through the Steem-Engine exchange. Our bot is offering currently around a 300% return on investment with these upvotes and is one of the best deals around! Don't like the card you won here today? That's ok, just burn it into 15 Dark Energy Crystals, keep 5, and use the other 10 to get a $0.03 upvote from @givememonsters! This upvote bot also has 250 PALcoin and almost 2,900 SPT staked for additional curation benefits as well for no extra charge! Learn more at our discord at the link below.
---
Daily Giveaway Instructions
This giveaway is for 1x FREE Steem Monsters Rewards card chosen at random from my collection.
** Choose a number 1-100 and comment below to participate. **
That's it!
I will select a winner following post payout and provide the winners in a summary post, and will comment in the winners post once all cards have been distributed.
Please check out our partner accounts listed below for a whole lot of additional giveaways and more chances to win!
If your Steem Monsters username is different than your Steemit username please leave your username in the comments.
Upvotes, follows and Resteems are NOT required for participation but are of course appreciated.
Good luck!
---
About The Team
We are a growing group of individuals that seek to help the Steemit community by providing free giveaways to promote, above all things, a platform for other Steemit users to grow and find a little assistance along the way to improve their experiences and draw more interest to Steemit as a whole.
Combined between our now 5 active team members:
We are now giving away something every single day across 4x accounts. That's 28x FREE giveaways every single week! And we're working on providing an upvote service through the @givememonsters account!
---
Easy Access Steem Blockchain and Free Crypto Sites to Help You Earn!!
Coinbase Registration
Coinbase Earn - $10 Free EOS
Coinbase Earn - $10 Free Stellar Lumens
Actifit
Givememonsters
Minnowbooster
Mannabase
Presearch
****