First of all, let me reemphasize I am not promoting any other coin other than #steem itself. However, if we were to talk about investment, we will have to touch other financial instrument as a comparison, as a medium, as a must to complete a transaction, which will eventually becoming a T R A D E. So, once you have extra #steem in hand, what do you do to grow them? Here's apossible way to roll them out and roll the bigger and set them in again.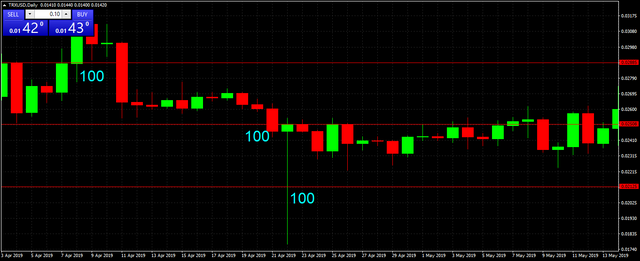 The above is a TRX chart. By the look of the way how I plot my lines, you will know I am actually talking about cost averaging. Which is what people do when buy on the loss so we can average out our cost of entry. Here's a case study:
We purchased $100 worth of TRX on April 8, at the price of 0.02888
We purchased $100 worth of TRX on April 21, at the price of 0.02507
On April 22, immediately there's a diarrhea happening. Price plunged all the way down and triggered one of our order to purchase $100 at 0.02125
Let's do the calculation, now we have a total of how many TRX?
$100/0.02888 We have 3,462.603TRX
$100/0.02507 We have 3,988.831TRX
$100/0.02125 We have 4,705.882TRX
Total available TRX in hand is now 12,157.316 which I spent $300 in total to accumulate these, which means my average entry price now has been lowered to 0.02467. This will lead to the enxt graph below: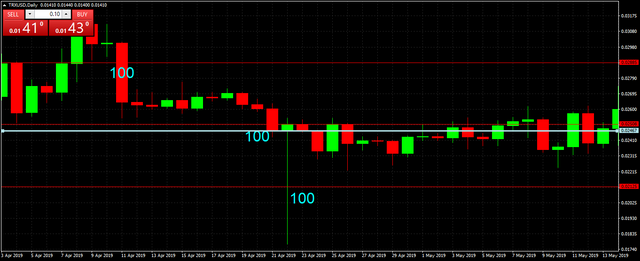 Now I have plot a new blue line on 0.02467. Which means the very same day after I purchased the 0.02125 and instantly I'm on breakeven. Whether should I cut it loose and wait for other opportunity? Ofcourse, one can choose to end it here, but will you? Basically, #cryptocurrency trader has always been an hodler, and therefore we're always talking about how to buy the most efficient price, but never heard of people talk about how to maximize their earnings.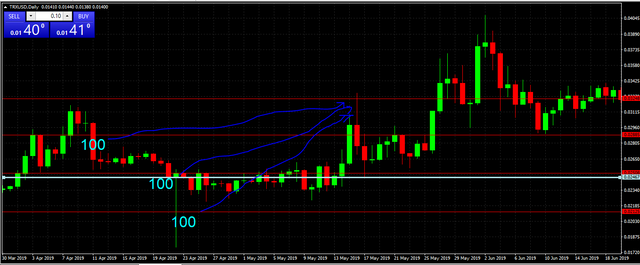 Here, similarly I plot one more line on top of my buy in price, so I grid the exits there at 0.03248. Note that if I set to sell all 3 lots of 12,157.316 unit of TRX at 0.03248, how much $ dollar I'm getting back? $394.87 on May 16. And that's 31.62% gain in less than a month. Dude, that $94 profit putting back into Steem would worth some 700steems. Imagine, can you spam posting everyday and earn that 700 steems in a month or not? Probably not many can do other than the big shots themselves.
I'm not asking you to do what I do. I'm merely tell you there's a way to getting in WITHOUT direction and still be able to survive.
Next, we will try to cover a little bit on how to grid trading with cost averaging method.