AAA Mentor Program Round 1 Just Finished | 68 JJM Rewarded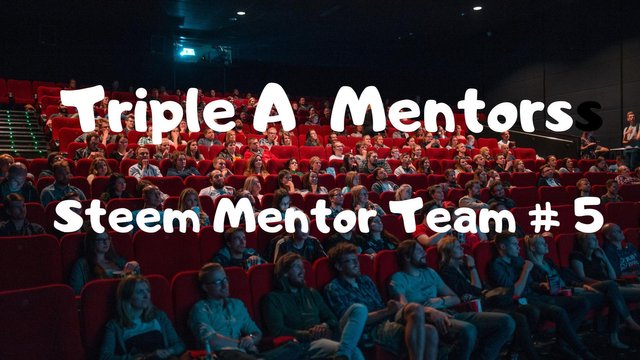 Two months ago, we started the Mentoring Program for this awesome TripleA site that does Movies, Animations and TV shows reviews.
The purpose is to get Steem mentors to bring in new users onto Steem to get engaged onto the Triple A site. Newbies usually need mentors to guide them along to do well in a Steem community.
I am happy to announce that we recruited one awesome AAA mentor for the TripleA.reviews.com. His name is @alokkumar121.
Even though we only had 1 mentor in Round 1, he did a super job in setting an examples for the next round of AAA mentors. All great things start small. A small mustard seed grows into a big plant such that bird will come in here to make a nest. This is what I see in the coming days for the TripleA.reviews.com.
---
The Role of a successful AAA Mentor was in 4 Stages.
This is exactly what @alokummar121 did in the last 2 months.
Reached out to potential newbies outside of Steem and inside of Steem!

Reached out to his followers on Steem who are not on the AAA platform yet and helped them get started.

Used 2 months to mentor the newbies to participate in the AAA community effectively.

Helped the newbies to start writing at least 5 reviews on movies or TV shows.
@alokkumar121 created a Post to show the result of his mentoring work for TripleA site.
https://www.triplea.reviews/beamentor/@alokkumar121/triplea-aaa-mentor-programe-final-report
We are proud of you. The AAA team @virus707 @jayplayco and @segyepark appreciate the hard work you did in the last 2 months.
You did a super job in mentoring 8 new AAA users to get involved and engaged in the AAA community.
We want to congratulate these 8 new mentees for the many great reveiws you have written for TripleA:
You can click on their profiles to see the great value they have contributed to TripleA under the guidance of their mentor @alokkumar121.
---
Reward to TripleA mentor:
| Mentor's Work | JJM Rewards |
| --- | --- |
| 1st Mentee | 5 JJM |
| 2nd Mentee | 6 JJM |
| 3rd Mentee | 7 JJM |
| 4th Mentee | 8 JJM |
| 5th Mentee | 9 JJM |
| 6th Mentee | 10 JJM |
| 7th Mentee | 11 JJM |
| 8th Mentee | 12 JJM |
| Total | 68 JJM |
A total of 68 JJM has been sent to @alokkumar121!
Awesome!
Please check your wallet at Steem-Engine!
We would love to see you and your mentees to join the AAA Mentor Program Round 2!
Stay tuned for the next announcement,
Rosa
@rosatravels
---

Thank you to Our awesome delegators
@paulag | @amico | @rosatravels | @dylanhobalart | @robmojo | @d00k13 | @newageinv |
Thank you to Our awesome supporters for your donation
@rosatravels | @katerinaramm | @pharesim | @etcmike | @paulag | @geekgirl | @carlpei | @whatsup | @amico | @moghul | @iamjadeline |@earnlogy
Please support us and Donate 1 STEEM to support @BeAMentor
We will give you UPVOTES for your support!
---

---
Thank you for reading this post! If you like the post, please upvote, resteem and comment.
谢谢你的阅读!希望你喜欢。如果你喜欢我的分享, 请点赞并跟随我。