SteemLeo was just released, the website is SteemLeo.com.
This is a platform dedicated to investments, the good the bad the ugly!
We just had palnet released with there token PAL, and now we are seeing steemleo and there native token LEO!!
So let's take a look at where we are today in the world of investments!!!
Here is the first on the rewards pool......
Remember this is the total Steem in the fund. This can fluctuate with power up's power down's ....... and Steem payouts.
Let's see where we are at !!!!!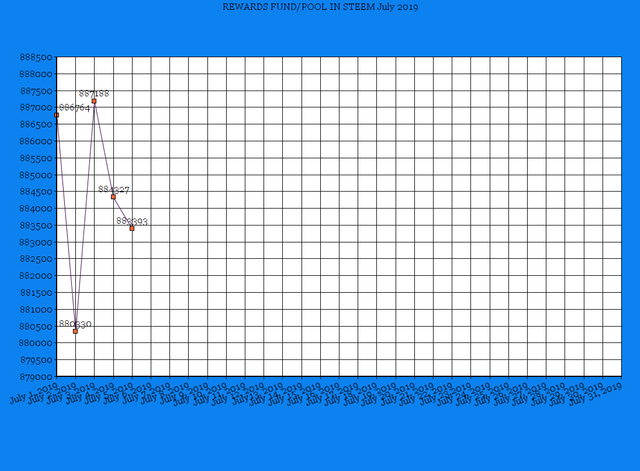 Todays rewards fund/pool in Steem 883,393
The market is still gyrating......
This trend can changing quickly, and we will just watch and see where the total steem volume goes......... This is a graph created by me.
let's check the USD price ......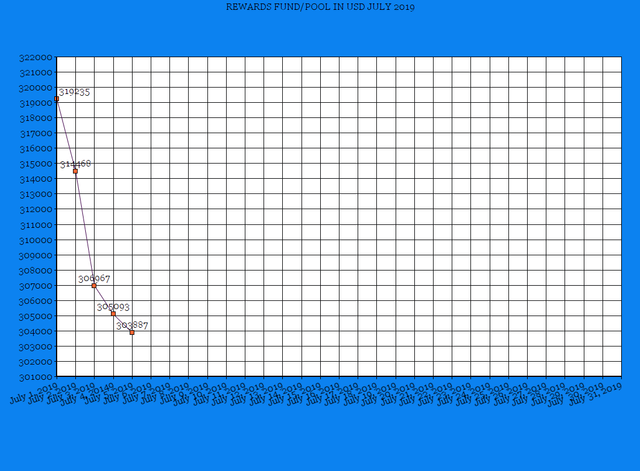 Todays rewards fund/pool in USD $303,887
After that big dip in the beginning of the month we were holding, and now the market is consolidating...
BTC is at $11,319.06 down $513.36 today, but still in a bull market!
Now take a look at Steem.....
The value of Steem in USD is .... .344 cents ... Down!
The price of SBD is also down at .98 cents!
I try to post this regularly, and when I see a larger change, and when I spot something new ....Like steemLeo!!!
I created these graphs personally, so I could follow the total USD and total Steem in the Rewards fund. These are strictly for educational purposes and not be taken as financial advice....... I hope you found them helpful! @silvertop does!
I believe we have something special here on Steem!!!
and I also believe we have something special on palnet.io and now on SteemLeo !!!!
Here are some links that might also be helpful :
Spot BTC: 11,319.06 -513.36
Spot Gold: 1,397.70 -17.20
Spot Silver: 14.96 -.28
Spot Palladium: 1,553.00 +7.00
DJIA: 26,928.49 -37.51
Crude Oil 57.32 -.02
Steem base feed price .344
SBD .98
Actifit SP: 544,519.62 -1,282.48
upvotebuilders SP : 18,777 +437.00
upvotebuilders second voting account @ub-sub1 .......NEW!!!
SP : 3,883.00 +6.0
palnet.io is built on the Steem blockchain and has the same witnesses. Pal is the native token, and you can stake your Pal like powering up.
You can buy PALM and PALMM tokens that are PAL miners!
This has been bouncing between .14 and .20!
If you add the tag palnet, and now steemleo to your post you will be posting to all three steem and palnet, and steemleo and possibly get rewards on all three!!
Just remember SteemLeo is for investment post.....
PAL token: .139
PALM token: 11.29 mining token )
PALMM token: 34.32 ( faster mining token )
LEO token: .03055 NEW!!!!
A big shout out to @ketcom and the @upvotebuilders team !!!!!!
@upvotebuilders is growing and now has two voting accounts!!!
UpvoteBuilders a team of upvote builders creating better rewards for content creators through upvotes - There Is Power In Unity


https://steem-engine.com This is a new DEX (Distributed Exchange )
https://actifit.io The steem Dapp that pays you steem and AFIT tokens that are exchangeable for upvotes......... get out and exercise! :)
@actifit went live on Steem-Engine with there ISO sale of AFIT tokens....
12,000+ Steem volume and 240,000+ AFIT tokens sold that day!!
Starting at .024 cents each AFIT token on Steem-Engine!
Now not only does @actifit pay out upvote rewards for your steps, but also AFIT tokens that have cash value!!!!
AFIT Tokens... @actifit native Token exchangeable for upvotes @ .036 cents each!
Way to go @actifit!!!!!
Guys keep your eyes on @actifit and @upvotebuilders...... I see big things to come!!!!!
Also check out @steembasicincome Steem Basic Income is a social experiment to bring a basic income to as many Steemians as possible.
https://steemblockexplorer.com/ ( your user name here )
https://steemd.com/( your user name here )
https://steem.supply/( your user name here )
https://steemnow.com/upvotecalc.html
https://steemworld.org/( your user name here )
https://freedomex.io Smart Media Exchange
https://steemit.com/steembasicincome
If you have any stats. that you would like to share, or for @silvertop to follow post a comment below! Have a good day!!!