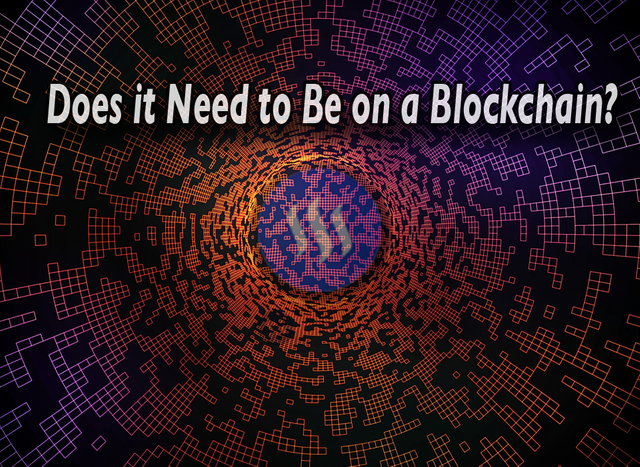 I syndicated a recent video by Andreas Antonopolous titled "Picking the Right Blockchain for the Job".
Andreas covered a variety of topics related to blockchains and the validity of using various chains. This prompted me to think of the following two questions. What follows is my attempt to make the case for Steem as a blockchain.
Do we need a blockchain for Steem? What does Steem do in the first place?
Steem started its journey as a blockchain for blogging. Through the Steemit.com interface, blogging on the Steem blockchain was born.
You could:
Write articles and post them onto the blockchain
Upvote articles (and receive upvotes) which would dictate where newly minted STEEM would flow
Comment on posts
Steemit.com is a simple blogging interface with rather simple functions. Do you really need a blockchain for all that? What does putting it on a blockchain do that a centralized platform cannot do?
Censorship-resistance
Immutability
Rewards pool distribution
The way I see it, these are the 3 main features of blogging on a blockchain. It is becoming more evident that storing content on a blockchain has real value in the world.
Look no further than the centralized social media platforms to realize why it could be valuable to have all content on a censorship-resistant platform with immutability. Look at the shadow banning on Twitter, the deplatforming on YouTube and Facebook…
Censorship is everywhere nowadays. We constantly hear cases about people and their content being removed from the platform where they have built an audience and a digital home.
Steem is censorship-resistant. Meaning that content you post on the Steem blockchain will forever remain on the Steem blockchain. Nobody is going to take it down and completely remove it from existence. However, various interfaces to the Steem blockchain can still censor you from their platform. Steemit, for example, can take you off the Steemit.com interface if you violate their ToS.
However, even if you do get censored off Steemit.com, your content will still remain on the blockchain.
The rewards pool is a more futuristic application. We've seen the rewards pool work and not work. The mechanism may not be the most fair thing in the world, but I do think it has gotten a lot better since the EIP in Hard Fork 21. Do social media platforms need rewards pool mechanisms? Definitely not. Do you need a blockchain to create a rewards pool such as the one on Steem? I'd say yes.
I've only talked in terms of blogging. Now expand the conversation more broadly to all the various apps, DApps and communities that have popped up all across the Steem blockchain.
All of these various use cases on Steem have different reasons for being on a blockchain. Some deserve to be on a blockchain and others don't. It would have to be evaluated on a case-by-case basis. Since I'm trying to make the case for why Steem has a good reason for being a blockchain, I'll talk about one of my favorite uses of Steem:
Splinterlands. The digital trading card game known as Splinterlands is still hands-down one of my favorite applications of blockchain technology. Using NFTs (Non-Fungible Tokens), Splinterlands is able to distribute cards to players as tokenized assets that are stored on the blockchain and can be traded, combined and battled with.
Could Splinterlands be built without a blockchain? Of course it could be, just look at games like Hearthstone or Magic The Gathering. It could be built without a blockchain, but it wouldn't have nearly the same Value Proposition if that were the case.
It wouldn't have non-fungible tokens, allowing players to truly own their in-game assets (cards).
It wouldn't have such a vibrant market for cards, allowing players and investors to buy, sell, combine and lease cards/decks to other players in exchange for cryptocurrencies.
Splinterlands is a great use of blockchain because it enhances the game. It's not some ridiculous idea that has no real need for blockchain technology. It is using the blockchain as a means to creating a game with a more rich experience than traditional trading card games like Hearthstone.
Why should Splinterlands be on Steem? There are, of course, many alternative blockchains out there. So why would building Splinterlands on the Steem blockchain make sense?
3 second transactions
Free transactions
Core user base already exists
Leveraging community effort (much of the design, development, etc. has been contributed by the Steem community)
Correct me if I'm wrong but I believe that some of these features exist on other blockchains, but I don't know of a single one that has all 4 of them.
The Market Ultimately Decides What Your Blockchain is Used For:
As a designer, software engineer or artist, you never know what your product, service or creation may be used for or interpreted as. While creating it, you likely have ideas for what the future may look like. You have your own goals and your own purposes in mind, but in the end, the user, the client and the market will decide what the purpose actually is.
We have seen this on Steem as the blockchain has matured and new applications and communities have come to fruition. As I just said, Splinterlands is an incredible use of blockchain technology and the Steem blockchain.
Do you think Dan Larimer imagined Splinterlands when he created the Steem blockchain?
The answer is no, he didn't.
Do you think he imagined markets for digital asset leasing emerging on the Steem blockchain in terms of NFTs, STEEM POWER leases and Resource Credit pools (in the near-future)?
Do you think he imagined Steem-Engine - a third-party application - creating the means for tokenizing the web?
No, probably not.
In the end, the market decides what your blockchain will be used for. What started as a very simple blogging platform has turned into a vibrant economy of tools that can be leveraged by all sorts of businesses to create something with blockchain technology. Not all of these businesses will survive. Not all of them have a real reason to use blockchain technology. Steem simply provides them opportunities and means to try to create something.
In Closing:
I believe that Steem has a very solid use case as a blockchain. It is both broad and highly specific. It is broad in the sense that the tools available on Steem are so varied and so flexible, yet it is specific in that the people who are leveraging these tools are creating very robust applications that solve a lot of global problems that we are experiencing in the world today.
In one corner, you have @splinterlands building an incredible game with NFT technology.
In another corner, you have communities springing up all over the place which leverage censorship-resistant content creation, tokenization and a unique rewards distribution model.
In yet another corner, you have @threespeak building a video platform for the deplatformed content creators around the web and allowing the ideas of free speech and citizen journalism prevail.
In yet another corner, you've got @actifit building an application for recording & rewarding physical activity on the blockchain.
There are so many amazing use cases on Steem and we are only 4 years in. I've researched a lot of blockchains and have asked myself the question "does this really need to be on a blockchain?" and Steem, in my ultra-biased opinion, passes this test with flying colors.