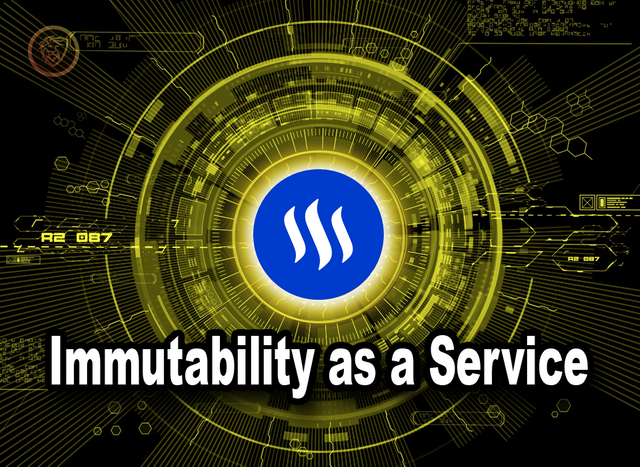 Immutability is one of the fundamental ideals of blockchain technology. One of the many reasons why Bitcoin was created in 2009 by Satoshi Nakamoto was for the advancement of a technology that could provide immutability as a service to people around the globe.
With Bitcoin, anyone can import data to the Bitcoin blockchain and record it in the immutable history of the blockchain for the cost of 1 transaction fee. This is immutability as a service.
Many people here on Steem wonder why this blockchain has any value. Why would anyone use it and why would the base currency — STEEM — gain any value in the long-term?
Immutability as a service is one of the many things that I believe will give STEEM value now and in the future. But STEEM has no transaction fees… how does it offer immutability as a service if it doesn't charge anything for that service in the way that the BTC blockchain charges users a tx fee?
Firstly, anyone who wants to use the Steem blockchain to import data must have a Steem account. Once they have a Steem account, they must have the necessary amount of resource credits to make a transaction and upload their data to the immutable blockchain.
As of this writing, resource credits (RCs) come from two places:
Having STEEM vested in your account (STEEM POWER)
Leasing vested STEEM from another user (delegated STEEM POWER)
In a future network upgrade, we can expect resource credit pools to offer a 3rd option to this list in the form of renting RCs from large SP holders without renting the vested stake itself. For now, I'll focus on what's available.
The amount of RCs you need to upload your data to the blockchain depends on a few factors:
What kind of data do you want to upload?
How much data do you want to upload?
How frequently do you want to upload data?
Customers of Immutability as a Service
There are different "customers" who use immutability as a service on the Steem blockchain.
Content creators upload written content to the blockchain to store it immutably and censorship-free
Investors upload STEEM (or any STEEM-based token) transaction data to keep a ledger of their holdings
Businesses may have a variety of reasons for wanting to store data on the blockchain — one of my favorite use cases is @splinterlands. They store cards on the blockchain in the form of NFTs, battle history is also stored, pack transactions, community contests and more
Communities also may have a variety of reasons for wanting to store data on the blockchain. Namely, tokenizing their project and using the blockchain as a ledger to store tx data and the amount of tokens that investors are hodling. Another common use case is keeping records of content that is uploaded to the blockchain and even using filtering mechanisms (i.e. scotbot) to parse the data that is relevant to their niche
These are just the use cases that are at the top of my mind. There are many more that exist now and way more that will exist in the future as the blockchain matures and more innovation occurs. 99% of what exists on Steem today was not in the original vision for this blockchain. That is the fascinating aspect of open-source, global technology — you never know what it's going to be used for once it gets into the hands of the crowd.
To answer the original question, the value of STEEM is driven by many factors. If you imagine that this blockchain will grow in the number of "customers" in the 4 categories I laid out above, then you can imagine the growing demand for Resource Credits in exchange for immutability as a service.
Right now, users often by at least a small amount of SP to transact — be it 15, 25 or 50 SP — but in the future, I imagine that SP will be held by large businesses, communities and investors who will hen either lease out their excess resource credits or create their own internal resource credit pools for their user base to interact with the blockchain.
Something like SteemLeo, for example, would hold a large amount of SP and allow it's resource credit pool to be available to financial content creators, LEO token investors, etc. to transact with the underlying Steem blockchain and use it to store data immutably.
Digital immutability is still a nascent technology. We are just at the cusp of what is possible and we are just getting started. As time passes, immutability will become more and more valuable to people from all walks of life and the technology will continually evolve to be easier and easier to use.
---
Posted from https://steemleo.com