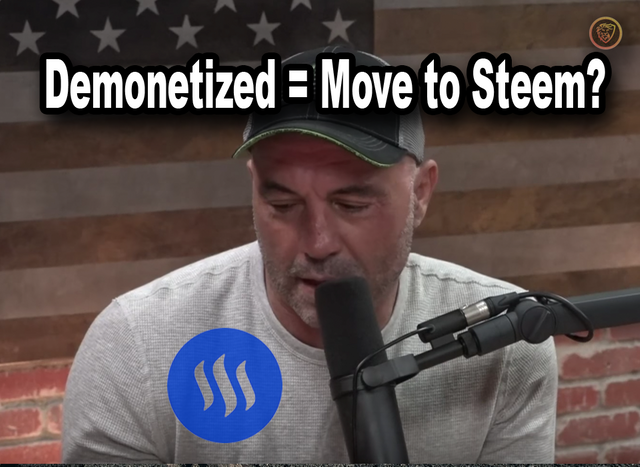 It seems that every week we hear about some major voice getting censored on some major platform. Whether it's Datadash on YouTube or Alex Jones on.. everything.
Today, a clip was released where Joe Rogan was talking to Roseann Barr about how one of the latest podcasts episodes (with Ari Shaffir) got demonetized on YouTube.
In the clip, Jamie says that it was demonetized because of "harmful activities" … harmful activities… The podcast episode in question is #1357. Joe Rogan has been making podcasts just like this one for over half a decade and he's made over 1,357 of them.
I listened to this particular episode and Joe and Ari talk about doing DMT with their friends and a few other things along the same lines. They also talk about the culture today and how virtue signaling and other bullshit "culture movements" are destroying the world. People are complaining about nothing because they simply need something to complain about. In other words, their lives are too easy and they need to make them harder.
Which part of the podcast is the reason for demonetization? We'll never know. YouTube doesn't say why exactly it was demonetized. Only that there is something "harmful" about it and that a human curator made the final decision to demonetize the episode.
The Need for Steem In This Age of Centralization
Steem itself is not enough to combat this age of centralization where all these crazy platforms like YouTube subjectively demonetize content. We need Steem-based apps that are easy to use, censorship-resistant and competitively designed compared to the big social networks.
What Steem allows is content that is stored on the blockchain. When you write a blog post, it's stored on the chain and nobody can censor it. Front-ends may take you down if they disagree with you or your content, but there are dozens of front-ends. If they all take you down (which is highly unlikely), then you can still continue to post your content on the chain.
The problem with centralized platforms, as Joe was talking about in this clip, is that they are appealing to their advertisers. YouTube and other platforms only care about lining their pockets with more money and encouraging the content that makes them more profits.
The solution on Steem is revenue-sharing and decentralization. Anyone can post on the Steem blockchain and to various front-ends and if those front-ends, communities or applications are fighting for their users, they are engaging in some sort of "profit-sharing" model either directly or indirectly.
I know @threespeak is aiming to do this as they roll out advertisements and share the revenue with creators. Other communities (such as SteemLeo) are also doing this by using ads to drive value to their native token that is used to reward content creators.
The new age of social media is one where platforms are more decentralized. Some platforms will be fully decentralized and others will be somewhere in the middle. SteemLeo is somewhere in the middle as it is centralized in some aspects and decentralized in other aspects.
Platforms like YouTube or Seeking Alpha that take 99% of the revenue for themselves and only care about making themselves richer are on the way out. They are literally signing their own death sentence with actions such as demonetizing Joe Rogan. In my opinion, we aren't far away from seeing people like Joe move to other platforms like Steem or even create their own platform. Joe has talked about making his own app for his podcast several times.
Just imagine that a mega-whale like Joe could either join an app that is powered by Steem or even use the tools on Steem to make is own app. Then he could enjoy the benefits of decentralization, censorship-resistance, revenue sharing (both with him and with his audience as well), etc.
Steem offers a vast array of solutions to the centralized world of YouTube, Facebook and Twitter. We are still early in the process. Things are hard to use and this drives a lot of people away from Steem.
As developers create better solutions, communities install better user experiences and Steem matures as a whole, we'll see the shift to this decentralized outlet for content creators, audience members and business owners. When the internet first came out, only a small subset of people knew how to use it with command-line interfaces. The internet only truly exploded when your average mom or dad could login and use it to send emails or "surf the web".
On Steem, we are still somewhere only slightly more advanced that command-line interfaces to the web. Our apps and communities are primitive, but they are advancing exponentially. Two years ago, your only option to use Steem was Steemit.com and maybe 2 or 3 other primitive interfaces. Today, you can browse/use Steem from over 100 different interfaces and apps.
@threespeak has a lot of potential to reach a massive audience with people like Joe Rogan. They are already doing a great job with other creators like @davidpakman or @nicholasmerten and others. Their platform could still use a lot of work in terms of UX, but like I said, we are early on and things are getting better at an exponential rate. One year from now, I have a feeling that @threespeak will be as easy to use as YouTube but won't have the centralized pitfalls of the Google-owned behemoth.