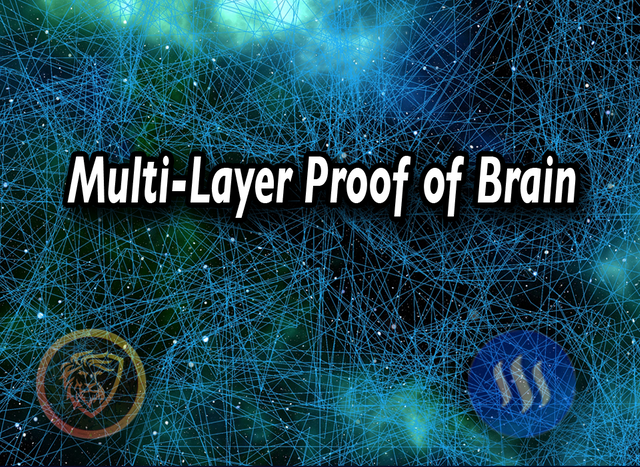 In the post I wrote yesterday — About The Difficulty of Mining STEEM Through Proof of Brain — I talked about how it's gotten easier to mine STEEM as a content creator post Hard Fork 21.
Now that the economic incentives are better aligned for STEEM stakeholders, we are seeing better content curation now than at any point over the last two years that I've been on this blockchain. Since I've been on STEEM, the incentives have been geared toward self-voting, bid-botting and anything other than outward content curation.
@taskmaster4450 left an interesting thought on that post:

As a content creator in the aftermath of HF21, we're seeing a lot more curation for good content on authors who put themselves out there and build a brand on the blockchain. My previous post talked about the impact of that for authors who are earning STEEM, but what about all the tribe tokens?
The Age of Multi-Layer Proof of Brain
Up until about 4 months ago, tribes didn't exist. When you made a post on the Steem blockchain, you expected to earn STEEM (and maybe SBD, depending on the price feed).
Since the formation of tribes like Palnet, Steemcoinpan, SteemLeo and others, we now see the effects of multi-layer Proof of Brain in action. Authors earn STEEM, but they also earn PAL, SCT, LEO and other tokens based on the quality and relevance of their content.
Tribes that are forming around particular niches are allowing new whales to emerge, as @taskmaster4450 has mentioned several times in his various posts. With this new generation of wealth, we see a better distribution of these tokens out of the gate. As the individual token economies develop, wealth is distributed even more broadly as Proof of Brain takes hold and the best content that is relevant to those particular niches earn the most tokens.
Then, some of those tokens inevitably hit the market. New entrants or existing users can scoop up those tokens at various prices. The weak hands sell, the strong hands grab hold of all the tokens they can.
The result?
Multi-layer proof of brain on content posted to the Steem blockchain. Authors who have a passion for various communities can niche down on their content from the broader Steem landscape and into tribes like SteemLeo if they have a passion for investing.
Not only are authors earning more from STEEM curation, they are earning more from all these various tribe layers that stack on top of that. This solves one of the major issues that this blockchain faces:
Too Low Rewards for Content Creators
We have a major marketing problem on the Steem blockchain. Besides the fact that there is little marketing being done to the outside world, we also have the problem of seeming like a scam to everyone who doesn't understand Steem.
I mentioned previously that I have been trying to reach out to Andreas Antonopolous to rejoin the Steem blockchain. He created an account a while back to reserve his name here, but in a speech he mentioned that Steem seemed like a scam. People were telling him to blog on Steem because he could make thousands of dollars on each post.
There are a few problems with marketing the rewards aspect of Steem:
"Come here to blog and get rich" sounds like a scam
"Earn rewards for your content right away" is mostly untrue (it's still hard to get recognition on Steem as a new user)
People don't actually earn much for blogging on Steem in the first place
With crypto prices as low as they are, earning $10 on a blog post puts you in the top 1% of bloggers on Steem. Most influencers and content creators won't give a shit about making $10 on a blog post.
Having all these extra layers with tokenization makes it better, but still far from what an influencer can make on alternative social platforms if they have a following and get brand deals.
With all that said, I think Steem needs to be marketed differently. Sure, you can come here and get paid for your content, but you aren't going to get rich. I choose to think about earning rewards on Steem in a different way:
Earning STEEM and earning the various tribe tokens is about more than "getting paid" for your content. It's about accumulating a stake in the "company" behind the token. Around the time I joined the Steem blockchain, I was reading a biography about Steve Jobs by Walter Isaacson and in it, there were several talks of the corporate options that Jobs earned while operating as CEO of Apple.
Ever since then, I've viewed earning STEEM (and now, tribe tokens) as the same thing. When you work hard and you put effort and energy behind the Steem platform and the various tribe communities, you are earning "corporate stake" in these "companies". The better they perform, the more your stake will be worth in the future.
As they earn revenue, you earn revenue. Either through direct buybacks.. burning of the token.. new money entering the market.. etc. These are all mini-businesses and creating content on Steem is about more than hoping to make $10 on a post. It's about providing value to the underlying community or blockchain that you support and believe in as it matures into a thriving business with a growing revenue stream and user base.
---
P.s. the @leo.voter account has been fully converted to vote on native SteemLeo posts (any post that is published through https://steemleo.com), similar to the busy.pay upvote account for busy.org. We haven't made the official announcement post yet, but if you post from https://steemleo.com, then you'll receive upvotes from @leo.voter (currently at about 90,000 SP). Provided that the content meets our quality guidelines.