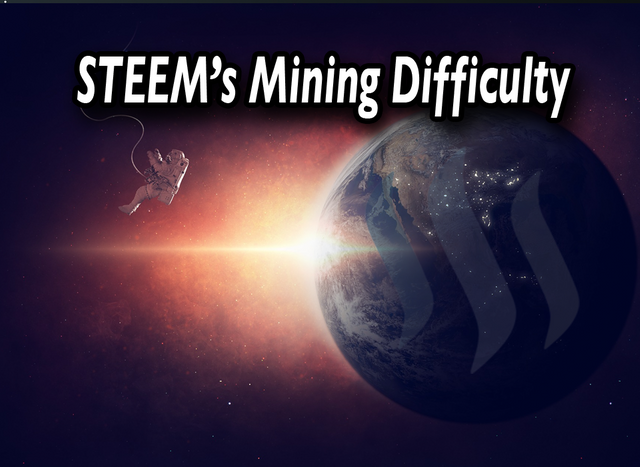 Most people on Steem don't think of content creation as a form of mining. We've all heard the term Proof of Brain (PoB), but how many of us really understand it?
On the Bitcoin network, newly minted Bitcoin is distributed to miners based on a system called Proof of Work (PoW). The work that miners are doing is all done on ASIC mining units — Application Specific Integrated Circuit. These units are automated computers that are all competing on a global scale to be the winning unit every 10 minutes (10 minutes is the block time for BTC).
Miners are competing to be the winner, which allows them to be the ones who confirm the next block of transactions and earn Bitcoin. Thus, Proof of Work is a competition for resources. Due to the high mining difficulty in 2019, if you want to mine BTC profitably then you'll need a warehouse that is well-positioned in terms of electricity, environment and location to ASIC miner factories.
On Steem, mining is a bit different. There is something similar to this Proof of Work mechanism where people are competing to be the ones who get to confirm the next block of transactions, but here on Steem it's called DPoS which stands for Delegated Proof of Stake. That'll be a topic for another post.
What we're investigating here is the largest recipient of newly minted STEEM — Proof of Brain. After the changes in HF21, PoB now receives 65% of the overall inflation pool.
Before HF21, we had a lot of issues on Steem. Not all of these issues are resolved completely, but they have gotten a lot better. The purpose of this post is to explain these issues from the viewpoint of mining this newly minted STEEM.
Misaligned Economic Incentives and Easy Mining
Prior to HF21, the economic incentives were clearly skewed toward abuse. If you had a lot of SP and a lot of time, then the best thing to do was create 10 posts or comments a day and self-vote them. Then, you would buy small to large bids from the bid-bots for your posts.
Bid-bots typically gave a small ROI to the bidder. Anywhere from 5-20% depending on the bot you used and the times when you used them. The real profit was from the curation rewards you got from front-running the bid-bots on your own post. Many users were making thousands of STEEM per week from this method.
The problem is that this adds no value to Steem. The point of this strategy is to be as under the radar as possible. You aren't contributing any valuable content to Steem, you aren't developing anything for Steem… you are simply draining rewards from the overall rewards pool from people who are actually trying to push the chain forward.
You can't blame anyone for doing this. The economic incentives on the blockchain were broken. The point of decentralization is that people get to do whatever they want and follow their own self interests. If you have misaligned incentives, then you can't blame someone for using that to their own advantage.
After HF21, we see that the incentives are skewing toward manual curation (or at the least, setting up auto voters on popular content creators). The best way to make an ROI on Steem is to vote on popular authors before other people. The "best" content rises to the top — of course, this depends on how you define "best".
In reality, it's good content made by a creator with a lot of attention on the blockchain. More specifically, attention from large stakeholders. Is this a problem? No.
Is The PoB Mining Mechanism Making it Too Hard to Mine STEEM?
The fact is, a handful of content creators consistently get more rewards than anyone else. A lot of other content creators on Steem are claiming that their content is actually better and they deserve more rewards.
That's all fine and good, but do they actually deserve more rewards?
When you look at other social media platforms, you'll see that there are a few creators who make the VAST MAJORITY of the rewards. They get the largest brand deals and they are sponsored for the largest amounts.
It's not because their selfie is better than someone else, it's because of the value they bring to the platform and the sponsors via attention. They've built a loyal fanbase and brands know it. They are willing to pay top dollar because they know that anything posted by that influencer is going to influence a sizable portion of their audience to ultimately make a purchase.
On Steem, it's no different. The handful of content creators may not have the "best" content in terms of raw quality each day. The reason why they earn the most rewards is because of the consistency of their blogging. They have carved out an audience on Steem and minnows, dolphins, orcas and whales alike realize it.
Once an author is discovered as having consistently good content, the upvotes start to slowly increase with time. Eventually, more people realize the author is posting consistently good content. Rewards go up a little bit more.
At some point, the author hits their stride and now they have gained the attention of some whales on the platform. Through consistent upvotes on their content, it's attracting the attention of other large stakeholders who are now competing for the highest curation rewards on that authors content.
These large stakeholders are competing to increase their rewards through curation, but the author who's getting upvoted is also competing with other authors for those large upvotes. It's not a competition based purely on quality of content, but rather a competition based upon quality, consistency, readership, engagement, brand building and more.
In short, if you put yourself out there on the Steem blockchain by engaging in various discord channels, telegram channels, commenting on other posts, curating other authors, finding ways to support the overall blockchain and most importantly: consistently putting out good content… then you will find your niche and eventually, your rewards will consistently go up.
To answer the question of this post, I believe that the mining difficulty on STEEM (in terms of PoB) has gotten easier as it is now a competition to build a brand and post good content consistently rather than a competition purely for resources to arbitrage your account with self-votes and bid-bots.