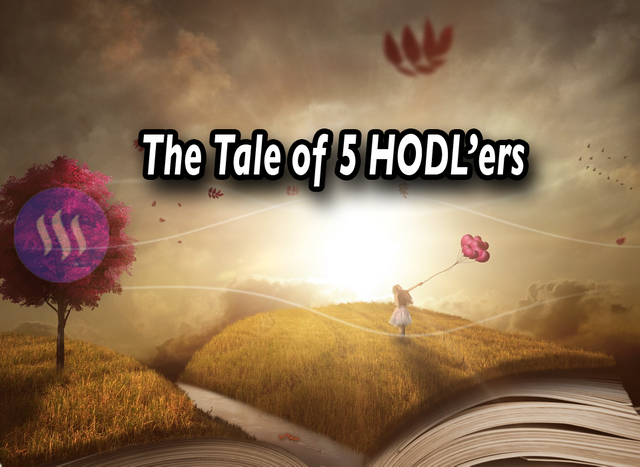 Since HF21 and the Economic Improvement Proposal (EIP), the conversations around investing in STEEM and vesting it as STEEM POWER have grown rapidly.
I've had many discussions about the value of STEEM and why anyone would hodl it. 1 or 2 weeks back, theycallmedan was on an MSP waves show with Aggroed and Aggroed asked Dan why he bought STEEM and what he was looking to do with the stake.
This conversation is extremely important and it's not just a conversation for Steemians. It's a question that we need to consider when marketing the blockchain to potential new users, investors, entrepreneurs and creators.
So I decided to sit down this morning and think of all the various reasons why anyone would HODL STEEM as STEEM POWER. I categorized these hodlers into 5 groups:
Passive long-term investor
Community
Business
Creator
Active investor
The Passive Long-Term Investor:
The passive long-term investor of STEEM is looking to buy STEEM, power it up into their Steem account and then delegate that SP to a service that provides a specified APR (annual percentage rate).
One can expect anywhere from 15-25% APR depending on what you delegate to with your STEEM POWER. There are a wide array of options and we have seen that most of these passive investors will opt for the ones that have the highest yield.
Many will think that this causes an issue with bid bots and this is why they are so popular — many people on Steem are looking for a passive ROI at the highest possible rate, so abuse becomes a natural part of the ecosystem.
One thing that I think is lost on many of these investors is that they should also factor in another variable —> value for the blockchain. Evaluate potential passive delegations not only for the APR that they yield, but for the value that they add to the blockchain itself.
Projects like Steemhunt, Splinterlands and SteemLeo (shameless plug) versus bid bots that simply exist for the purpose of driving higher returns and circle-jerking.
Yes, a bid bot may earn you a few extra % APR, but consider the value that a bid-bot adds to the blockchain versus the value that a project adds to the blockchain. When it's all said and done, you are still an investor in STEEM and thus, anything that makes the blockchain better makes your stake (and your dividends earned) more valuable over time.
The Community:
Different communities may have a variety of reasons for hodling vested STEEM. Speaking from my experience with SteemLeo, these are some of the main reasons why SP is valuable as a community:
Reward content creators
Reward valuable actions
RCs to create free accounts & delegate SP so that those accounts have RCs
Voting rights
Rewarding content creators is a vital part to building a community. If your community also has its own token (like LEO, for example), then you have a two-fold rewards mechanism. Now you can reward active users with your native token and STEEM from the rewards pool.
Rewarding valuable actions is rewarding people who do things that help your community. Things like marketing, onboarding, community moderation, internal housekeeping, etc. Having the ability to upvote users as a means to providing financial compensation for valuable work is a sustainable way of scaling a community.
Resource Credits are still relatively young as a mechanism in this blockchain. As time goes on, we can expect RCs to get even more valuable. People will need to transact, new accounts will need to be created, etc. RC pools don't exist yet, so having native SP (or SP delegations) as a community is important to growing your project and ensuring that your users have the ability to get free accounts and a small SP delegation to transact on the chain.
The more SP you have, the more voting rights you have. Especially now that we have the SPS, voting for witnesses and proposals that will ultimately add value to Steem is an important part of building a successful community. Essentially, your SP gives you a louder voice and the louder your voice, the more impact you can have on the future of Steem.
The Business:
The business viewpoint of hodling SP is very similar to the community reasons. Having the ability to sustainably crowdsource by directing Steem inflation (rewards pool) toward people who are adding value to your business is an incredible mechanism on this blockchain.
Splinterlands is a good example of this as we have all seen the way that they crowdsource artwork, voice, etc. from the Steem community through upvotes and other rewards.
As with most of this stuff, we are just at the beginning of what can be done with SP. I think there is a lot of room to see brand new use cases for SP as a business owner and we simply haven't had enough businesses on this blockchain to see many of these use cases come to light.
The Creator:
As a content creator on the Steem blockchain, having SP to upvote your audience for engaging with your content is so incredibly valuable.
Many people on this chain think of those who comment endlessly on authors who have a lot of SP as being a beg for an upvote situation. Perhaps there is a lot of that going on, but there are still a fair amount of people who simply like to engage on the content that they enjoy each day with an author that they have built a connection with.
Implementing this aspect of being able to reward your audience is a means to getting people to continuously come back to your content. I love a paper that has gone viral for content creators called 1,000 true fans. If you consider that every content creator on Steem is simply building a brand like every other content creator across the internet, then you will realize the true value of being able to reward your audience with upvotes.
Another use of SP as a content creator is upvoting other authors and even commenters on other peoples' posts. People tend to follow the money and using your upvotes to support others will lead many of them back to your blog which will build your brand and your 1,000 true fans.
The Active Investor:
I started this post by talking about theycallmedan. He is pretty much known by every Steemian at this point and he is a gracious whale who upvotes value when he sees it.
Originally, I had 4 categories for this post, but trying to place Dan in one of those 4 is what ultimately carved out this 5th category.
An active investor on Steem is one who follows a similar trajectory to Dan. They buy STEEM, power it up and then actively use that stake to vote for proposals, support content creators and support users who are bringing value to this blockchain.
The goal of an active investor (again, see Dan as the example of this) is not to maximize curation rewards or anything along those lines. Sure, this investor may enjoy having some curation rewards coming in and increasing their stake overtime, but that is far from the focus.
Their focus on this blockchain is to add value to the chain long-term as they are fully aware that rewarding people who add value to Steem means rewarding people who add value to YOUR STAKE. Which far outweighs any sort of rewards that you could earn with that SP. Dan said recently in a video that he is looking at Steem for the massive 100x upside. Not these petty inflation rewards.
His actions map to that reality. Go look at his upvote history. He may be one of the worst curators out there, yet he is simultaneously one of the best curators out there.
Which Cateogory Do You Fall Into?
yes, you can pick more than 1 category 🦁