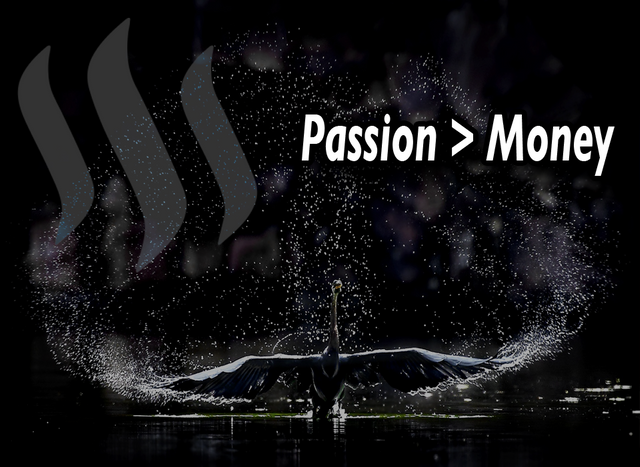 There's no money in it. You'll never get rich.
You'll never support yourself.
What if the technology disappears tomorrow? What if the price crashes tonight? Then what will you have to show for it?
These are the kinds of things that I hear from outsiders looking into crypto and the people who work in this space. In fact, these are often the concerns I hear when I talk to family and friends about Steem and about my passion for the crypto and blockchain space.
What I have come to realize over the past 3 years as I have really dug my heels into this new technology that is continually evolving alongside a rollercoaster of price action is that 99% of people out there are only concerned with money.
People won't admit it. Neither to you, nor to themselves.. but trust me: they are obsessed with money. It rules their every thought and it guides their every action.
Each day, they wake up to a life where they go to work and drone on and on about how much they hate their job. They complain about coworkers. They complain about bosses. They complain about the bills they have to pay, the mouths they have to feed and the paycheck that never quite seems large enough.
The funny thing is that these same people will discourage you from working on something that you're passionate about.
They'll badger you with all sorts of questions about this field of interest that you have grown to love. They'll ask many of the questions that I started this post with.
Doesn't it seem backwards that the same people who discourage others from following their passions are also the ones who hate their passionless job?
My only explanation for it is that they are so brainwashed by societal standards that they actually believe that there is no other way.
They actually believe that getting a formal education and then going into a "practical job" is the only "reasonable" way to live your life.
My argument is that I don't want to live a "reasonable" life. Who lies on their deathbed, looks back on their life and smiles with the acknowledgement of "I had a reasonable life."
I am fascinated by this idea that so many people are plagued by — working on a passion is meaningless unless you make money from it. The people around me often tell me that I'm wasting my time with crypto and the Steem blockchain.
I tell them that unless they can wrap their head around the idea that not everything has to be about money, then they will never understand it. True, working in an industry that's called "cryptocurrency" doesn't help the cause of explaining this idea, but if they took even a few hours of their time to understand the technological potential of cryptocurrencies, then they might just come around on it.
They might realize that even if you make $0 after 3 years of working on crypto, you might still learn something. You might learn something about yourself, the technology that surrounds us and even pick up some useful skills in other fields of interest.
The goal is not to get rich. It never was. The goal is to wake up each morning and LOVE what you do with everything you've got.
If you wake up in the morning and can't wait to "go to work" then you live a successful life in my book.