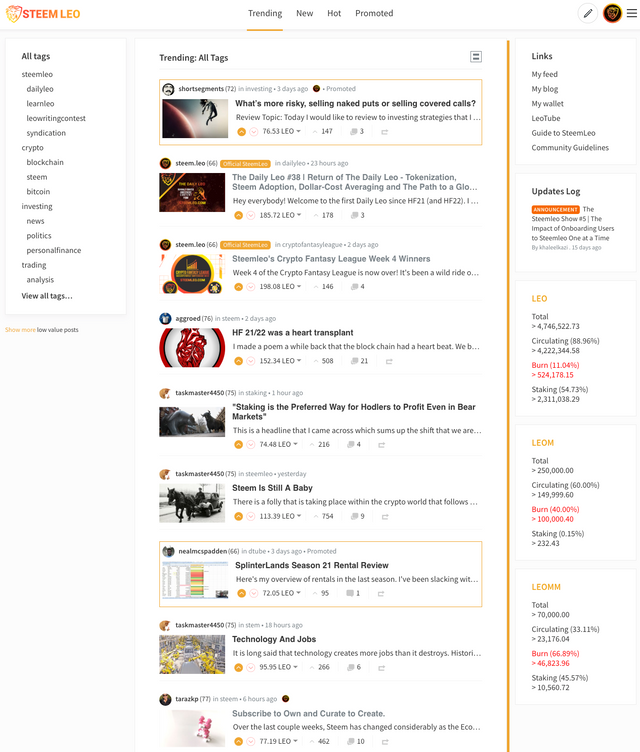 Hey everyone! We've made a few updates to our condenser interface recently to improve your #steemleo experience.
As always, our primary focus is on bringing in new users and empowering them to post investment content on the Steem blockchain and earn rewards for high-quality work. We're always working to improve this process and make using Steemleo a more seamless experience for everyone.
In case you missed it, steemleo.com became a brave verified publisher. This means that using the brave browser in conjunction with https://steemleo.com will allow us to earn BAT. It doesn't cost you anything and it doesn't cost us anything. We're going to take the BAT earned each month and convert it into LEO from the SE exchange and burn all of it.
Many have asked if we will introduce ads to Steemleo as other tribes have started to display google ads. I've been monitoring this from afar and I personally don't like the look/feel of these ads. I'd rather keep the clean experience of Steemleo.com than bring in a small amount of revenue each month (current estimate for google adsense would likely bring in between $40 and $120 a month).
My belief is that we can build Steemleo into a more high-end content platform and skip the progression of google ads. We already have the Brave integration and my estimate based on what we've already earned is that we can make a comparable amount from Brave that we could from google.
This amount would increase drastically if more of our current user base used the Brave Browser and used the Steemleo.com interface over other Steem-based interfaces. Obviously, this is totally optional but if you would like to support Steemleo, this is definitely a major way to do that. It increases our traffic which will increase our awareness and the amount we make from Brave to burn LEO off the market.
This leads us into the most recent interface upgrade that we made:
The Posted From Steemleo.com Badge:
This is just a small token of appreciation (literally and metaphorically) for using the https://steemleo.com interface to publish your post.
You can see who's posting from https://steemleo.com based on this little badge right above the title. Hovering over it will display the text "Written From SteemLeo.com"

There aren't any specific perks for doing this as of yet. Though we're considering the option of creating a voting account that gives a little booster upvote (in STEEM/LEO/PAL/NEOXAG/CTP and other tokens) to anyone who posts from https://steemleo.com.
For now, we think that you'll naturally get more attention and upvotes on your content as it will stand out from the crowd on the interface and we all know that you are supporting the SteemLeo community by using our community's interface.
Welcome Page:
If you listen to MSP waves on Palnet, then you may have heard our SteemLeo ad that airs before and after shows. The ad points listeners to https://steemleo.com/welcome.
We've made some updates to this welcome page and have quite a few more ideas that will go live within the next week on there. The goal is to make it a fully-loaded guide for anyone who's new to SteemLeo. We're getting quite a bit of traffic outside of the Steem userbase, so it's important to explain what this all is and how it works in one user-friendly page.
I also tend to get into conversations IRL with random people I meet who always ask what I do. I love to explain Steem/SteemLeo to them, but man is that a complex subject. Having a great welcome page makes it so much easier to just drop "I know it's complicated, but if you want to learn more about it I can just text you a link".
If you'd like to help out with this, feel free to head over there and give it a read. If you find any errors or have suggestions for future updates, please send them to me (khaleelkazi) on Discord!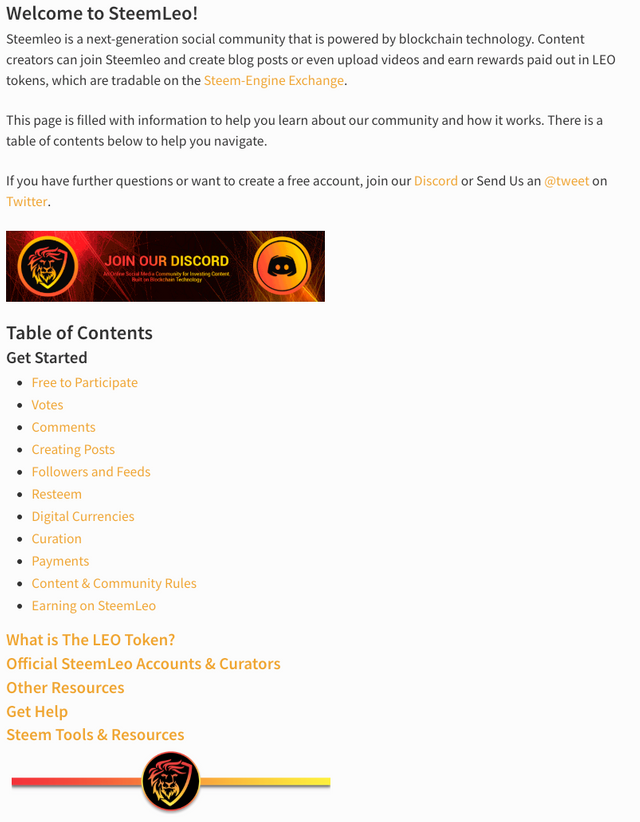 Team Badges:
This update has been live for quite a while but I don't think we've mentioned it anywhere officially.
Our team accounts & official curators now have badges next to their names indicating their position in SteemLeo. This is a small change, but like I said earlier: all these small changes dictate the user experience on SteemLeo.
When we get an influx of new users, authors and readers, organization is vital.


Updated Wallet Page for All Tokens + Claim All Rewards Button:
This update has also been live for a few weeks now, but hasn't been mentioned officially. You can now see all your Steem balances on the SteemLeo.com wallet page. If you're signed in, you can also click the little All-In One Claim button to claim all your token rewards.
The tokens that are highlighted in Orange are ones where you have pending rewards to claim. You can click on them individually if you'd like to claim them 1 at a time.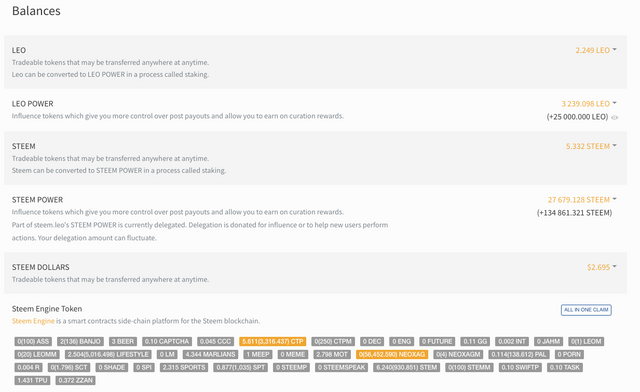 12 Tags on SteemLeo.com:
I almost forgot about this one! We also increased the tag limit from 10 to 12 on SteemLeo.com at the request of some users. We may ultimately increase this to 15, but don't want people to spam tags like there's no tomorrow. We'll monitor how this change affects tag use and then consider increasing the limit.

---
Future Updates:
We've got quite a few interface updates in the pipeline. Some are small and provide a little boost in UX, but some are massive and will blow your mind when they're live. Stay tuned my fellow LEOs 🦁

all of our LEO author/curation rewards on this post are permanently burned from the token supply
#steemleo - A Next-Generation Community for Investors


Steemleo -- Blogging Platform
LeoTube -- Video Platform
LeoPeak -- All-In-One Interface
Join us On Discord --> Steemleo Discord