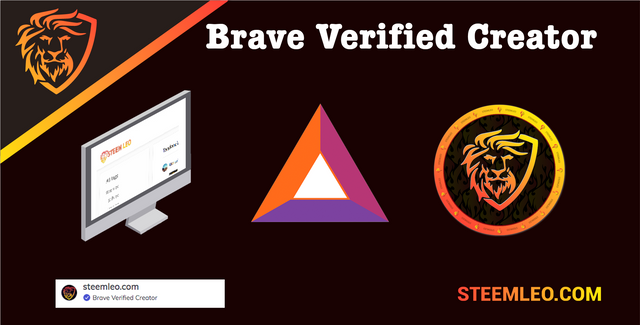 I've been excited about this for a while now. It took some time to make it work, but https://steemleo.com is now a brave verified website (and to my knowledge, the first tribe to achieve this status 😉).
What Does Brave Verified Creator Mean?
When you're using the Brave Browser and have a BAT wallet, you can contribute to the content creators who get most of your attention.
For example, if you spend 10% of your browser viewing time on Steemleo.com, then we will receive 10% of your monthly website contributions paid in BAT tokens.
The whole ecosystem has an incredible way of operating. Users constantly get BAT through Brave Ads, airdrops, etc. and then they are able to automatically distribute that BAT to the creators who they love the most. In our case, it means that users who login to Steemleo.com often will be able to contribute BAT to us automatically.
You can also tip Steemleo in BAT tokens using the Brave Browser.
How Does This Help Steemleo?
Brave Verified Creators actually tend to get traffic from various sources who talk about verified websites that gain a lot of traffic. Steemleo has a relatively decent flow of traffic coming to the site, so this could lead to some free advertising for our platform.
Additionally, the BAT tokens earned through the site will burn LEO tokens which creates another big win for the whole platform with a consistent token sink which will hopefully grow with time as Steemleo gains more users and more attention.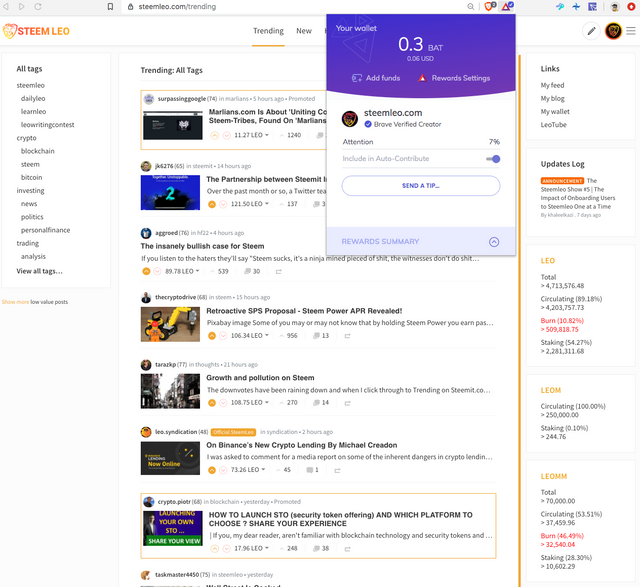 If you haven't yet signed up for Brave, I think it's the best browser out there. It's going mainstream already as it's just superior to chrome in nearly every way. It's faster, auto blocks ads and allows users to earn BAT & reward creators without any extra effort.
You can signup for Brave and support our tribe by using Steemleo's Brave Browser referral link!

all of our LEO author/curation rewards on this post are permanently burned from the token supply
#steemleo - A Next-Generation Community for Investors


Steemleo -- Blogging Platform
LeoTube -- Video Platform
LeoPeak -- All-In-One Interface
Join us On Discord --> Steemleo Discord