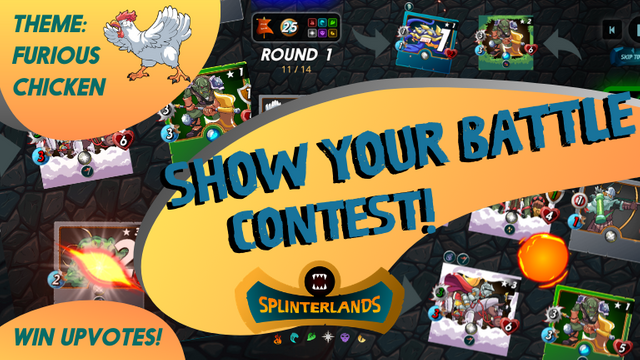 IMAGE FROM SHOW YOUR BATTLE Contest!
I'm in for the SPLINTERLANDS - SHOW YOUR BATTLE Contest.
I don't know do you like this weak chicken or not. But I do like to use it. At first I think it is designed to be kill FIRST at first place to trigger it's Enrage ability. But unless you upgraded it to level 5, if not you'll not have any buff from it. So if I have only 1 card, how do I play it. Normally I put it at first, second or last position.
Why different position?
First position, sure i want it to be killed first. Or I want to reduce damage to the second card. But most of the time we'll put TANKER.
Second position. Normally second position will be more weaker than tanker, so if I put a chicken there, the second card may avoid damage at first round. If the rules is melee can attack from any where, it can deal a damage too.
Final position, if you do GUESSED your opponent will put out a sneak or under sneak rules, it can die fast XD. But if others rules, it could be safe. Yes, put it at last is to receive snipe.
Other then above mentioned position, I also tried to put it at third position, which behind a Reach ability monster. So the chicken can be anywhere you like.
Does it KILL?
Level 1 chicken obtain only 1 life, 1 speed and 1 melee attack. It does fight if the rules are correct. Like the fight I've shared, Reverse Speed and Melee Mayhem, FURIOUS CHICKEN does help me delivered several attack. If, there is Inspire ability on the field, it can deal more damage. Dealing 2 damage is far more better than 1. It may change the result.
Cheers to every Splinterlands Lovers..... Hope you like the chicken.