Let's change the reporting layout a little, going back to food comes first. Technically, due to lack of interesting workout photographs, as in I'm in a lots of pain doing today's exercises, I did took some shots, but they all have my sour face in it. So I rather not show the "negative" side of me to fellow follower to avoid disappointment.

Breakfast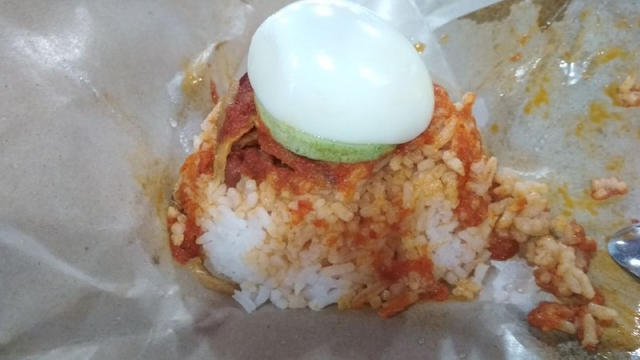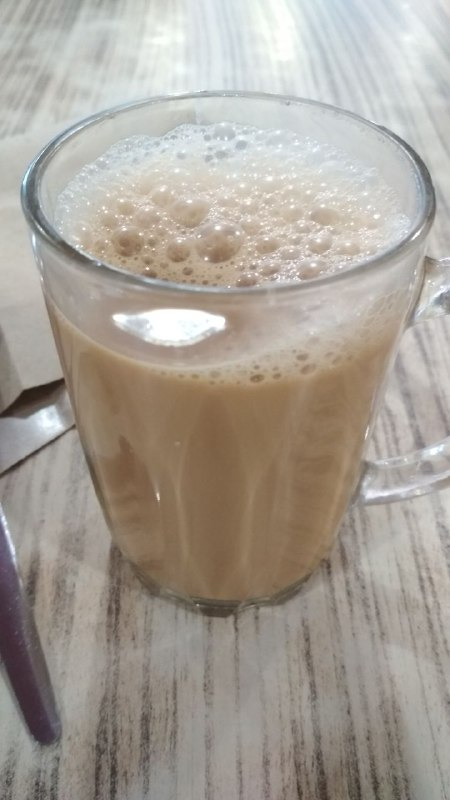 It all began with I totally forgotten I have a meeting in headquarters at 10am. I woke up early, and sent myself straight to my own office 7am in the morning! To find that I'm at the wrong place. If I go to the head office too damn early, I will have to pay more on the parking. Since there's very little choice, all I gotta do is sit back and enjoy my breakfast. A pack of nasi lemak(coconut milk steamed rice with chili paste) followed by a glass of teh tarik(milk tea). Basically, this kind of breakfast gave enough energy, but very low in nutritional value. Half of that boiled egg is the most valuable on the entire pack of food.
Lunch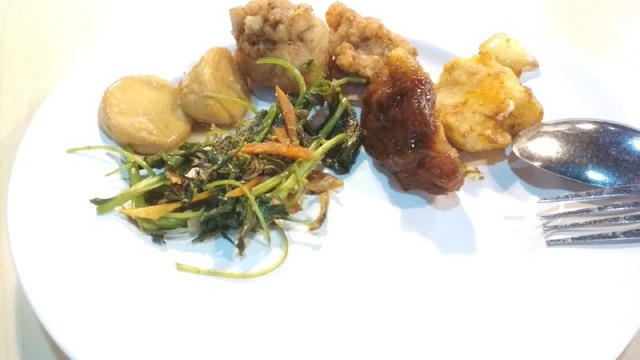 Meeting finished at 12:30pm, and the buffet range is very limited. I took 2 slices of bean curd, 2 slices of fried fish, 2 slices of fried chicken and a small portion of fried spinach and that's about it. Conclude the lunch with a glass of really not quite interesting kiwi cordial juice, the color somewhat looks like poster color. Worry not, I did not take a photo of that, but it taste like plastic too.
Dinner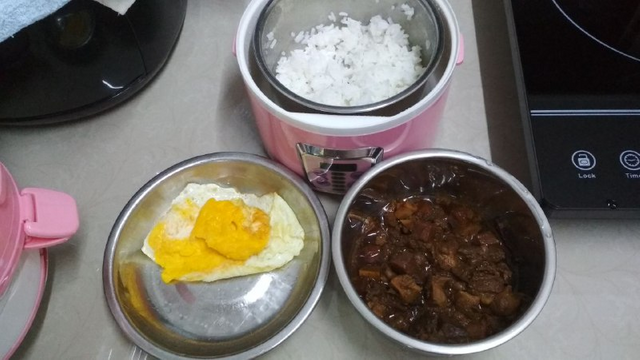 I had a surprised dinner set from ex-girlfriend. She said it was leftover by the kids, but I feel thankful for what left for me. A fried egg, braised pork and a small portion of steamed rice. Once again, majority of the nutrition came from the egg. The pork, came from canned food, I don't think there's enough nutrition in it, probably having more preservative than nutrient.
Workout
Finally, boiled down to today's workout. I think the online coach already assess my current fitness level and increased difficulties for me. Even warm up itself consist of dive in push ups and burpees. Before I start with interval training I was already sweating like a pig. The rest of the workout are basically suffer, also came with a set of 10 burpee squat jump. Burpee itself is a pain, added with squat and jump, 1 chain of action would cost me multiple joint pain. This is like hell to me. Not to mentioned a total number of 200 jumping jacks. 50 climbers, 50 sit ups, and 17 push ups(excluding the warm up round of push ups). Tried to take some workout photos, but they're horrible. So let's keep those horrible pictures in
#Freeletics
since nobody is reading my workout journal there.
---
This is not a competition with @erikahfit but we respect each other and we give mutual support to each other so we will be on track and keep ourselves motivated. I want my sexy beach body, and she wanted a healthier body. I will recycle this portion of footer to keep reminding us we're on a mission.
---
谢谢大家一直以来的支持和对我疼爱有加。如果方便,请你点击下图到我的个人资料网页为我留言请我吃星星哈。

---
Posted from Steem中文社区 : http://cnstm.org/blog/2019/08/26/lose-weight-and-look-good-day-070/
---