Hello foodies!
Me and mom are both foodies, we also love to eat japanese food, udon is one of them. So, this time i would try to compare the udon and also promotions between two different brand of udon restaurants we ate recently. Both were famous japanese franchise brand udon restaurants.
They were Hanamaru udon with its' outlet on 4th floor Pacific Place, SCBD-South Jakarta versus Marugame udon with its' outlet on LG floor Blok M Plaza.
The outlooks
Marugame Udon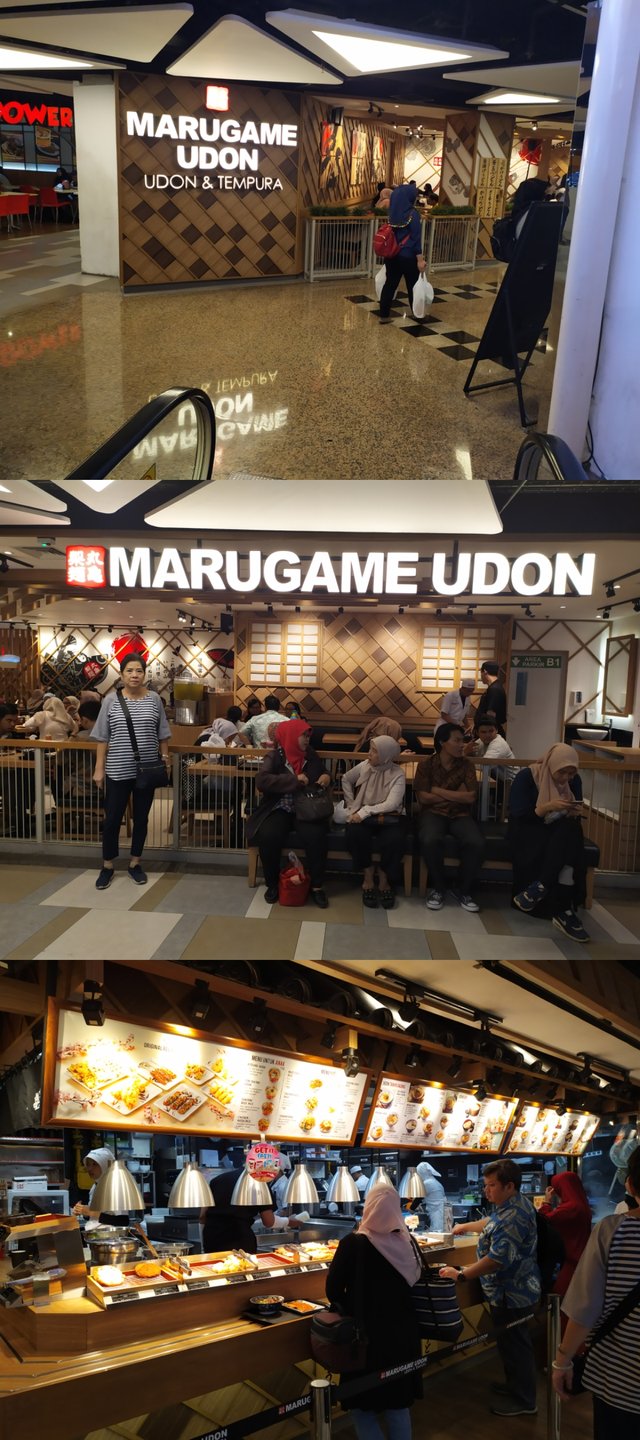 Hanamaru udon

Comparing the outlooks from the front of these 2 outlets, you could see that marugame udon was just an ordinary udon outlet, while hanamaru udon in PP was a bit different with the iconic mercusuar and boat that can be a photo spot. It also located among the water area which looked like in a harbour.
The dining area
Marugame udon

Hanamaru udon

While the dining area in marugame was just an open area and not too large, the hanamaru had a large and spacy area with the inside restaurant area and the open, outside and around area with many chairs and tables so everyone could have a seat even it had many customers for example around lunch time.
The menu & serving table

Unfortunately i only took a picture of the menu in marugame udon but mostly they had same menu, the differences were in marugame there were a modification menu with the new menu carbonara, some rice bowl menus, while in hanamaru bukkake udon was the signature menu and the rice dishes were only curry and spicy beef rice.
Here i also showed you their show case, serving table area
Marugame udon

Hanamaru udon

Both of them had clean show case areas, with many fried tempura you could choose.
The Promotion they offered
While the marugame had the promotion of buying a any udon could get the kaki udon (udon without any toppings), we bought the niku udon with 57,000 IDR price; the hanamaru had the promotion of buying one niku udon get free niku udon (the term & condition was only by following their Instagram account) then they also gave a voucher reduction with 10,000 IDR worth for a person came there, i went there with my mom so we got 2 vouchers and also they gave 2 kobachi for each bowl of menu we ordered, like ours we got 4 kobachi. In marugame to complete the kake udon we bought the tamago (egg) so for the food there we paid 68,000 IDR (around 4.7 USD) while in hanamaru last night we only paid 52,000 IDR (around 3.6 USD) for theses 2 niku udon, himawari ten, kamabako ten and also 4 kobachi. So it was cheaper in hanamaru. We splitted the bill cause the 2 vouchers couldn't be used in a bill.
Here were the bills in hanamaru.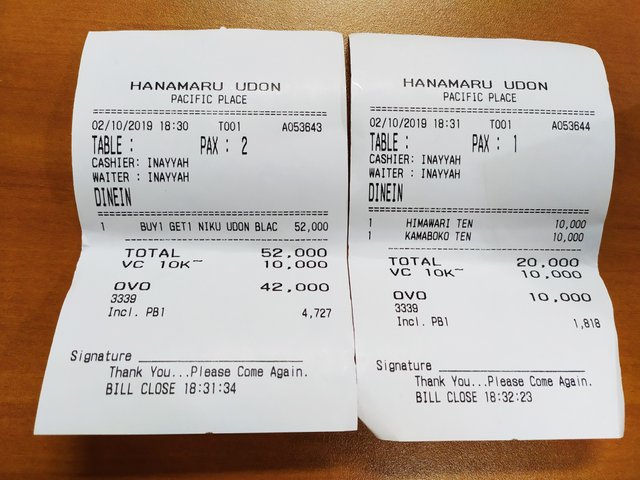 The food
Marugame udon

Hanamaru udon

From the udon textures, both were great and not too soft nor hard. But, the beef in hanamaru tasted more fresh and much, and it had the beefy broth so we loved it more. Then also the free kobachi, himawari ten and kamaboko ten which made us satisfied, i liked how they made the eggplant kobachi, tofu and also the fish cake kobachi, all were tasty and a bit sweet, but i loved them all. The kamaboko ten was also crispy, but soft inside with the fish taste from the fishcake and also seaweed with flour for the skin. It tasted great. The himawari was so crunchy, tasty and sweet which made from the fresh corn. So last night dinner was おいしい! and it made us really full up.
The service was also better in Hanamaru, the waiter not only helped us to take the order to our table like in Marugame, but he also helped us by taking a picture for us. Really nice and friendly!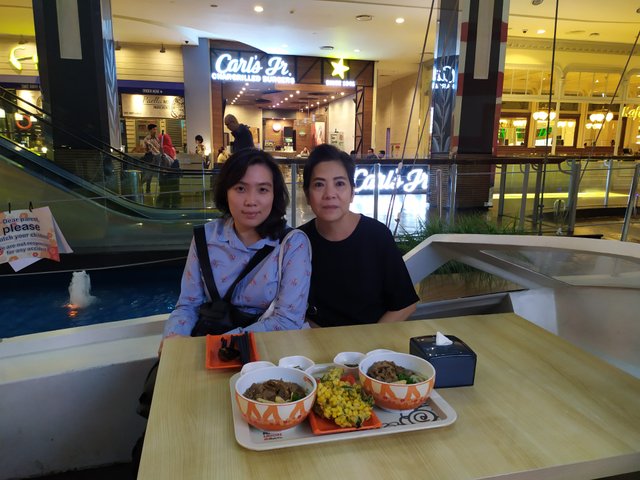 But marugame had the application which we could register, get coupon after sales then redeem it when we reach some amounts, it was a kind of customers' reward program. I don't think hanamaru had it too, but positive in hanamaru is that you could get more 20% off with a maximum amount of 12,500 IDR if you use one kind of Indonesian digital payment.
Anyway, I invite you to try them both to taste the difference!
Marugame udon
LG floor
Blok M Plaza
South Jakarta
Hanamaru udon
4th floor
Pacific Place
South Jakarta
all open daily 10am-10pm
---
Posted from my blog with Steem中文社区 : http://cnstm.org/blog/2019/10/03/food-promotion-hunting-comparing-two-tasty-udon-%e8%82%89%e3%81%86%e3%81%a9%e3%82%93-in-jakarta-indonesia/
---