"Summary
The anchor for the Eurozone has been Germany (EWG) which has been the poster child for a well-run economy; low unemployment, trade surpluses, and budget surpluses.
Germany is a very trade-dependent economy, and the trade conflict between the U.S. (SPY) and China (FXI) and the Brexit debacle have affected global growth rates.
The 'debt brake' signed into the constitution in 2009 prevents borrowing to finance a structural deficit beyond 0.35% of GDP which doesn't give it much flexibility.
This idea was discussed in more depth with members of my private investing community, The Lead-Lag Report. Get started today »
"Conduct is three-fourths of our life and its largest concern. - Matthew Arnold"
The anchor for the Eurozone has been Germany (EWG) which has been the poster child for a well-run economy; low unemployment, trade surpluses, and budget surpluses. Germany's place in the world exporting stage is primarily due to Angela Merkel's leadership. Since her appointment, German unemployment has been at record levels, and Germany has been operating a trade surplus. Germany also overcame the 2008 crisis much quicker than other countries, but will it trigger the next?
A recession is defined as two or more quarters of negative growth and usually when a number of economic variables such as GDP, employment, and industrial production switch from an expansion to a contraction. It's difficult for investors to consider a recession may be looming when most of these variables are in positive territory in Germany and the U.S., and there hasn't been a random shock jolting the economy in the opposite way. However, on August 19th, The Bundesbank announced that Germany, the fourth-biggest economy, shrank for the second quarter this year and may continue into the third quarter.
After poor survey and industrial output numbers over the last several weeks in Germany, its GDP contraction of 0.1% was expected. Industrial production was 5.2% lower than a year earlier.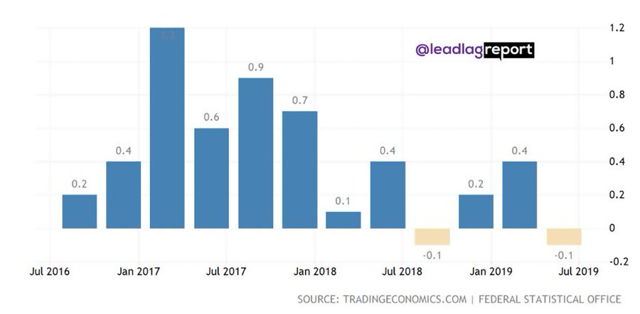 source
Germany is a very trade-dependent economy, and the trade conflict between the U.S. (SPY) and China (FXI) and the Brexit debacle have affected global growth rates and subsequently German exports. German wage growth has been improving in the last few years, but it's not enough to encourage more domestic spending in an economy heavily reliant on exports. Most of the impact has been in the manufacturing sector which makes up over one-fifth of output in Germany. A slew of economic data is expected this week, which would indicate whether consumer sentiment has been damaged. As a heavily embedded trade partner with its European neighbors, any negative sentiment would be felt across the continent."
---
Author Bio:

This article was written by Michael A. Gayed. An author on Seeking Alpha and founder of the Lead Lag Report.
Steem Account: @leadlagreport
Twitter Account: leadlagreport
Learn more about Michael A. Gayed on Seeking Alpha
Steem Account Status: Unclaimed
Are you Michael A. Gayed (a.k.a. leadlagreport)? If so, you have a Steem account that is unclaimed with pending cryptocurrency rewards sitting in it from your content. Your account was reserved by the Steemleo team and is receiving the rewards of all posts syndicated from your content on other sites.
If you want to claim this account and the rewards that it has been collecting, please contact the Steemleo team via twitter or discord to claim the account. You can also view the rewards currently sitting in the account by visiting the wallet page for this account.
What is Steemleo Content Syndication?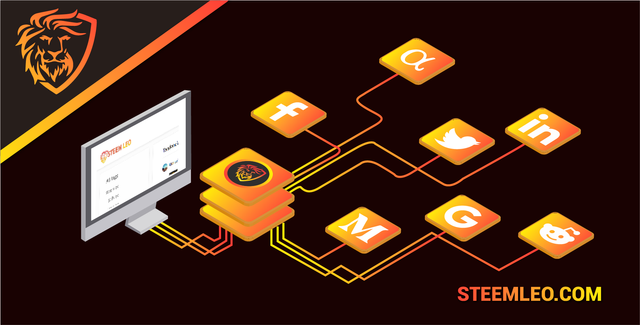 The Steemleo community is syndicating high-quality financial content from across the internet. We're also creating free Steem accounts for the authors of that content who have not yet discovered the Steem blockchain as a means to monetizing their content and we're listing those accounts as the 100% beneficiaries to all the rewards. If you want to learn more about Steemleo's content syndication strategy, click here.