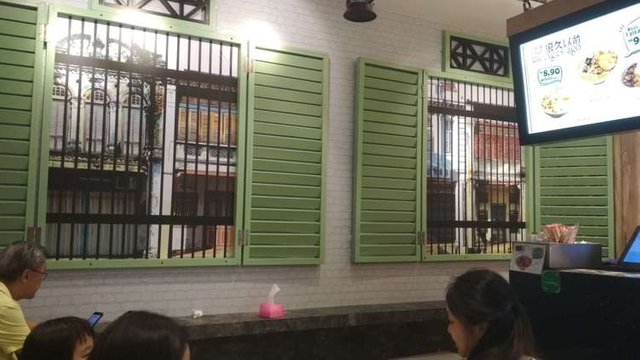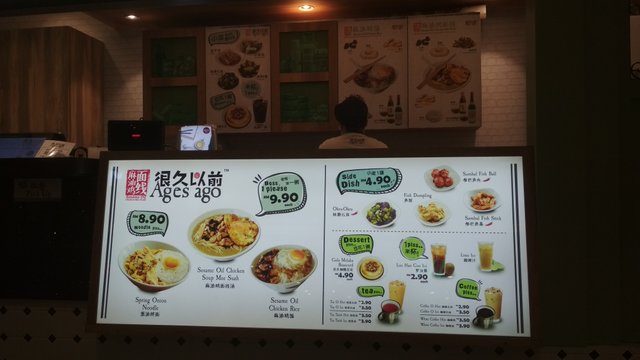 Menu? What menu? Just like the old days when the hawker stalls put up a huge signboard by the kitchen table, that is all they have to offer. If you want, order here and wait for it. The difference is, back then they will send to you, now you'll have to go and pick it up. I get it, this is a modern shop with old touch, o can't have that kind of expectation!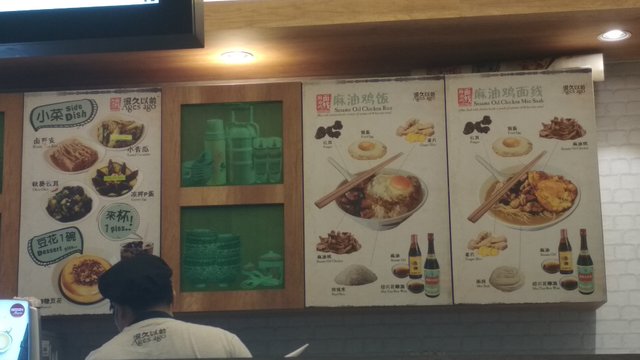 If you notice at the kitchen counter, there is an old school kitchen counter that has fake windows with printed ingredients. That clearly indicated what are they going to use to make our food! Brilliant idea in delivering information to customers. Once again I would like to emphasize, this is a concept fast food self service shop. Staff is as helpful as they can be offering information and helping customers.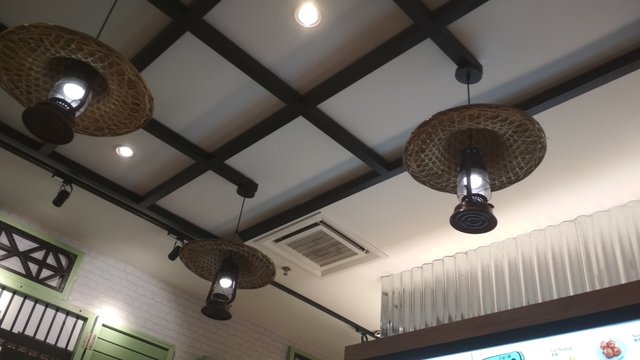 The old school kerosene light has been replaced with LED bulb, but the casing gave it a touch of old school feeling. It does brings me back memories from ages ago.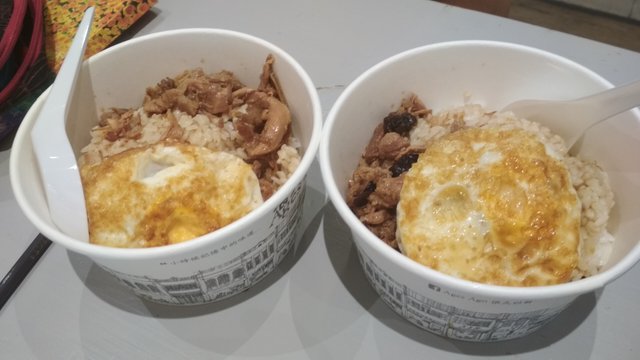 Here comes the sesame oil chicken rice. These are for the kids. Be extremely careful when ordering, the portion is quite big for kids. I'd say not many adult female can finish the whole portion!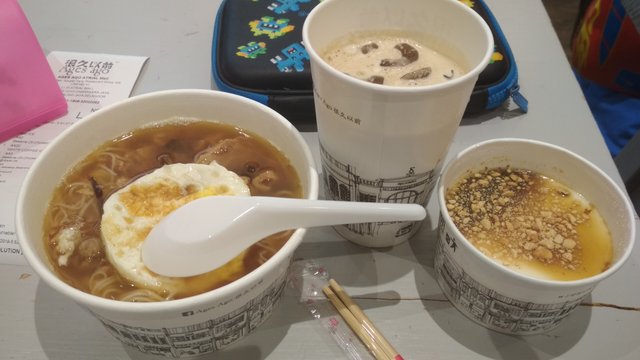 Then came my highlight of the day, one of the cheapest main course in the "menu", which is my sesame oil chicken noodle for RM8.90! I know I know, it's not anywhere near cheap, but considering this is in a shopping mall, in Petaling Maya prime area, what do you expect? I probably can never find any main course meal cheaper than this in the entire mall! As for the tofu bean curd desert, and the iced coffee, well not so old school. The tofu is nice, the caramelized black sugar is good, but who puts ground nuts on them? Totally defeat the smoothness of the bean curd. And the iced coffee, it's a premixed version topped with ice cubes. Totally not worth it.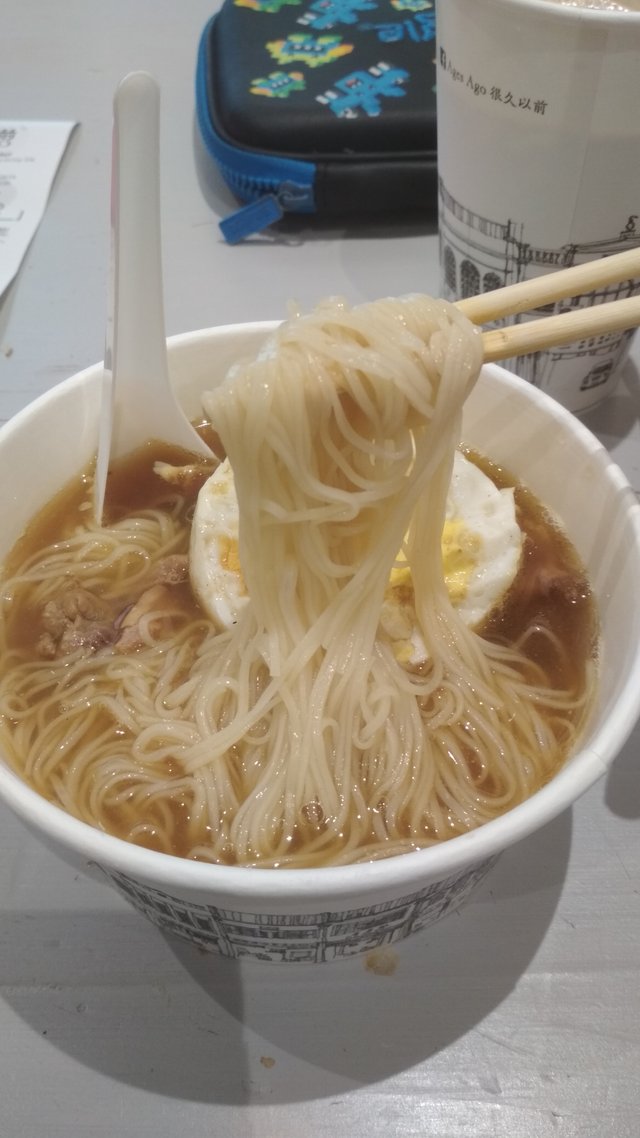 Best part of this bowl is, the soup is extremely delicious. Chicken is braised to an extend it melt in my mouth! And the rice noodle is very soft, I can taste and smell the rice fragrant in it. If you're a local kid like me grown up here in Malaysia in the 80s, you'll probably understand the taste from ages ago when we caught flu, mom will always cook rice noodle for easy digest.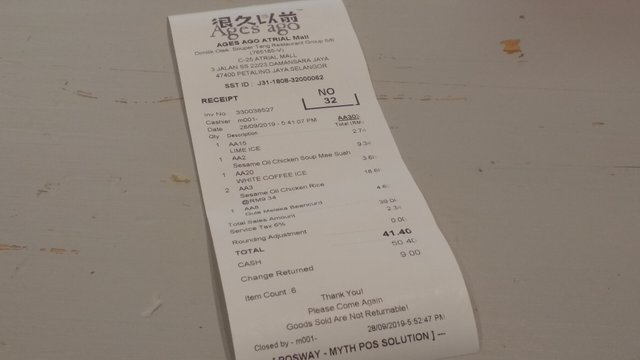 Last but not least, the bill came to 40 bucks. For 3 person meal, 40 bucks is not exactly cheap, but that's my own problem because I was being adventurous to experiment with the bean curd desert and the coffee. Had I taken out that two, this meal probably settled with 30.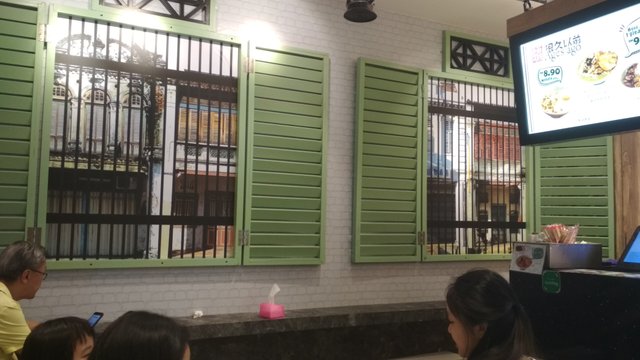 To conclude today's food finding, this restaurant isn't really from ages ago. Food priced at 10 fold from ages ago. Environment is much cleaner than I can remember from ages ago. There's no table service like ages ago, but I'd prefer self service if the table service has to be like ages ago 😂 the staff are just too young to present the arrogant feeling from the 80s. Not that I'm promoting bad service, but it just doesn't ring the bell. One thing for sure, their noodle is super bestest. Pardon my colorful English but that's the way I describe the "once upon a time" feeling when talking about ages ago.
---
Restaurant Information

Ages ago 很久以前



The Atria Shopping Centre, Jalan SS 22/23, Ss 22, 47400 Petaling Jaya, Selangor, Malaysia
---
A touch from ages ago in a modern shopping mall
This post participated in the Tasteem contest Local Dishes