Hello friends, today i'm going to share to you Indonesian authentic dishes.
The place where we ate the dinner was
Kafe Betawi
The outlook

Betawi is a name for the local tribe that live in Jakarta. It was located on 4th floor Pacific Place Mall, SCBD - South Jakarta.
This restaurant has just finished the renovation and now it would be more glamour than before with the gold accent on the restaurant and old style 'batavia' decoration. Batavia was the name for Jakarta formerly.
The dining area & ambience
It had a large dining area but it is always crowded by customers so they made the chairs and tables closer each other so they could have more amount of it.
The beverage bar next to the cashier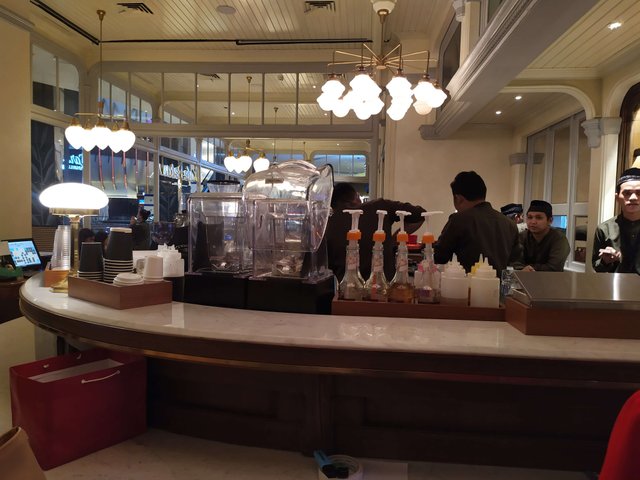 The food
Our order came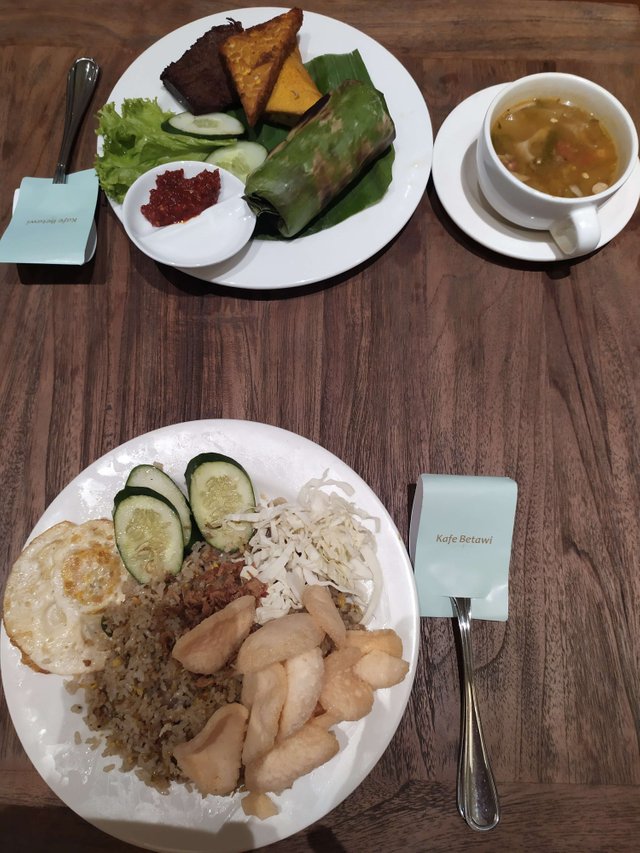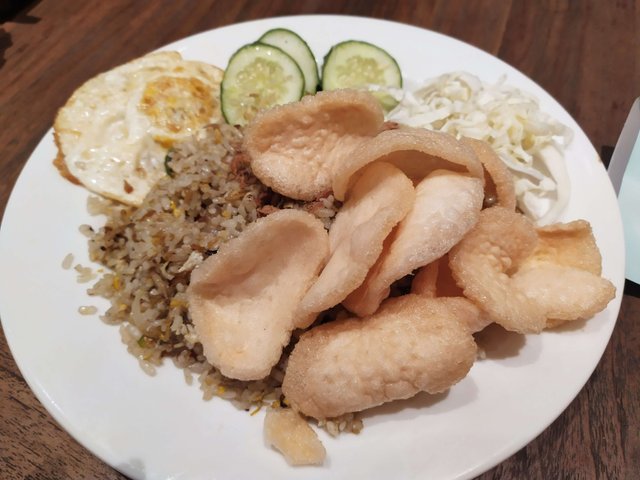 This was mine
It was Nasi Goreng Kampung (traditional fried rice). It was fried rice with natural color from a bit of soy sauce, with the bean sprouts and the teri (salted fish) and also sunny side up egg on its' top and the slices of cabbage beside it. The flavor was savory, yummy and delicious. I loved the light taste of it which mean not much in everything. Really delicious!
And also the pickled vegetables they served on the table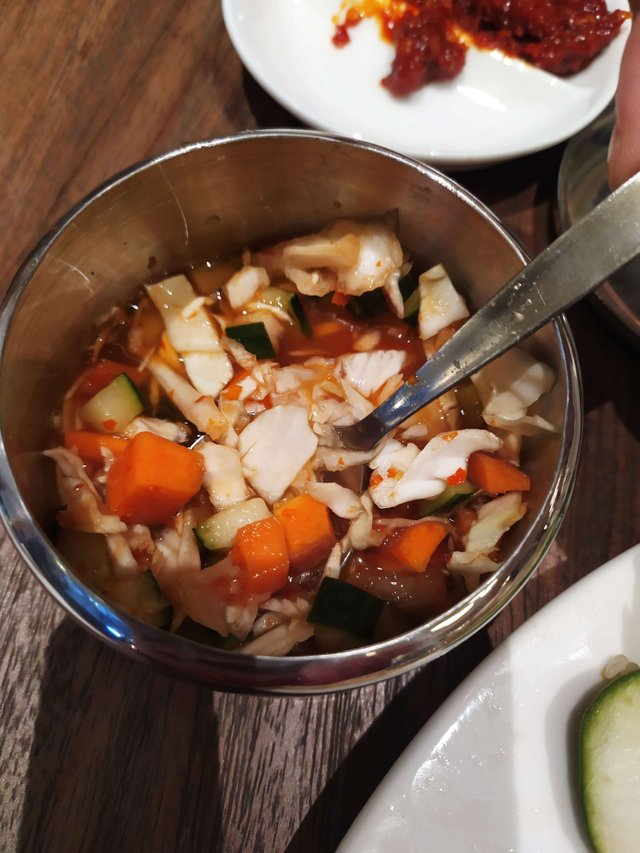 It was fresh, sweet and sour. But it wasn't spicy at all for me. Love it!
And this one was my mom's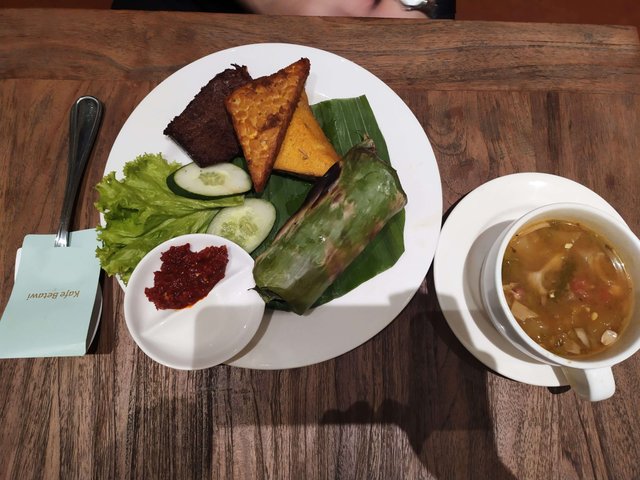 It was nasi timbel empal sayur asem, or in english roasted rice packed in banana leaf served with the traditional fried beef and tamarind infused clear vegetables soup. It was also amazing. They also served it with sambal and fried tofu and also fried tempeh. The fried beef was savory and a bit sweet. It had soft texture. While the tofu and tempeh had savory flavor. And you know what, sayur had really delicious taste, it was sweet and a bit sour. The sambal was not too spicy, so anyone could try it.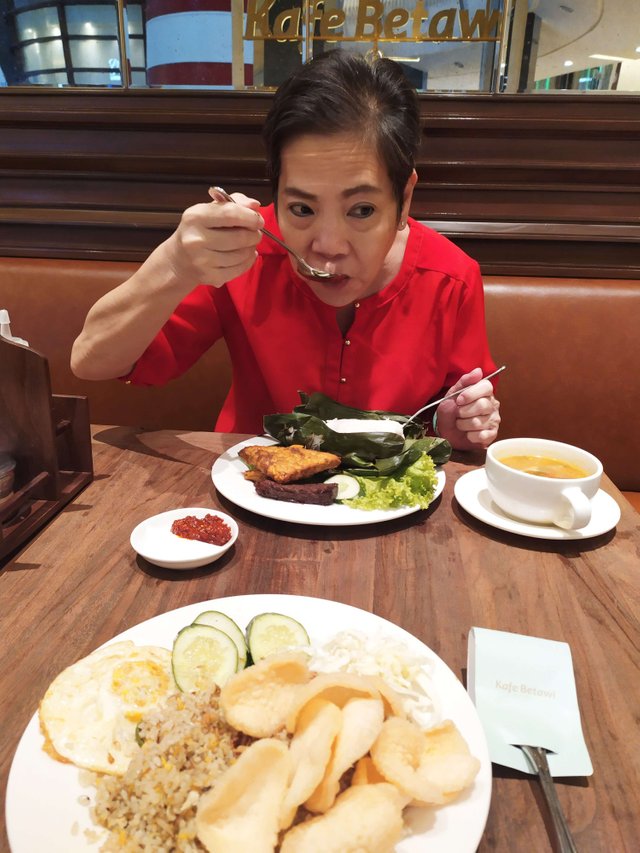 Mom really enjoyed our dinner.
The service
Here the waitress or waiter were helpful and friendly. They would rightaway come to you when you need their assistance.
The price
For my menu, the price for nasi goreng kampung including tax and also service charge was 51,700 IDR while my mom's was around 53,000 IDR. So altogether, its around 105,000 IDR or 7.5 usd. It was fine with the delicious taste and also high quality ingredient they used.
We absolutely would come again to eat another dish
**Kafe Betawi
4th floor Pacific Place
SCBD, South Jakarta
open daily 10am-10pm
**
---
Restaurant Information
Kafe Betawi



Pacific Place Lt. 4, Jalan Jendral Sudirman Kav. 52-53, Senayan, Kebayoran Baru, RT.5/RW.3, Senayan, Kec. Kby. Baru, Kota Jakarta Selatan, Daerah Khusus Ibukota Jakarta 12190, Indonesia
---
Delicious Nasi Goreng Kampung (Traditional fried rice) & Nasi Timbel Empal Sayur Asem in an oldstyle Batavia restaurant, Jakarta- Indonesia
This post participated in the Tasteem contest Local Dishes