Yesterday when I was browsing steemit, I found an interesting post from @ericet. He introduced a new project Typeean which let me earn tokens by typing English.
Many of us may have heard of earn by typing at home but we know that most of them are scam. And now it happens in crypto world? Haha I don't think so. Many things can happen in crypto world and their tokens have joined steem engine.
If you want to know more about the project, just go to their introduction post:
https://www.steemcn.org/typeearn/@tykee/introducing-typeearn-com
And website link: https://typeearn.com/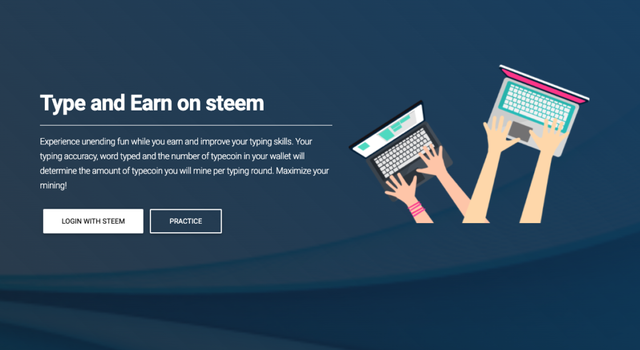 So before starting earning, we have to buy their tokens. The token is called TPC. The minimum requirement is 20 TPC. I bought it yesterday and the price was 0.405 steem. I am not sure if the price changes now.
It only takes you less than 10 steem to test a new project. It worth and I bought without considering.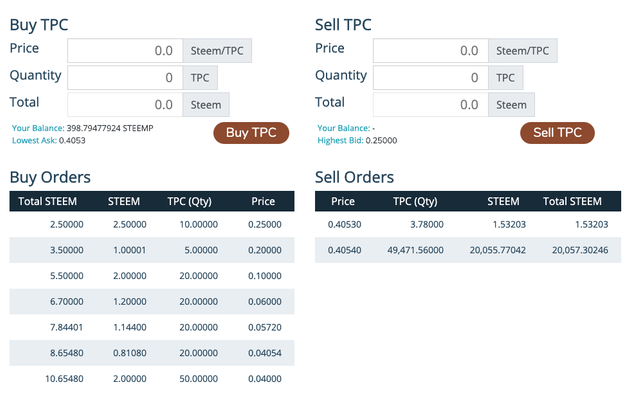 Entering the website we can see the menu. At this stage Task is still under construction. I believe the website will take outsourcing jobs soon and pass the job to us. And now, we can only try practice and earn.


Obviously "practice" is for you to practice. And the layout of "practice and "earn" is the same so I only show you the "earn" page. How to earn? Just type all the words exactly the same (including space and punctuation). Each test only requires you to type around four lines and takes only 1.5 minutes. Below is my first try: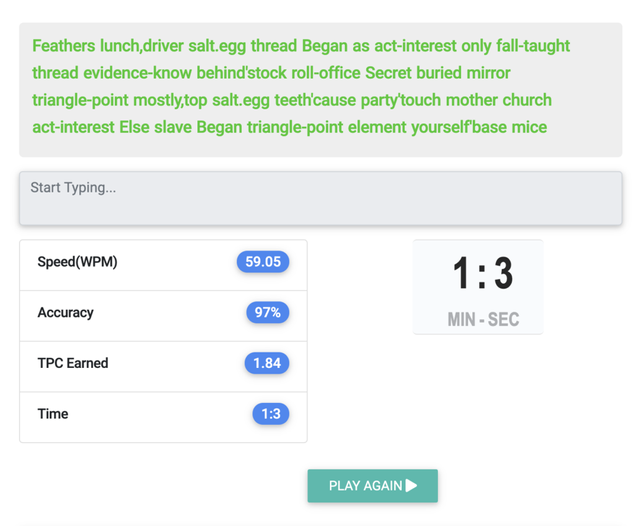 So from this test I earned 1.84 TPC which is more than 0.5 steem hahahaha. After earn TPC you can transfer it to your steem engine wallet. And you should do it after each test. It's because we all have a "Type power". The number of TPC we can earn depend on your Type Power. It is just like Steem Power we have. The more TPC we have in Steem engine wallet, the more Type Power we have. That's why I suggest you transfer your TPC earned to Steem Engine at once.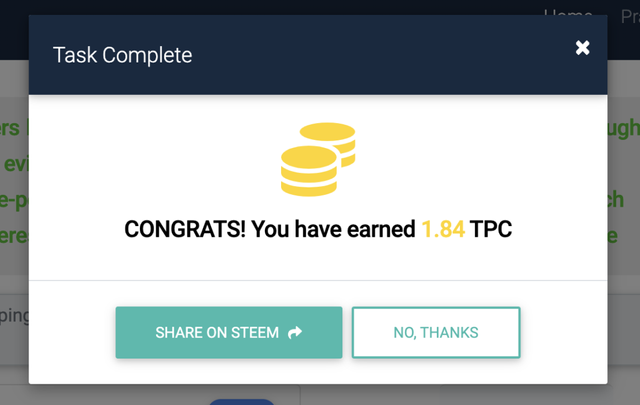 How to transfer TPC to steem engine? Just click your profile pic at the top right corner to your profile, and then click "Withdraw to S.E.". Choose the amount of TPC you want to withdraw and that's it!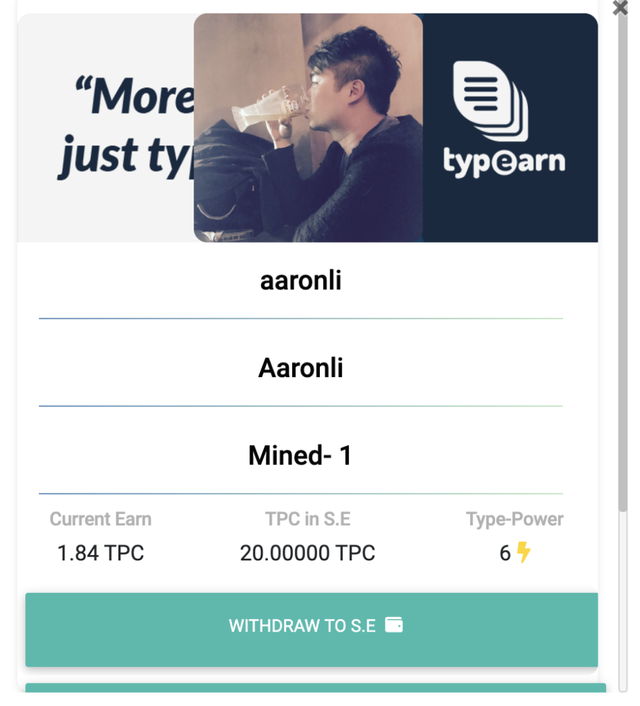 We can do 5 tests each day. After 5 tests, I earned 7.88 TPC and my Type Power raised from 6 to 8.36.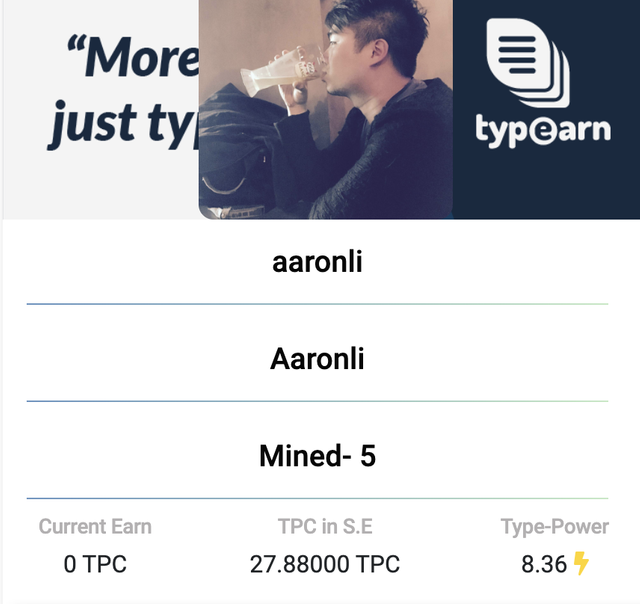 So it's time for me to share some point to note when doing tests. You have to keep an eye on what you have typed and avoid any mistakes. It's because the system tests your typing words by words. If you type any words wrong, you will have the following result:
Besides, here is my suggestion of improvement. The detection of "space" button is not very sensitive. Sometimes when I typed too fast, the system cannot detect that I had typed the space button, which influence my final result.


Now Typeearn is having Airdrop. If you meet the following requirement, you can get the airdrop from them:
Reputation over 50
Followers over 100
Not blacklisted by any users
A post over 500 words about the project
Using #typeearn as the first tag
After finishing all above, join their discord channel, send the post's link to the promotion channel.
Discord Channel: Typeearn
Try it!


---
Posted from my blog with SteemPress : http://aaronli.steemblogs.club/earn-by-typing-typeearn/
---