Steem Mentor Team #7 CONTEST | Guess & Win Tokens
Dear Steemians,
It is Contest Time!
In the "Be A Mentor" Program, mentors are onboarding new people to the Steem blockchain and guiding them to actively participate in one of the Steem communities. The best way for newbies to join a community is to have mentors showing them how to use one of the Steem DApps effectively in one month's time. In that way, the newbies can find their success right away in the beginning so that they don't drop out so quickly.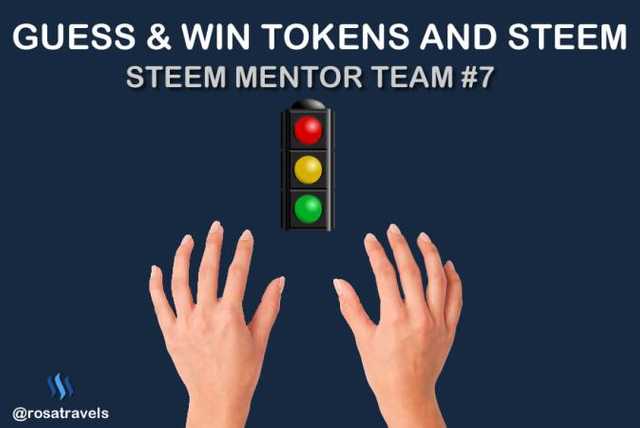 ---
We are now ready to set up Steem Mentor Team #7
---
CONTEST: Guess which community is going to be Steem Mentor Team #7!
The contest is very easy!
Look at the photo, the color & Guess which community will be the target of the Steem Mentor program!
Rules for Participating:
Only one guess.
In the comment section below: Write the name of the community + the reasons why you think this is the chosen community.
Tag 5 of your friends to join in the fun!
Upvote and Resteem this post!
I tell you: You don't want to miss this one!
Prizes
First 30 people with the right answer get 3 Tokens each.

The Best 5 answers get 3 Tokens + 2 STEEM.
The Founder of this community is sponsoring this program.
Hurry, and let's have fun together,
Rosa
@rosatravels
P.S. Right now, I am still writing from my personal account for visibility. Please follow @beamentor account as in the near future, I will be writing from that account! Thank you.
---

Thank you to Our awesome delegators
@paulag | @amico | @rosatravels | @dylanhobalart | @robmojo | @d00k13 | @newageinv
Thank you to Our awesome supporters for your donation
@rosatravels | @katerinaramm | @pharesim | @etcmike | @paulag | @geekgirl | @carlpei | @whatsup | @amico | @moghul | @iamjadeline
Please support us and Donate 1 STEEM to support @BeAMentor
We will give you UPVOTES for your support!
---
Thank you for reading this post! If you like the post, please upvote, resteem and comment.
谢谢你的阅读!希望你喜欢。如果你喜欢我的分享, 请点赞并跟随我。