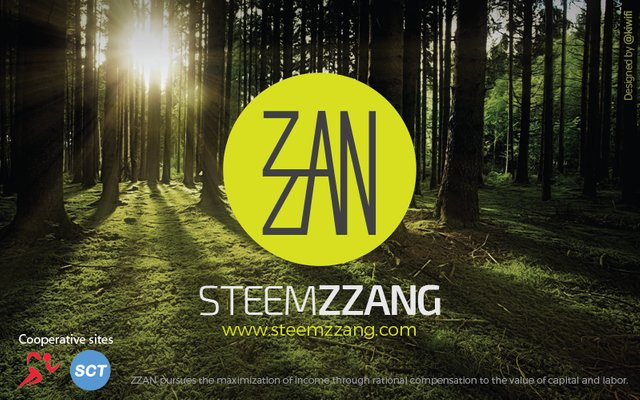 Hello! STEEMZZANG users!
STEEMZZANG is getting closer to you with your encouragement and support.
Please note that preferential upvoting policy for the "ZZAN 0.1% holder" will be implemented as follows:
Who is eligible for Preferred Upvoting: ZZAN staking holder with 0.1% or more of total staking volume

When automatic upvoting starts: From August 1, 2019

Who does auto-upvoting: @zzan.adv
Upvoting by @zzan.hmy for ZZAN holders more than 10,000 ZZAN will be ended at 10:30 a.m. on Friday, August 2nd KST (9:30 PM on Thursday, August 1st EST)

How to upvote: @zzz.adv will upvote with 20% ZZAN Power on the most recent posting among the previous day's postings of holders, at a specific time during the day.
; In this case, there may be the difference of rewards depending on the upvoting order or/and the existing upvotes on the posting.
; Our Development Team is currently working on an upgraded version to eliminate this deviation. We ask for your understanding of the efforts of our Administration and Development Team to resolve it as soon as possible, even if you feel a little uncomfortable.
Excluded accounts for auto-upvoting: Administrators' personal accounts (temporarily) and all Administration Team accounts.
Auto-Upvoting Criteria: Only for 1 post per day. With 'ZZAN' tag.
One more tip for you! @zzan.adv currently has 5,000 SCT token staked.
If you post with 'SCT' AND 'freeboard' tags at the same time, you'll be rewarded both of ZZAN and SCT (You do not need 'freeboard' tag if your posting is about cryptocurrency)
Am I eligible?: Yes, if you are holding 0.1% or more ZZAN staked. Please check if your staking ZZAN amount is equal or more than 0.1% of the total ZZAN staking amount on the link below.
Check ZZAN staking
Please note that this auto-upvoting is based on the previous day's amounts.
Note: You may want to separate accounts by 0.1% if you are a holder of 0.2% or more. However, please be reminded that if you do so, you will not be qualified for VIP holders' benefits, which STEEMZZANG is about to start!
STEEMZZANG always wants to be with you.
---
original posting in Korean
ZZAN 0.1% 스테이킹 홀더에 대한 자동보팅 실시 안내
https://www.steemzzang.com/zzan/@zzan.admin/zzan-0-1
---